As we discussed in the article of "AI in Schools: 4 Transformative Ways AI Can Improve Education", one of the best supportive factor that AI can contribute to education is increasing teacher productivity. In fact, artificial intelligence is becoming even "smarter" in every way when it can help teachers not only on enhancing their engagement and teaching methods, but also on easing their workload by providing auto-generated teaching material. And this can be used for creating quizzes!
With the help of AI, teachers can take their content and get instant quizzes in seconds to keep students engages, practice recall, check understanding, or conduct formative assessments! Sounds great right?! Let's discover the top five best AI quiz generators for teachers.
1. ClassPoint AI
ClassPoint is an all-in-one teaching add-in integrated inside PowerPoint with multiple tools supporting teacher's live presentations and lectures. Recently, ClassPoint has developed a new AI quiz generator in order to generate interactive quiz questions with 3 different types (including multiple choice, fill in the blank, and short answer) while presenting the slides!
By combining with other tools also available inside PowerPoint, ClassPoint AI is a best go-to option to increase teacher productivity and save times and effort spending on engaging presentation ideas.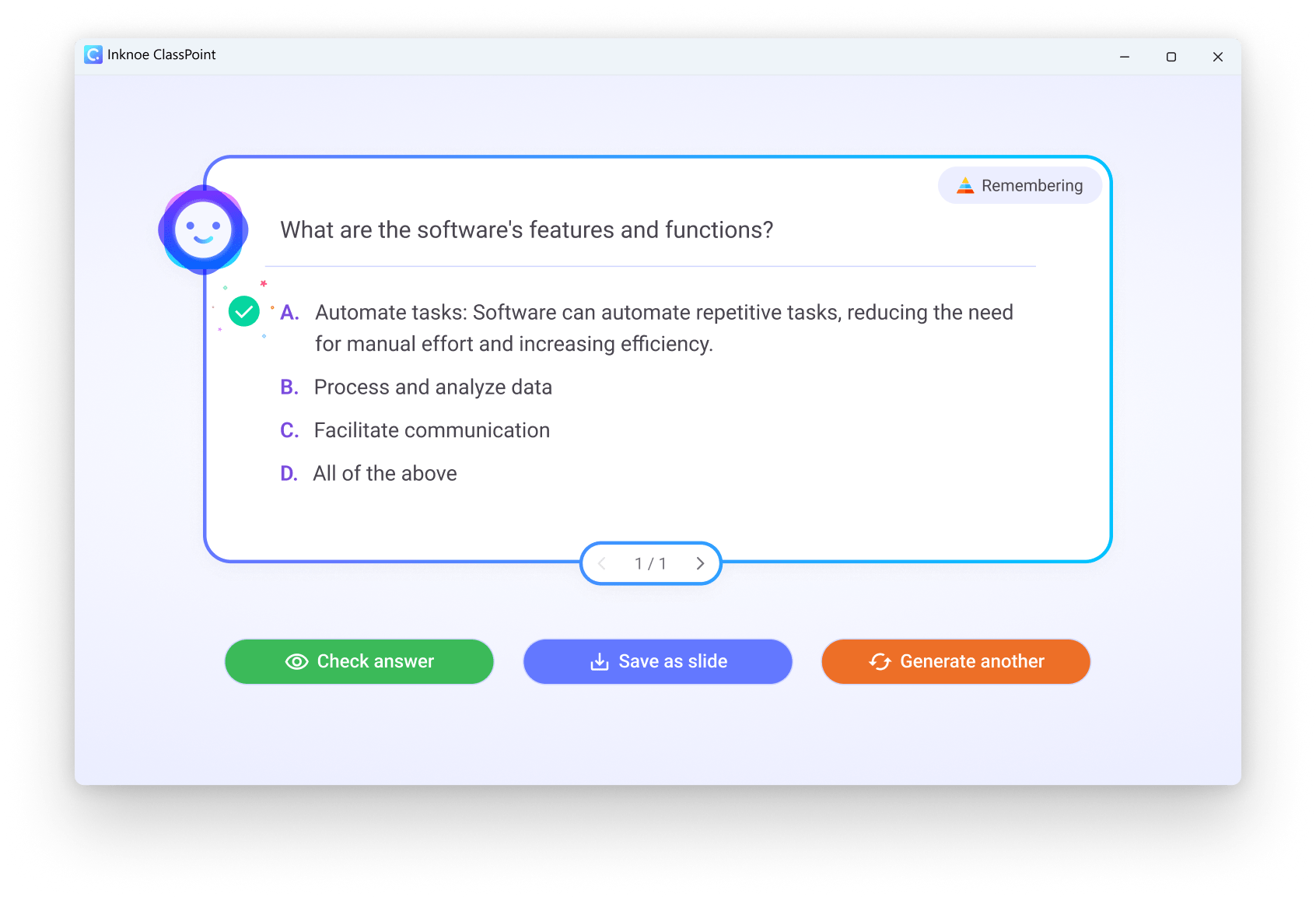 Pros and Cons
Pros:
Quick and integrated directly in PowerPoint
Tool includes gamification system that can combine and use along with AI generated quiz
Suitable for educators, teachers, and trainers
Cons:
Can only use in PowerPoint slideshow mode
Pricing
Basic plan: Free
Pro plan: $96/year ($8/month)
The above price of Pro plan is ClassPoint's default price. As an ed-tech entrepreneur but also contributor, ClassPoint provides localized price for different region. Furthermore, they has custom pricing plan for enterprise or school to deliver the most suitable wholesale price for organizations. This new AI feature is also given along with free quota, so as educator, we can try and see the magic happen for ourselves.
2. QuizGecko
QuizGecko is an AI-powered quiz generator tool that can help to convert any text, document, or URL into an interactive quiz. From multiple choice, true/false, short answer, to fill-in-the-blank question style, QuizGecko can help you to quickly generate quizzes and exam questions from any document format (PDF, DOCs, PPTs).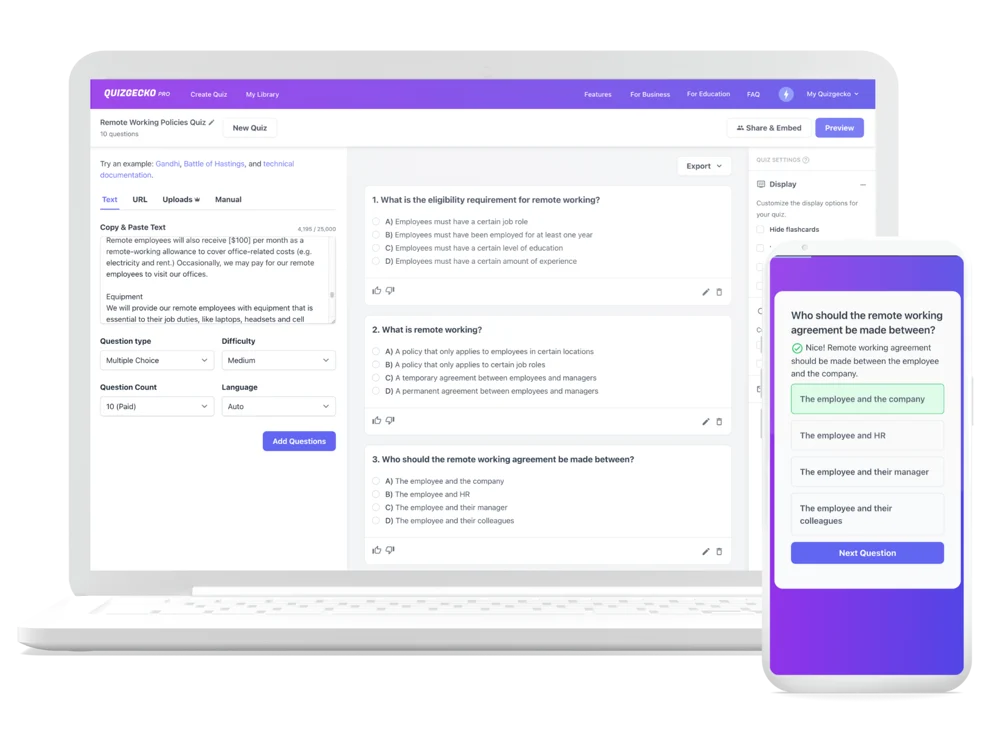 Pros and Cons
Pros:
Have a Chrome extension to generate quiz online
AI assists learning with auto-grading features and report
Suitable for teachers and students (to practice before exam)
Cons:
Doesn't integrate with any office software (Word, PowerPoint)
Time-consuming when adding quiz questions to document later
Pricing
QuizGecko provides different pricing plans for educators and students. Nevertheless, it doesn't have any free plan, thus we won't be able to try out the features before deciding to subscribe.
For students: Starting from $8/month for Basic plan and $12/month for Premium plan.
For educators/teachers: Starting from $12/month for Basic plan and $20/month for Premium plan.
3. Sendsteps
Sensteps is an online Ai-powered presentation tool that use AI to automatic convert quick slides based on word document, or to produce interactive quiz questions with audience during live presentation. It is introduced as a tool that can help educators to save time from spending it on creating presentation, while giving the inspiration to teacher's messages.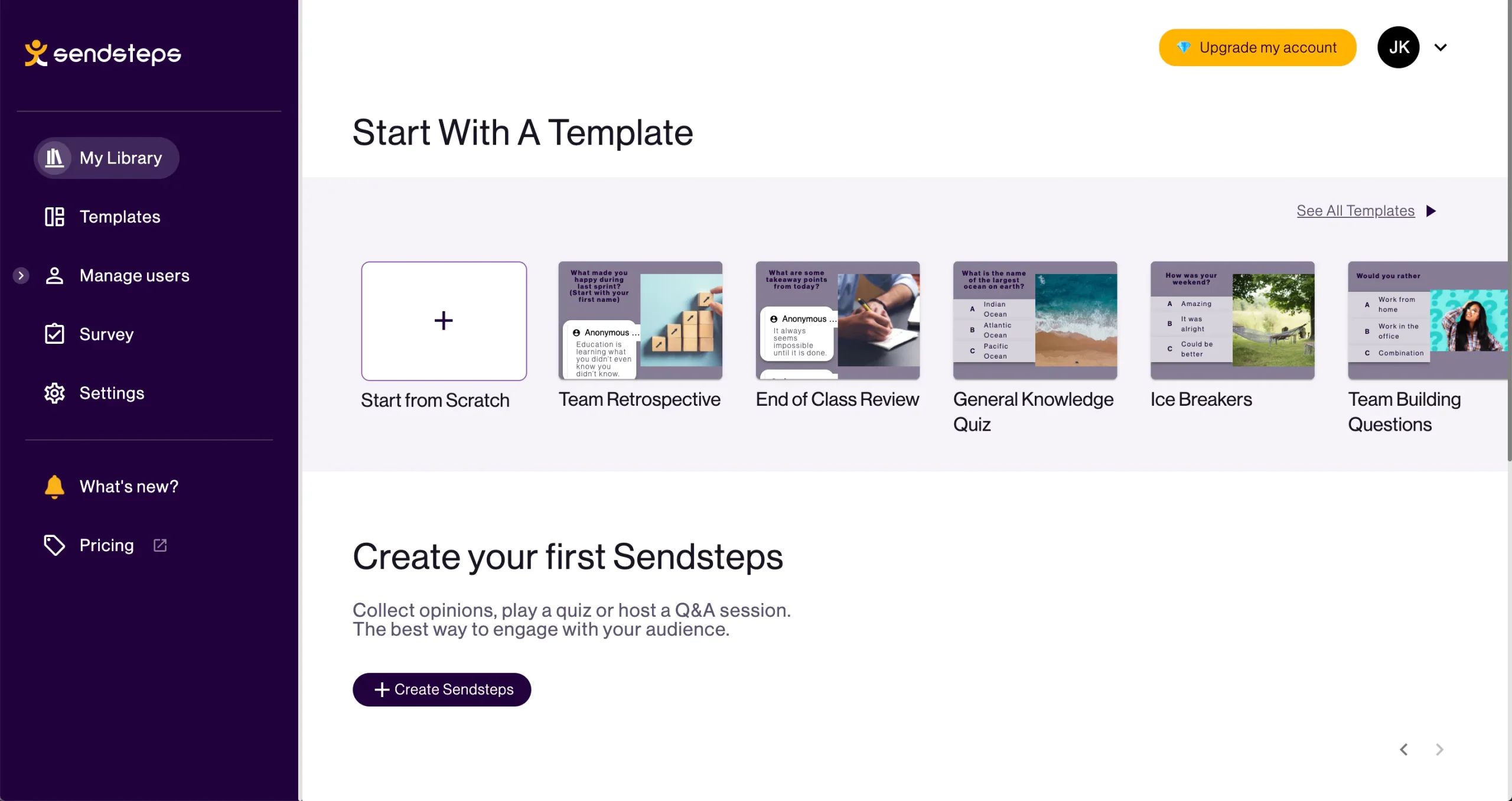 Pros and Cons
Pros:
Able to integrate with PowerPoint and MS Teams
Suitable for educators and trainers
Cons:
Lack of diversity in question and quiz types
Pricing
Sendsteps has two different pricing ranges for business and educators. Thus, in this article, I'm going to introduce the education plans only:
Free plan
Teacher plan: $9.99/month
Professor plan: $16.99/month
Sendsteps' Free plan allows us to try their AI feature on maximum 2 presentations with up to 2 questions generated. For campus and schools, Sendsteps provides custom pricing plan that requires personal discussion.
4. Wooclap Quiz Wizard
Wooclap is another online presentation tool that recently developed a new feature called "Quiz Wizard" supported by AI. By using artificial intelligence, Quiz Wizard can generate creative questions, which helps to stimulate student's curiosity. Furthermore, similar to other tools above, it can also convert document to quiz questions easily.
Pros and Cons
Pros:
Can export to other office software like Word, PowerPoint
Can convert question to flashcard
Suitable for teachers and students (for self practice)
Cons:
Can only use it online as a web-based tool
Time-consuming when formatting quiz questions in exported document later
Pricing
Similar to Sendsteps, Wooclap also provides different price ranges for business and education sector.
Free plan
Basic plan: 6.99€/month
Pro plan: 14.99€/month
As Wooclap is developed in Europe, the price currency is based on EUR (€) instead of USD ($). The Free plan is delivered with 2 questions as free trial. And for organizations, Wooclap does offer custom pricing plans as well.
5. Quesgen
Last one on this list is Questgen. This is a web-based tool that helps their users to turn any text to quizzes. The AI quiz generator includes four types of question, which are multiple choice, true/false, fill in the blanks and question for Q&A. It can also generates FAQs from the text inputted.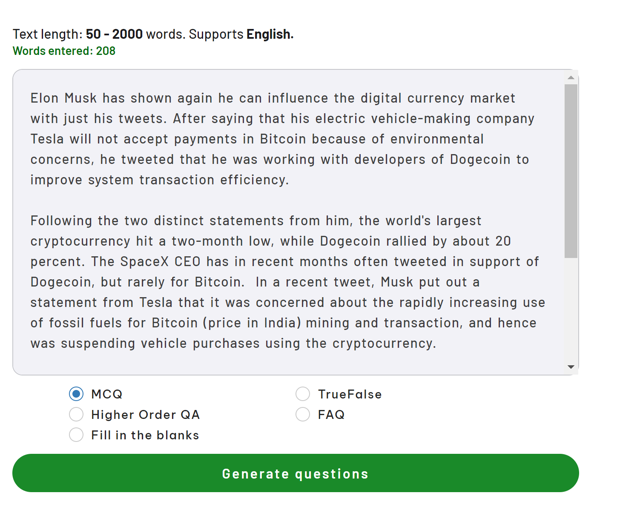 Pros and Cons
Pros:
Easy to use as it only requires text to generate question
Can export to PDF or Word format after questions are converted
Suitable for teachers and students (for self practice)
Cons:
Can only use it online as a web-based tool
Can't convert existent document (Word, PowerPoint) to quiz
Time-consuming when formatting quiz questions in exported document later
Pricing
Basic plan: Free
Pro plan: $24.99/month
The Free plan allows us to have 15 free runs/conversions from text to quiz. Thus, it is quite good enough for educators to test out the tool.
Conclusion
AI is becoming more and more powerful by day as its applications are widely developed in every way to improve education. I hope this article could help you to select the most suitable tool to ease your work and improve your quiz generation quality using AI.
For the latest tips, trends and tools about AI in education, read our A-Z guide to AI in education!
Further Readings:
About Sylvia Nguyen
Xin chào! Tôi là Trang Nguyễn, bạn bè quốc tế thường gọi tôi là Sylvia. Tôi thích viết lách và rất yêu thích tìm hiểu, nghiên cứu về những phương pháp giáo dục, học tập hiệu quả. Nếu bạn quan tâm những bài viết của tôi, hãy theo dõi ClassPoint Blog thường xuyên để đón đọc những bài viết tiếp theo nữa nhé! Cảm ơn bạn!