Exploring ideas in diverse mediums & methods can help boost recall for your students. One unique way to change up your in-class activity is with images. If they say a picture is worth 1000 words, then let it be a shortcut for both teachers and students to share or recall information.
Why should students use images to answer questions?
Students read text and answer questions about the words in text using their own words on a daily basis, but what about photographs? Diagrams, illustrations, and photos are used every day in teaching as a visual demonstration of a concept; but as important as it is for teachers to use images, it is also for students in their own recall. They can use a context of a photograph to reproduce a concept, so why not try asking students to use images to answer questions?
Pictures can help increase comprehension of a text, topic, or story. And especially for visual learners, pictures offer another method for understanding meaning. And sometimes, a single photo can have a much greater emotional impact than words. Photos are powerful and they are engaging for students, so let's fire up more areas of their brains!
How to ask students to answer a question with an image
If you use PowerPoint and you are looking for an in-class activity that allows students to use images to answer questions, ClassPoint's image upload is an easy and effective tool to ask your students interactive quiz questions that they can answer using their devices. For a short answer question, you can send a question to your students right from your PowerPoint, but instead of using words to answer, they can upload a picture from their images, use a screenshot, or pull a photo directly from the web.
The image upload quiz question is a student-engagement-focused tool that is unique from most quiz tools; and integrated with PowerPoint, it is super efficient for teachers to get their students actively participating in their lessons. Learn more about how to use image upload in your PowerPoint presentation or continue on for 4 different ways to implement ClassPoint's image upload in your lessons.
4 Ways to Use Image Upload
Idea 1: Taking Photos to Show Participation
Use image upload to ensure students are actively participating during your lessons. For example, if students have done work on a worksheet you have handed out, you can check that they have all done their work by asking them to submit a photo.
You can quickly review the photos your students have submitted by scrolling through the Activity Window, or by clicking on an image to enlarge it, then click the arrows to filter through the submissions. If you do not have time to thoroughly look at each student's submission, the responses automatically save and you can look them over after class to ensure everyone is understanding.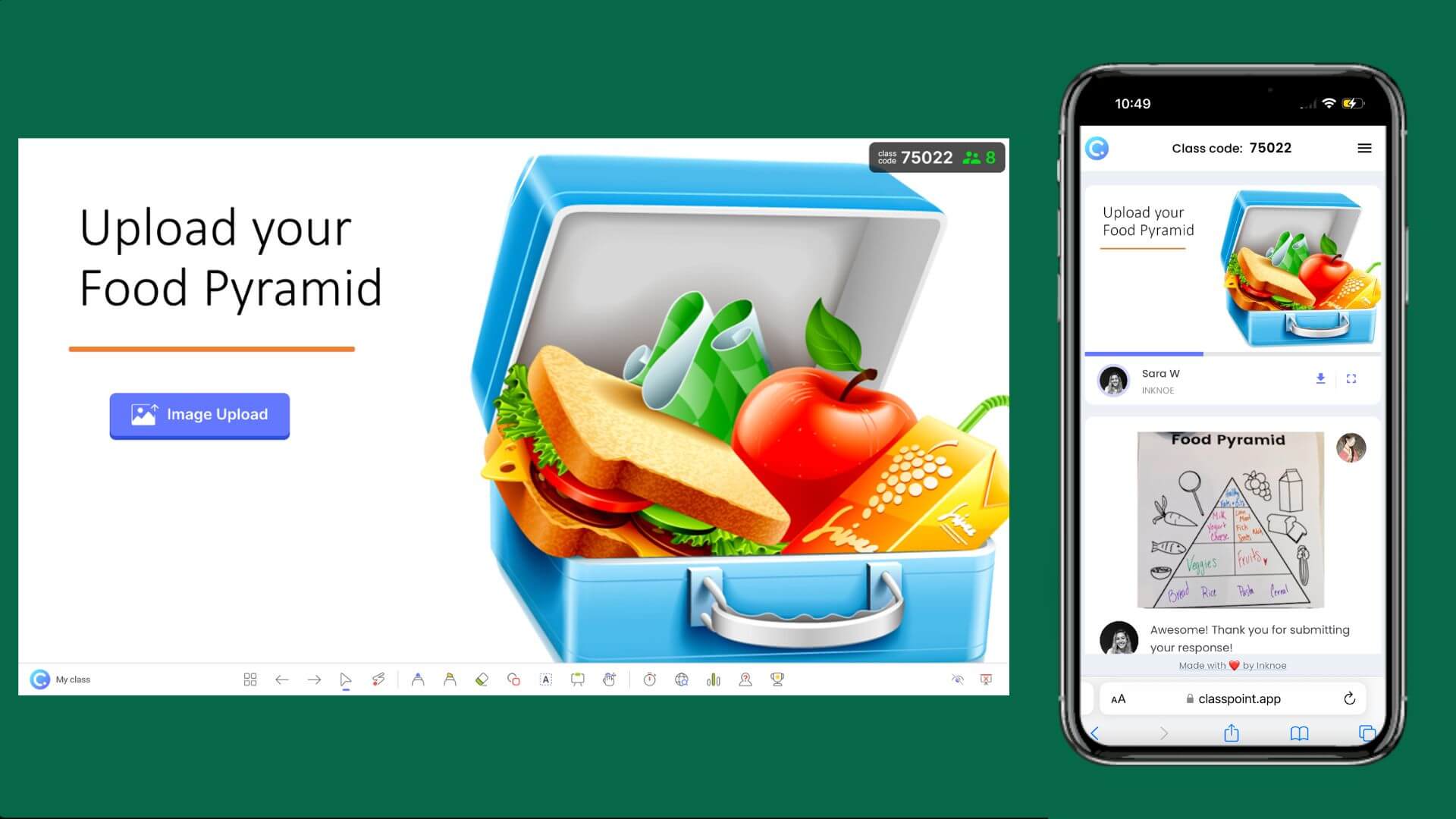 Idea 2: Screenshot Digital Whiteboard Work
Do your students use digital whiteboards or note-taking instead of physical paper to do in-class work? To see their work or allow them to simultaneously use their own notes or drawings to answer a question, students can quickly take a screenshot and upload it as their answer.
Since students can join the ClassPoint class on any device by visiting www.classpoint.app, they can use the same device as their digital whiteboard. Once submissions are in, you can simply save them for your review after class or you can insert any of the responses as a new slide in your presentation to review in more detail, add your own annotations, or correct any mistakes. This idea is best used when students are using a tablet or a larger touchscreen device, where whiteboard tools are most effective.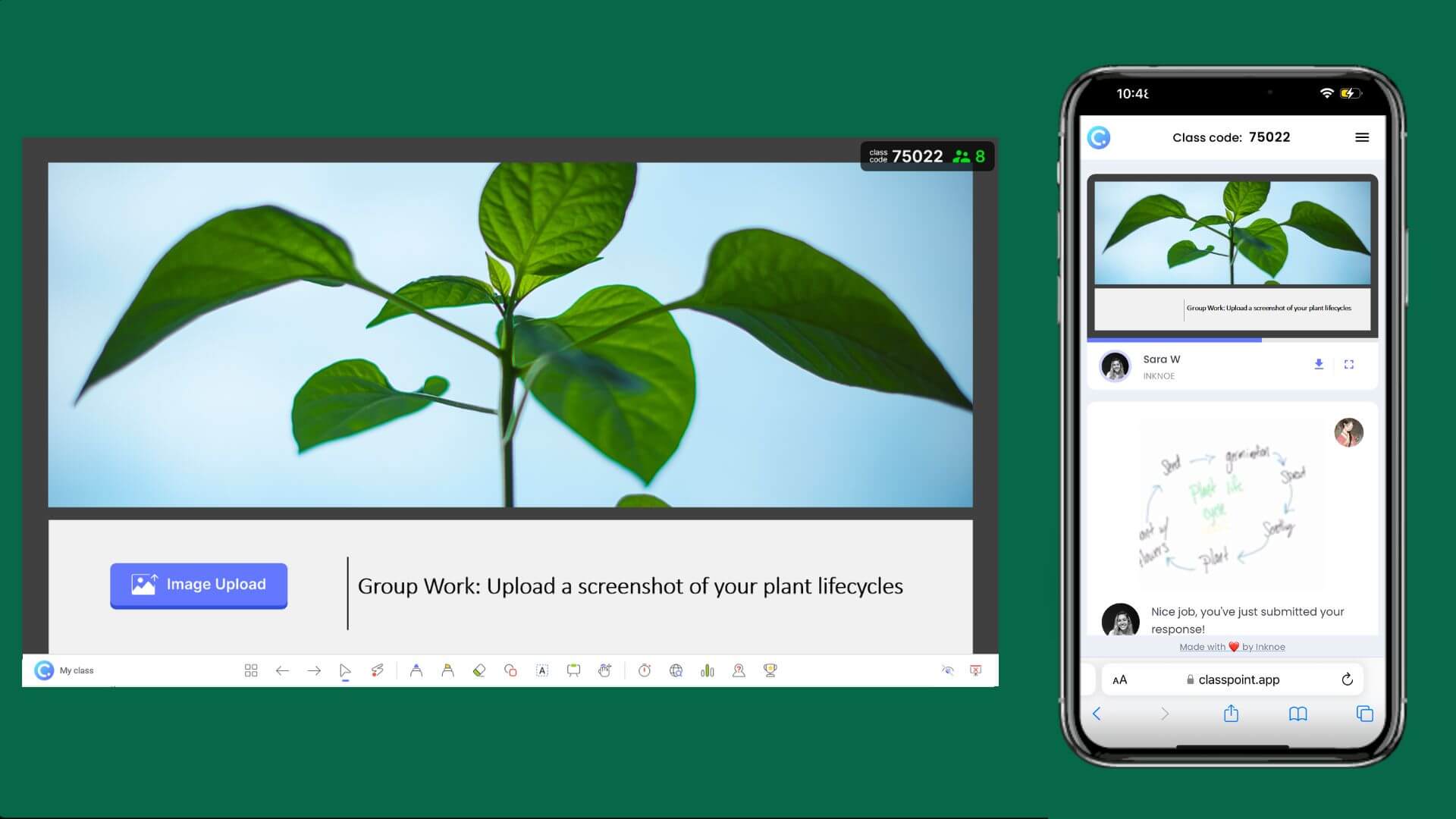 Idea 3: Upload an Image from Online Brainstorming
Having a brainstorming session? Ever think to have students use images or photographs to contribute ideas? With ClassPoint, images don't have to be saved for projects! Students can search the web, and upload pictures to contribute to a thought or answer a question. They can even add captions to the image for more clarification.
Answering a brainstorming question with an image instead of text allows the students to be creative in their thought, and it can be more exciting & engaging to see the ideas of their classmates through images rather than words. This comprehensive view can add more value to your brainstorming session.
If you don't want students to see their classmate's submission before uploading an image themselves, hide the responses from view or minimize the response window until all the submissions are in.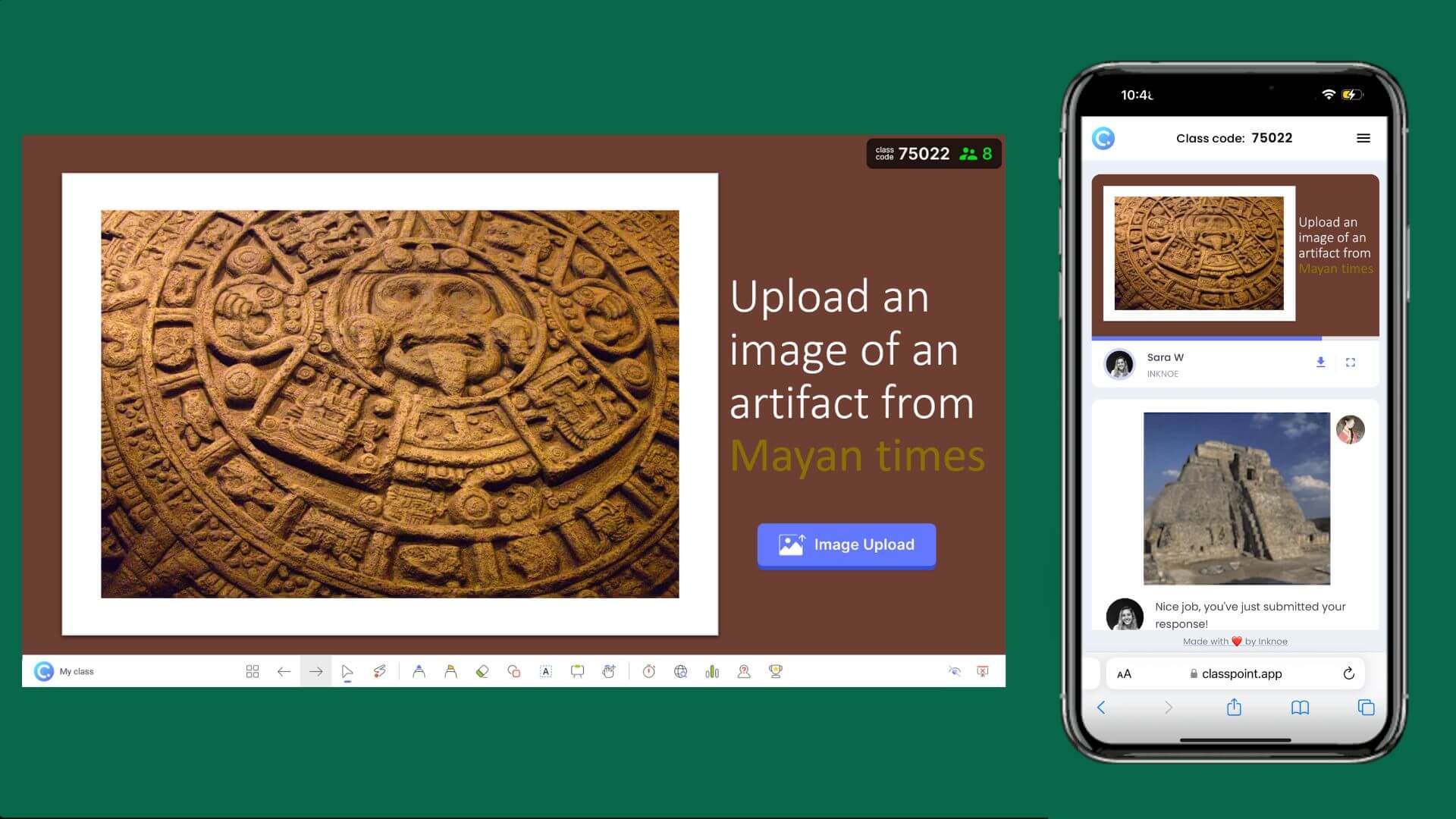 Idea 4: Taking Photos of Real-Life Objects
One really great way to conceptualize a concept is to find that concept in real life. From math, to literature, to humanities such as history, one impactful way to reinforce a topic is to realize it in students' own surroundings. Use image upload to run this activity, and get your student's out of their seats to find what they are learning in real life.
For example, let's say they have been learning about shapes in geometry. Ask students to find a sphere somewhere in their surroundings, take a quick photo, and then upload that image. This gives them a chance to put what they have learned into practice, and you can easily see who is understanding the lesson.
---
The Image Upload question is a fun, creative way to get your students active in your classroom. If you guys are interested in using any of the examples listed above in your classroom, you can download a sample file below. Are there any other ways that you use image upload in your classroom that your students love? Comment below & let us know!
About Sara Wanasek
Sara Wanasek is a PowerPoint expert with a deep understanding of education technology tools. She has been writing for ClassPoint for over 3 years, sharing her knowledge and insights in educational technology and PowerPoint to teachers. Her passion extends beyond writing, as she also shares innovative ideas and practical presentation tips on ClassPoint's YouTube channel. If you are looking for innovative ideas and practical tips to elevate your presentations as well as the latest trends in educational technology, be sure to check out it out for a wealth of insightful content.