Are you ready to add an electrifying twist to your next classroom activity, game night, or family gathering? Look no further! We have prepared a complete step-to-step guide on on how to make a Jeopardy game on PowerPoint!
Jeopardy has long been a beloved quiz show that challenges participants to showcase their knowledge across a wide spectrum of topics. And now, we are going to give it a creative twist and share you how you can bring the excitement of Jeopardy right into your own PowerPoint presentations.
The best part is that we've taken the hard work out of it for you — we have prepared a downloadable Jeopardy PowerPoint template you can download and use straightaway. So, are you ready to transform your PowerPoint game session? Let's get started!
What is Jeopardy?
Jeopardy is a quiz show with a unique quiz format in which contestants are presented with trivia clues and are expected to respond in the form of a question.
Jeopardy is loved by many because of the wide range of benefits it brings, including:
Interactive Learning: Playing Jeopardy not only engages participants actively, it also enhances learning and knowledge retention.
Critical Thinking: In Jeopardy games, players strategize, analyze clues, and formulate responses in a crisp manner, solving multiple problems in a limited time span.
Team Collaboration: Depending on how you structure the game, Jeopardy can also involve and encourage teamwork and cooperation.
Entertainment: Of course, Jeopardy is a fun and exciting game that fosters laughter and camaraderie.
Versatility: Jeopardy is highly customizable to various topics, as well as occasions – it can serve as an effective tool for education, training, and recreational activities. On top of that, Jeopardy can also be set up and played in presentation apps like PowerPoint, which we will demonstrate later.
The Traditional Jeopardy Game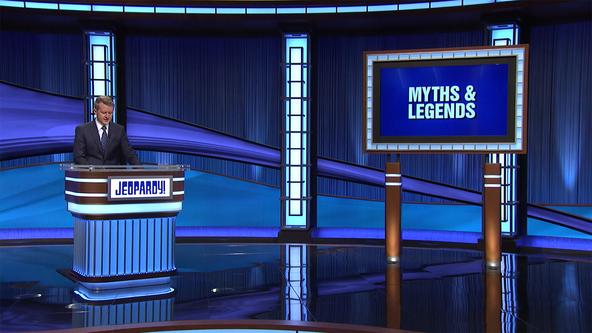 Jeopardy was first created and played in the American game show Jeopardy!. Every Jeopardy! session involves 3 participants competing in 3 rounds: Jeopardy!, Double Jeopardy!, and Final Jeopardy!. In every round, participants pick clues on a game board with different categories and cash amounts. They are given trivia clues presented as answers, which require them to formulate their responses in the form of a question. For instance, when a contestant opts for the category "Astronomy for $200," the subsequent clue might read, "The prominent celestial body in our solar system recognized as the Great Red Spot." And the accurate reply would then be, "What is the alternative name for Jupiter?" You get the gist.
Jeopardy! Round:
In the first round, the participants play the game as described above. There is 1 "Daily Double" clue hidden on the game board. When the contestants pick one, they can bet as much as they want from their points stash. If they get it right, their bet gets added to their score; if they miss, they lose the bet and the respective points.
Double Jeopardy! Round: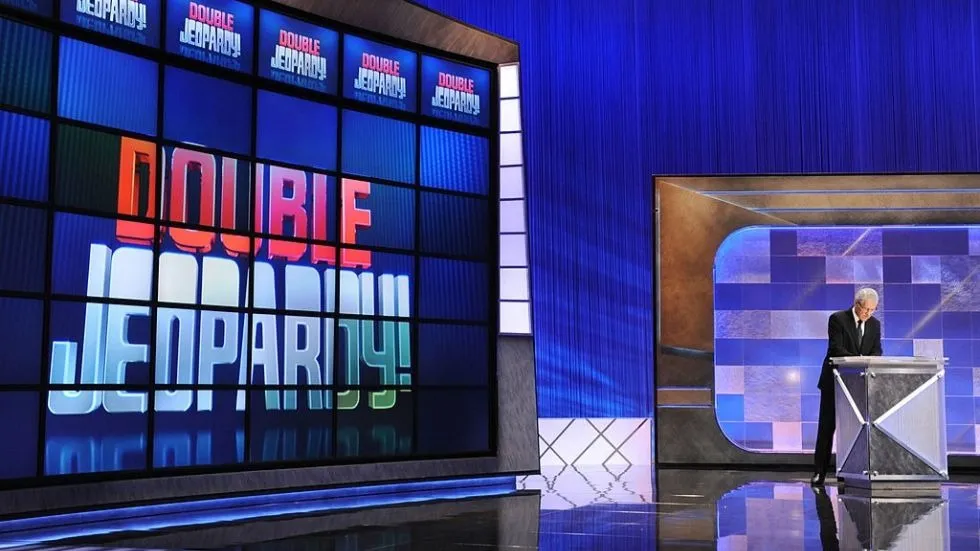 In the second round, things get a bit spicier. The cash values for clues go up, which means more points for correct answers. As compared to the normal Jeopardy! Round, there are 2 "Daily Doubles!" clues hidden on the Double Jeopardy! game board. Similarly, when the contestants pick one, they can bet as much as they want from their points stash.
Final Jeopardy!: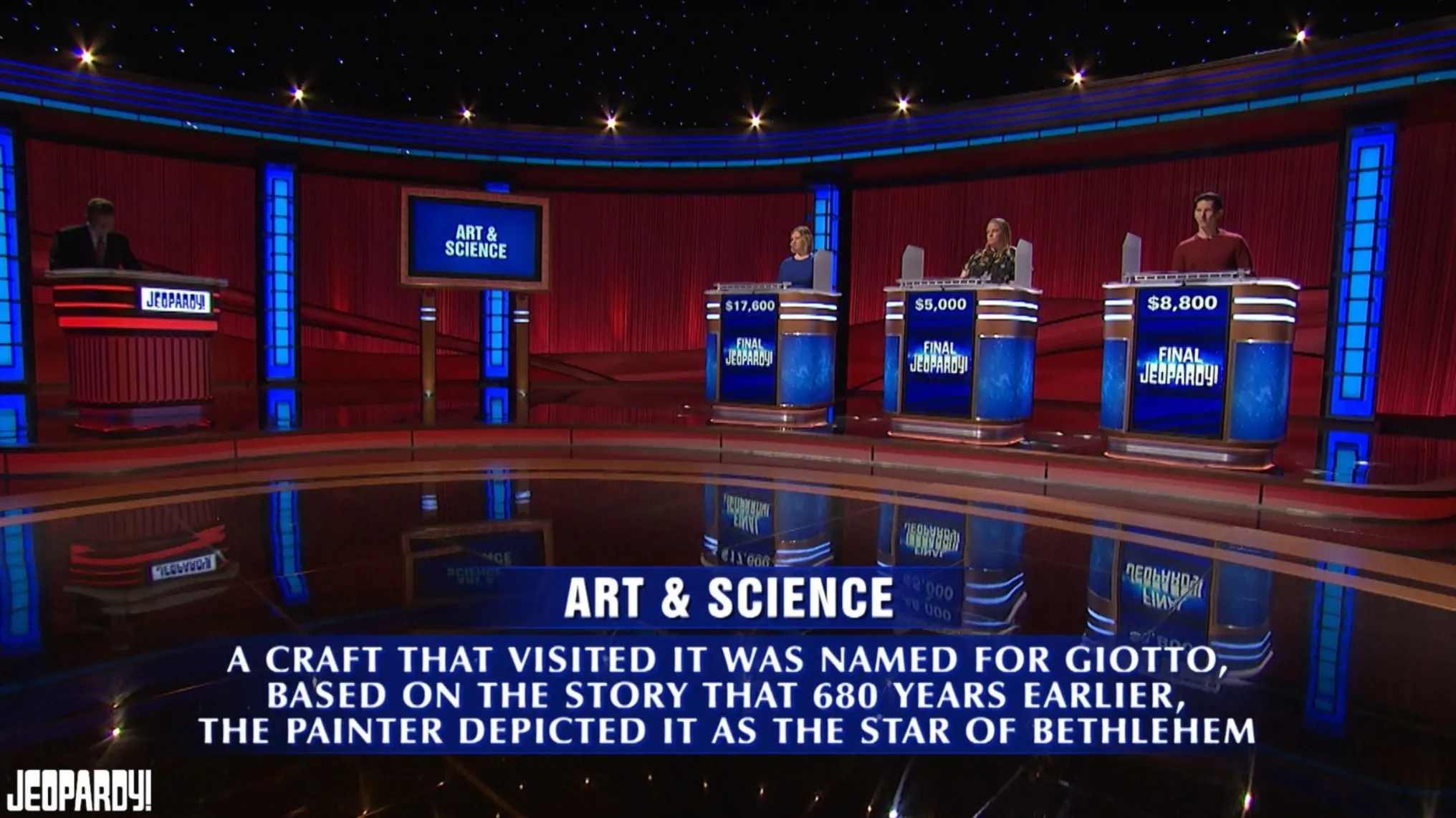 The big finale, also known as Final Jeopardy!, has only one clue. Contestants decide how much of their points they want to bet, depending on how confident they feel about the topic. Then, once the clue is revealed, they have to give their response within a set time limit. Similar to "Daily Double", if they get it right, the points they bet get added to their stash, and if they get it wrong, they lose all the points they bet. Whoever has got the most points at the end of Final Jeopardy! is the winner of the game!
---
Jeopardy PowerPoint Template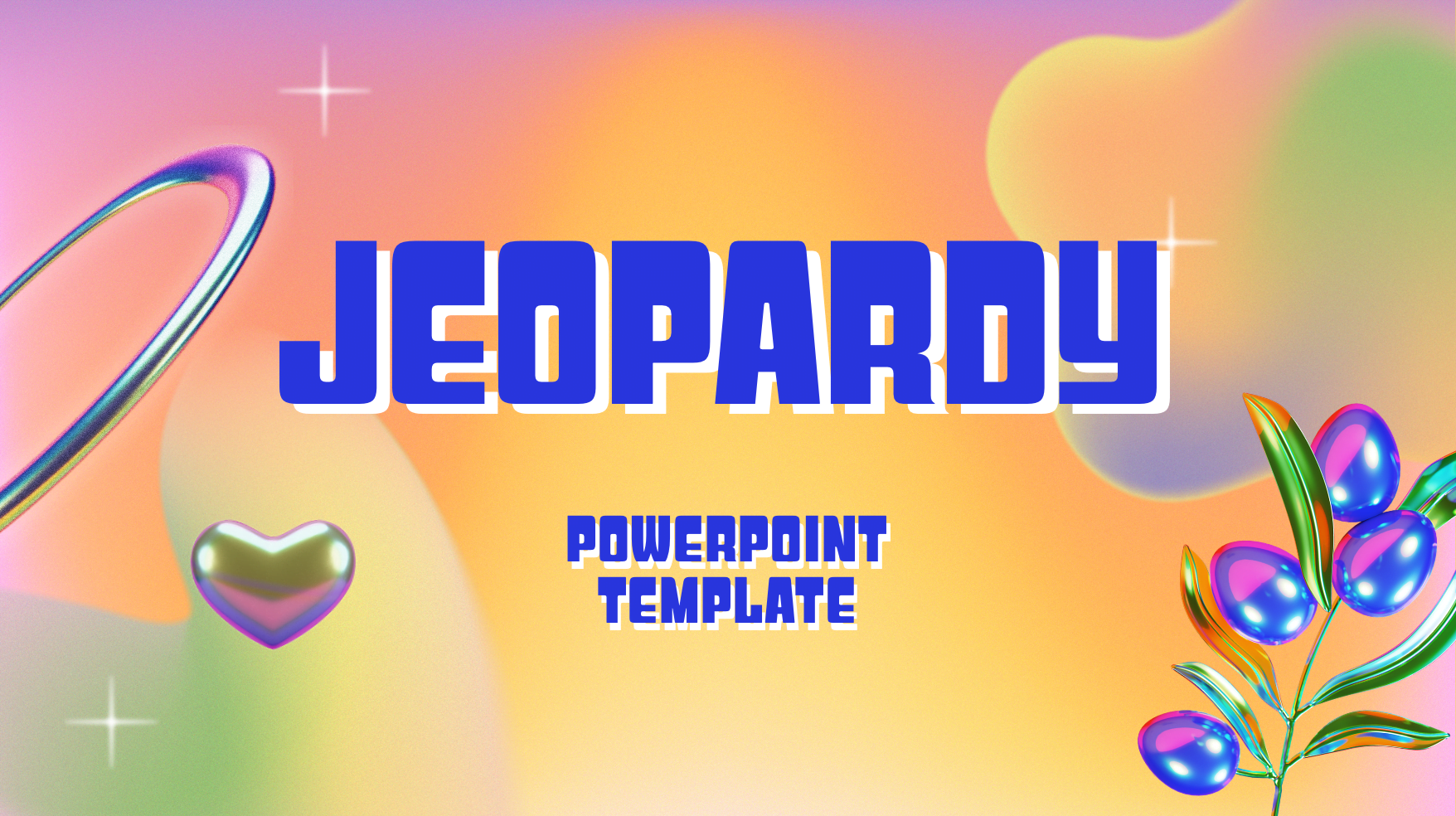 Before we begin, download our Jeopardy PowerPoint template so you can follow along easily! The template consists of:
Game board
Jeopardy
Double Jeopardy
Final Jeopardy
Daily Double
Sample Jeopardy clues and answers
Interactive game elements
Drag and drop elements
Gamification system
How to Make A Jeopardy Game on PowerPoint (Step-by-Step Guide)
Making a Jeopardy game on PowerPoint is easy and can be done with just a few simple steps using readily available tools and materials. Follow along, and you will quickly enough be ready to host an engaging and interactive PowerPoint Jeopardy game experience! 
What You Need
Step 1: Set the Game Rules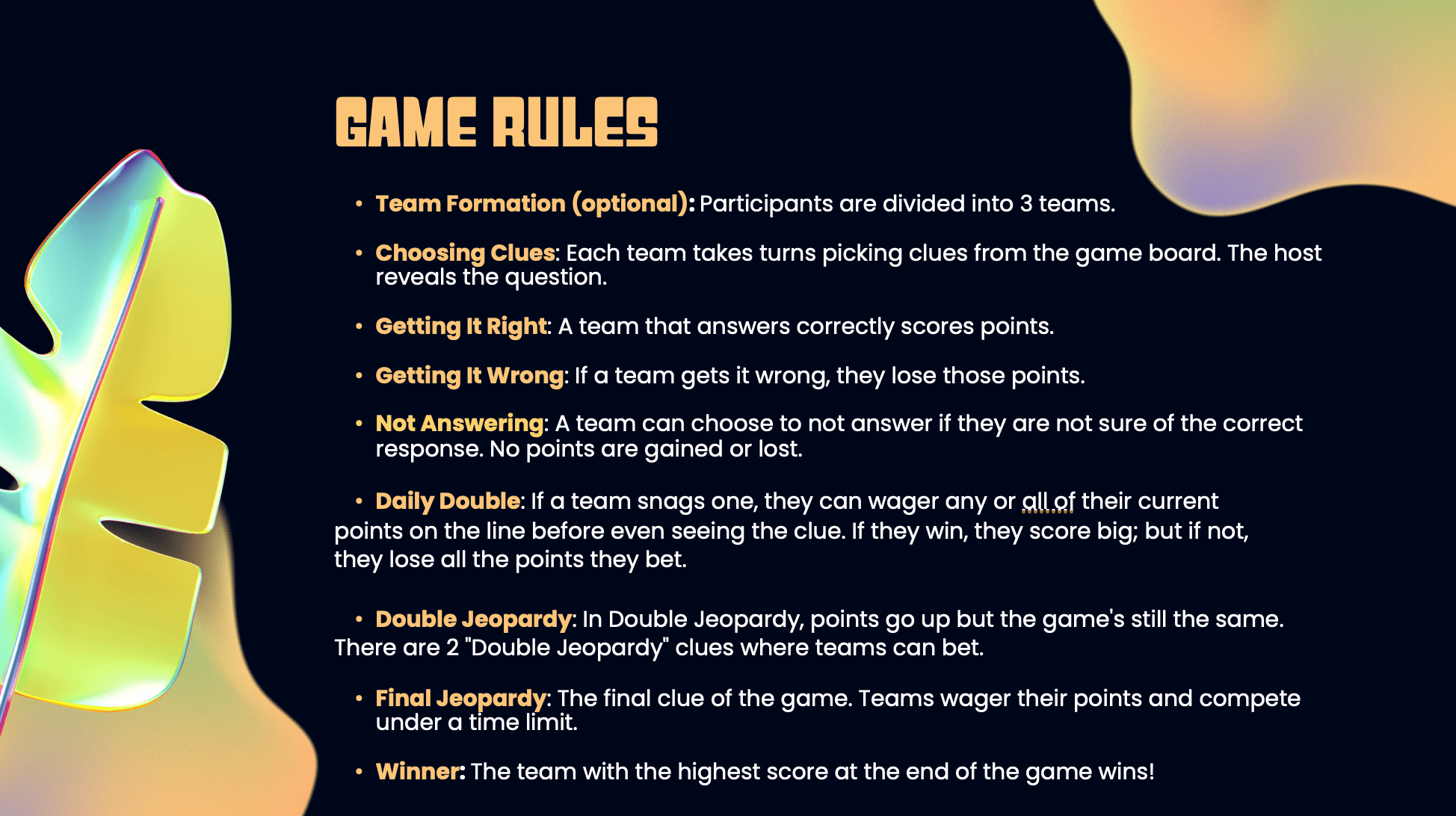 First, set the game rules on team formation, reward types, and game format. Jeopardy is a  highly customisable and versatile game. Depending on you and your team's preferences, you can modify the rules to better suit your needs. For instance, in a classroom setting, you may want to consider simplifying the Jeopardy game into just one round, and using points to replace cash values.
 
Generally, the game can be played by individuals or teams. Decide on the minimum and maximum point value of the game and the types of rewards, as well as if you want to follow the traditional Jeopardy game format of having additional rounds of Double Jeopardy and Final Jeopardy. 
Step 2: Create a Game Board and Jeopardy Clues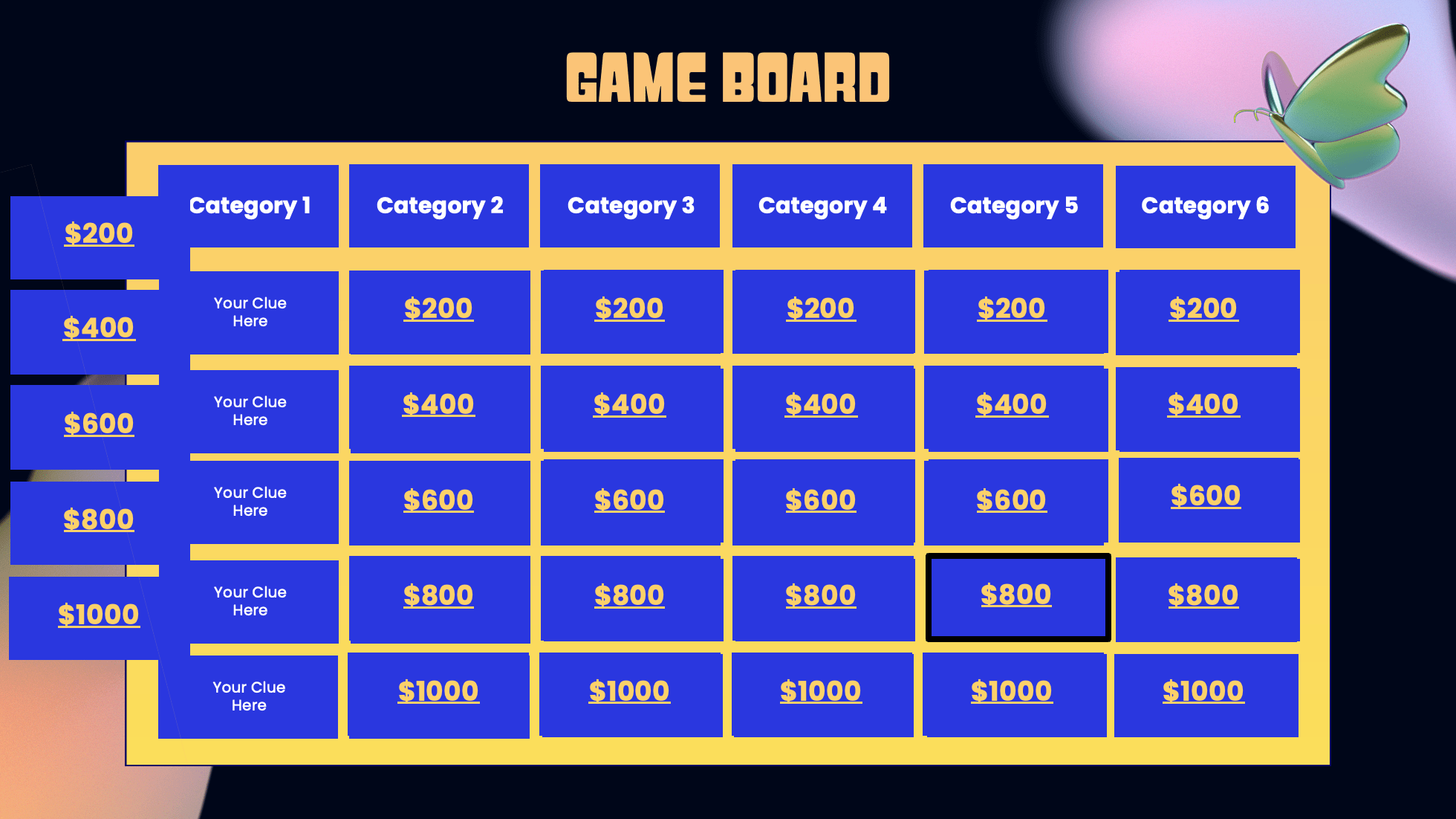 Once the game rules are set, set up a game board – the most essential element of a Jeopardy game! Create a table on PowerPoint, or use the template we have prepared. A game board should consist of 6 columns or categories of different quiz types, and under each column are 5 clues phrased in answer form, in increasing point value and difficulty. 
 
Alternatively, depending on your preference, you can also create separate slides for each clue in PowerPoint.  
Step 3: Decide on the Daily Doubles!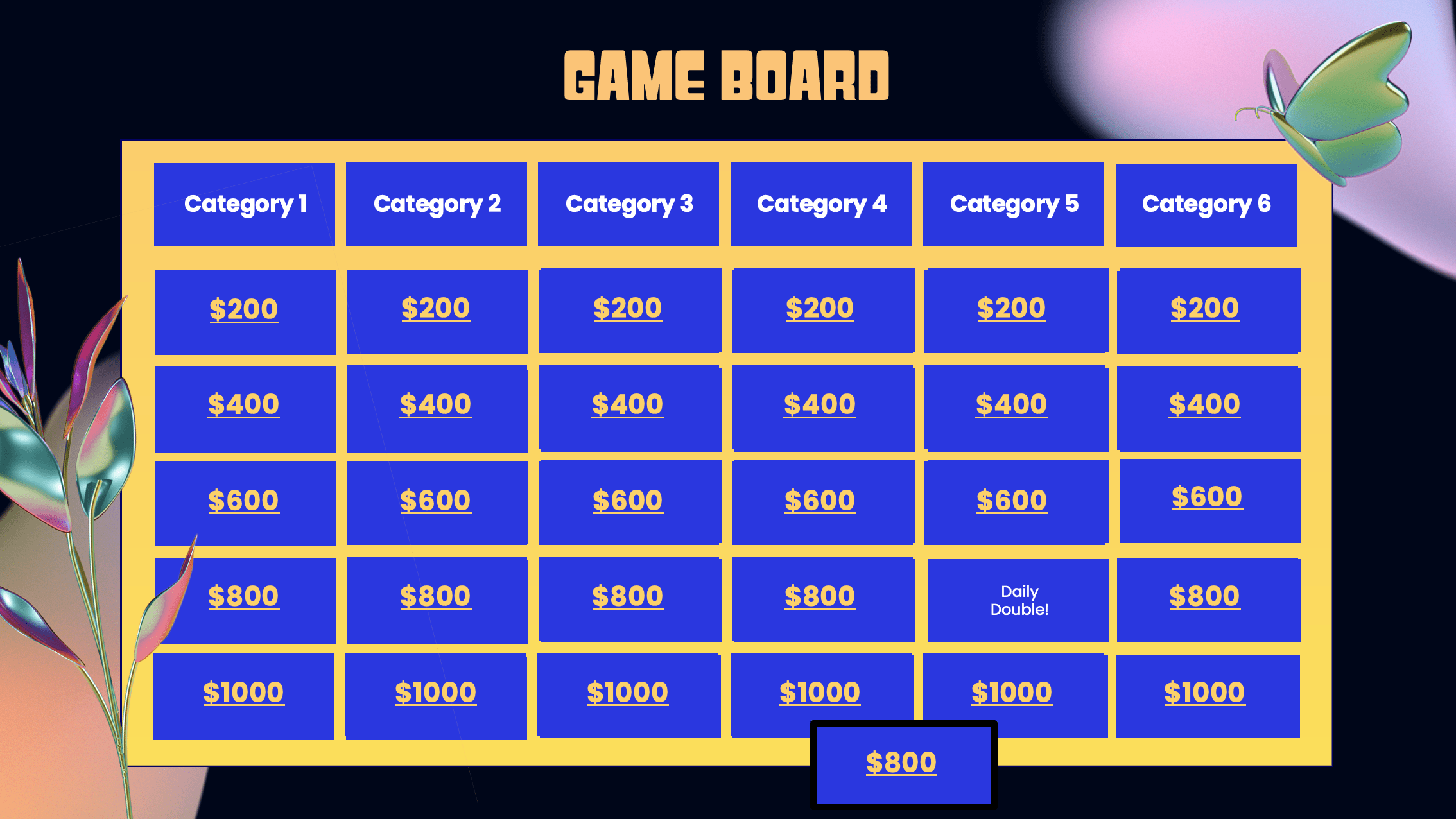 Next, pick at least 1 clue on the board to be the "Daily Double" – when picked, the contestant/contesting team wager any amount of points up to their current points. If they answer correctly, they win the round. If they don't, they lose the points.
📝 Note: If you are playing the Double Jeopardy round, pick 2 clues from the board to be the "Daily Double". 
Step 4: Create the Clues for Double Jeopardy and Final Jeopardy!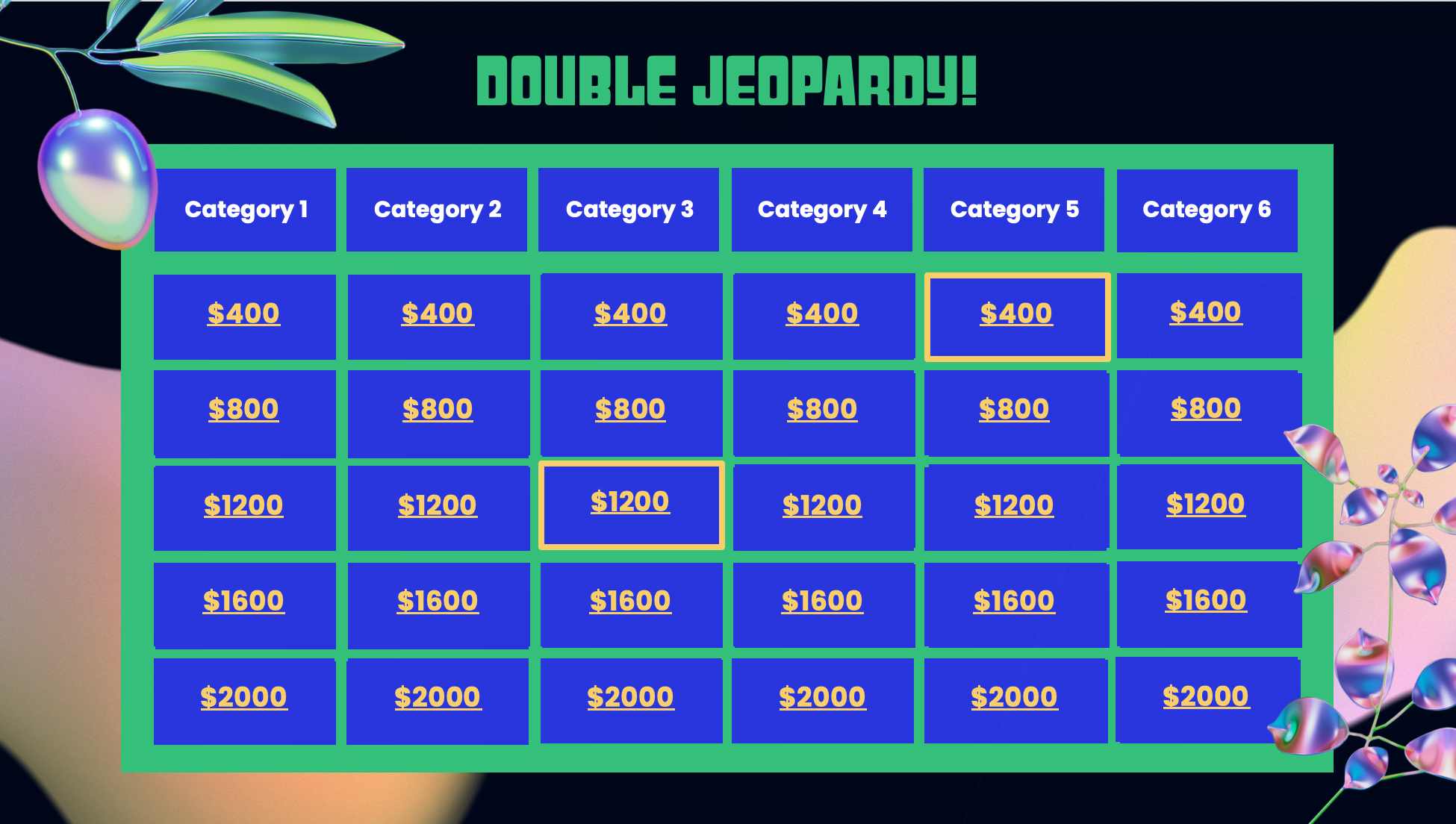 This is an optional step. If you are playing Double Jeopardy, you need to create a separate game board, doubling the amount of rewards for each clue. If Final Jeopardy is played, create a separate slide for the Final Jeopardy clue. Like Daily Double, the contestant/contesting team wager any amount of points up to their current points, and the contestant/contesting team has to answer the quiz under a time limit.
💡 Pro Tip: Use ClassPoint's Timer to add an extra layer of excitement and challenge during the Final Jeopardy round, keeping participants on their toes as they race against the clock to formulate their responses.
Step 5: Set Up the Answers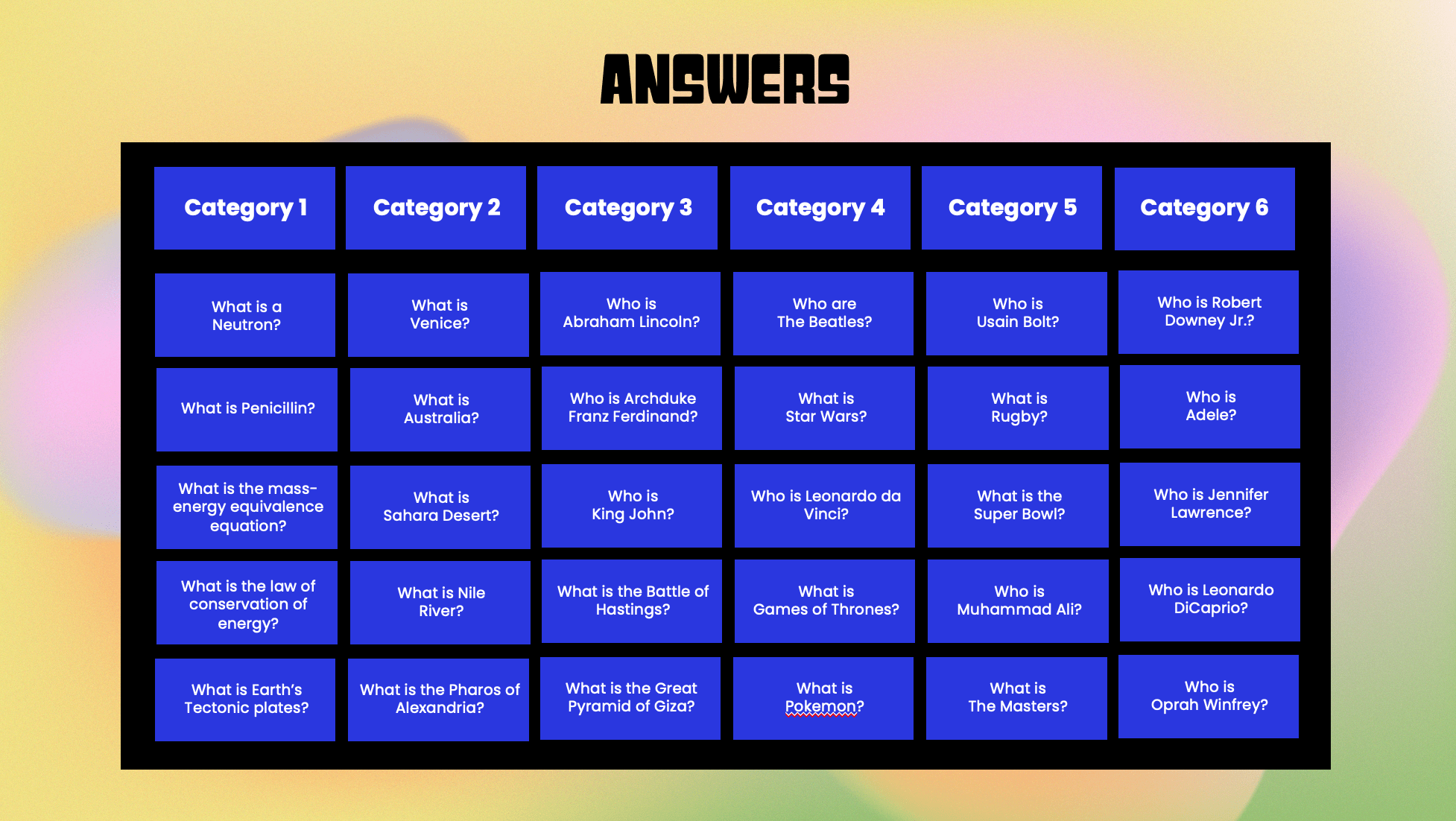 Once you have decided on the different clue categories and the respective clues to include for each Jeopardy round, prepare a separate slide for the answers. 
Step 6a: Reveal Clues Using ClassPoint's Draggable Objects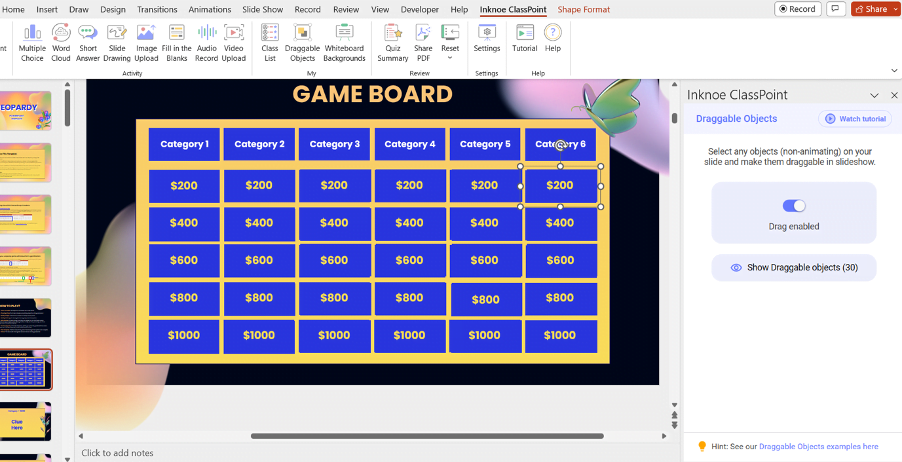 If you have created your clue behind the point value on the same slide as the game board, you can utilize ClassPoint's Draggable Objects to reveal the clues behind each point value during the game. To use ClassPoint's Draggable Objects to set up the game board: 
1.     Download ClassPoint for free.
2.     Click "Draggable Objects" on your PowerPoint ribbon.
3.     Select all the point values you would like to be turned into draggable elements and click "Drag enabled" on the side panel.
4.     To drag: Enter slideshow mode and click on the Draggable Objects icon at the ClassPoint toolbar to start dragging and revealing the clues underneath! 
Step 6b: Reval Clues Using Hyperlinks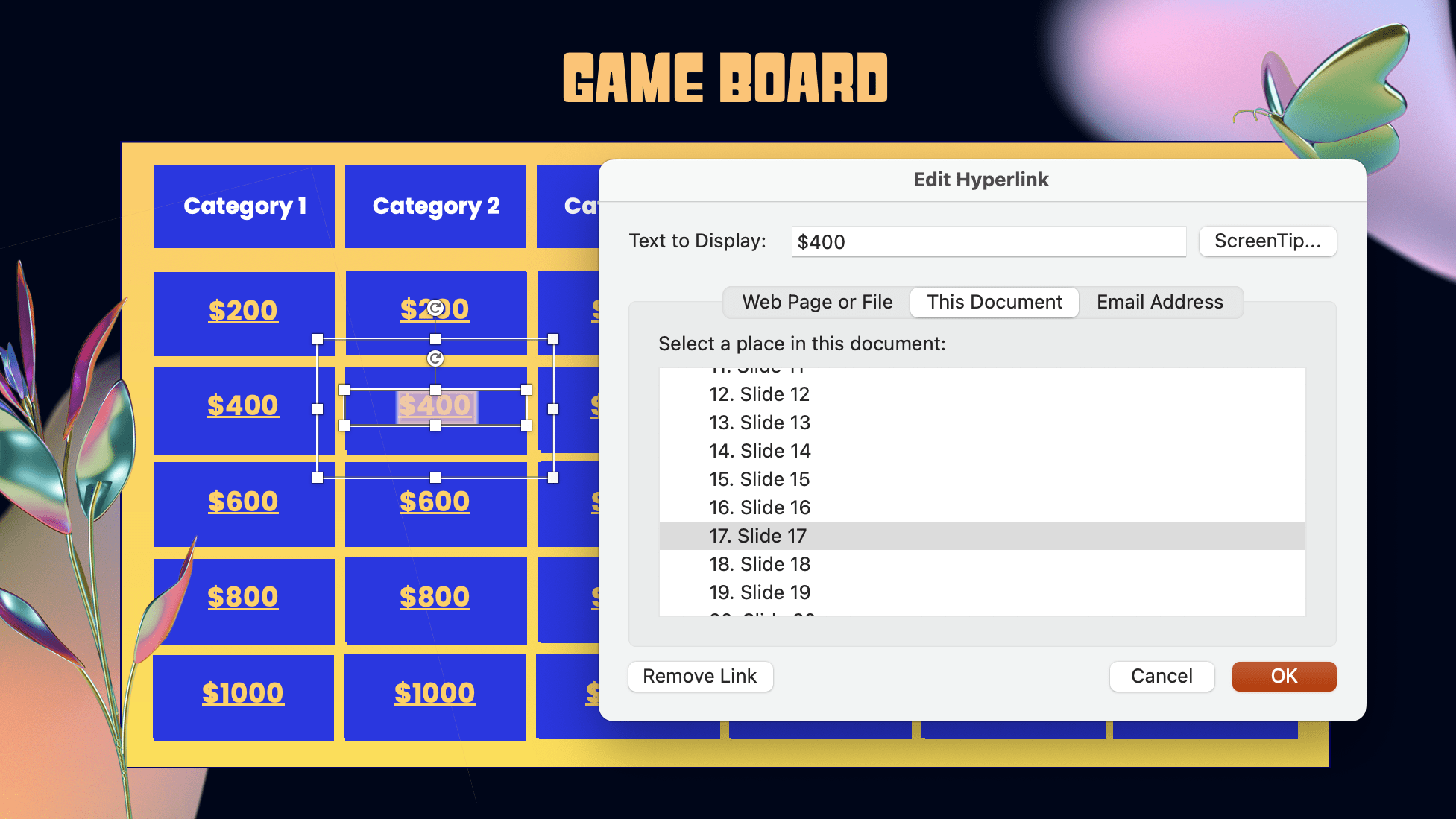 Alternatively, if you prefer not to reveal clues using Draggable Objects and if you have created your clues on separate slides in your PowerPoint, you can add hyperlinks to connect the point values and their respective clues to allow better navigation between the slides. In the Jeopardy game template provided, we have included hyperlinks between each point value to its respective clue slide. 
Step 7: Add Multimedia (Optional)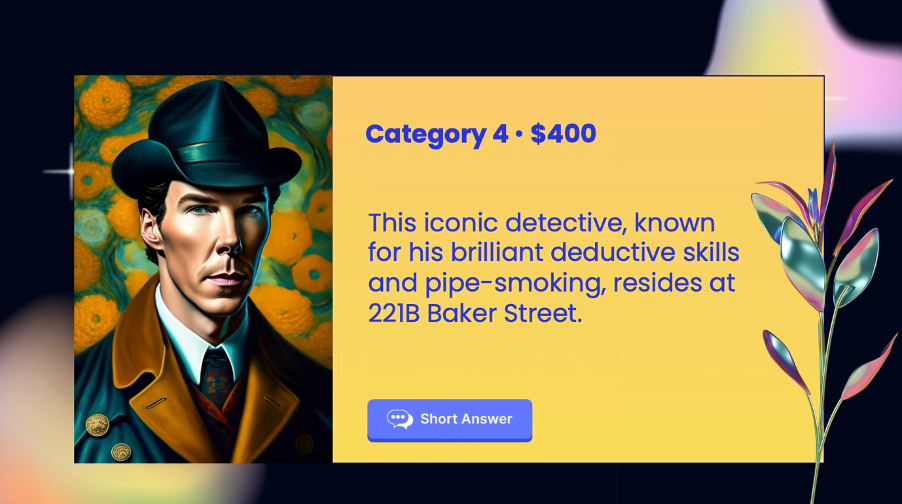 This is an optional step. You can also add visual aids and multimedia to the clues to make the game more visually appealing! 
Step 8: Add Gameplay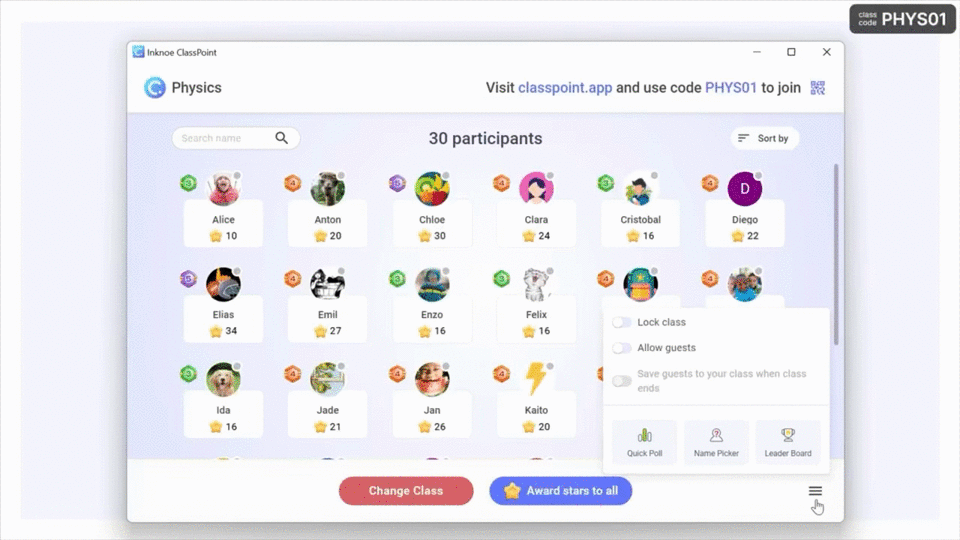 The traditional way of keeping track of scores would be to assign a scorekeeper and include a manual scoring board on PowerPoint. However, you can leverage on ClassPoint's built-in gamification features in PowerPoint to award scores and access to a leaderboard right at your fingertips. Here is how:
1.     Once you have downloaded ClassPoint and signed in, go to Class List at your PowerPoint ribbon.
2.     Add the contestants' names/teams' names.
3.     Award Points – During each Jeopardy game round, award and deduct stars from the contestants/contesting teams by going to "My Classes" or "Name Picker" tab at the ClassPoint toolbar during PowerPoint Slideshow mode. 
4.     Leaderboard – You can access the leaderboard feature at the ClassPoint toolbar during PowerPoint Slideshow mode to keep track of the scores during the game.
Start playing Jeopardy on PowerPoint!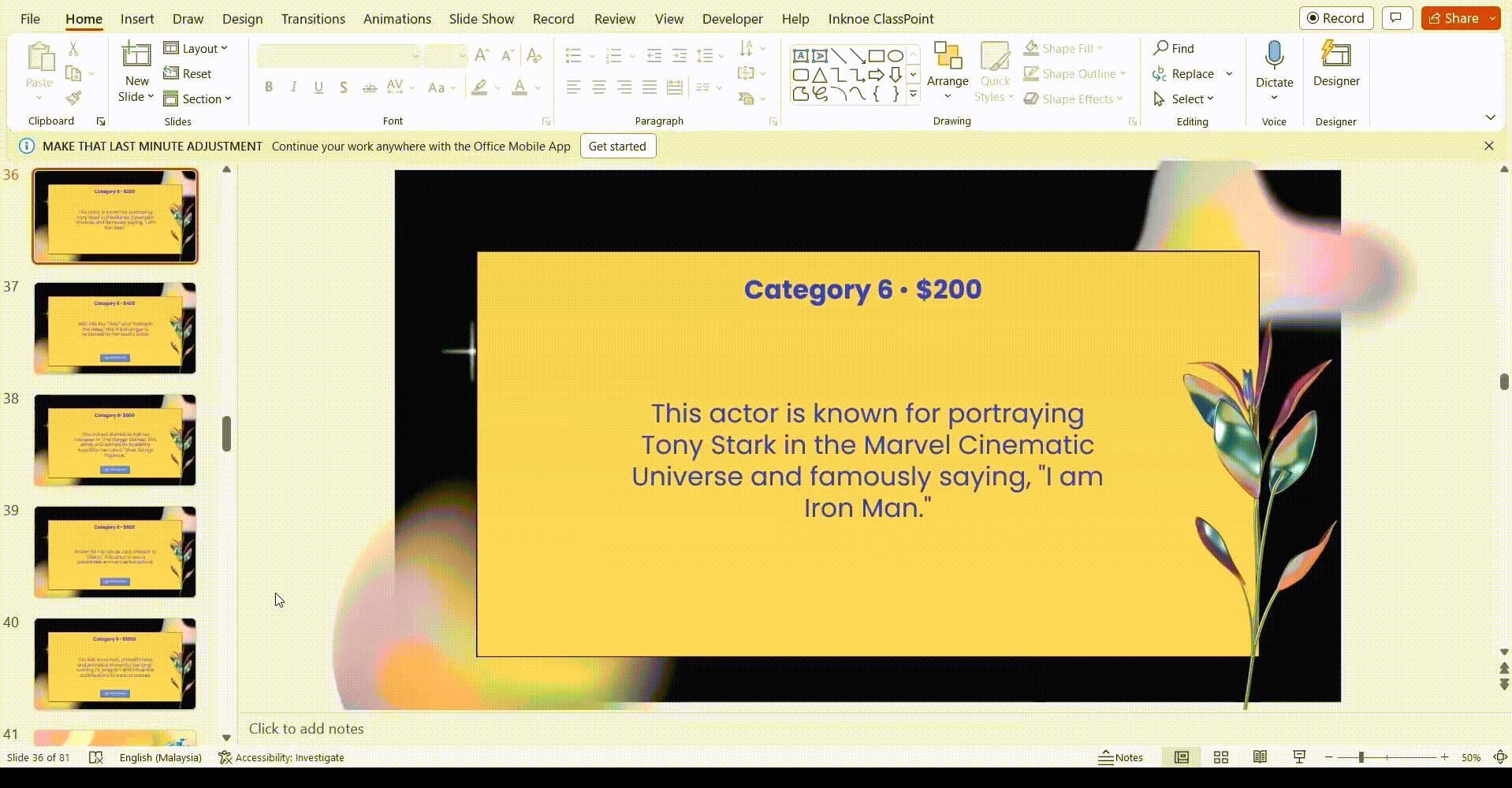 Contestants can answer verbally, or interact with your PowerPoint Jeopardy game on PowerPoint right away using ClassPoint's interactive quiz buttons.
Here is how:
Choose from a wide selection of ClassPoint interactive quiz buttons at your PowerPoint ribbon and add them to your clue slides. (We recommend using Short Answer for Jeopardy games!)
Enter slideshow mode to start playing. To start the quiz, simply click on ClassPoint's quiz buttons. Invite participants to join using their devices at www.classpoint.app to start collecting responses.
For a more in-depth tutorial on how you can easily turn any of your PowerPoint slides into interactive games, read this article on How to Create and Play PowerPoint Games. 
That's it. That's how easy it is to make and play a Jeopardy game in PowerPoint. With our guided tutorial and Jeopardy PowerPoint template, the Jeopardy game is no longer confined to your TV screen – it is now at your fingertips, ready to transform your class session or game night!
Conclusion
Whether you are a teacher aiming to inject excitement into your lessons, or a team leader seeking to boost your employee morale, or simply a trivia aficionado craving some competitive fun, our Jeopardy PowerPoint template has everything you need to turn an ordinary presentation into an extraordinary, captivating experience!
All you need is PowerPoint, our template, ClassPoint's interactive quiz and gamification features, and a dash of fun spirit to begin creating your very first Jeopardy game in PowerPoint that amazes and dazzles your audience!
Check out more PowerPoint game templates here! 👇
About Zhun Yee Chew
Zhun Yee Chew is the Content Lead at ClassPoint. She aims to empower educators to build engaging classrooms through valuable and innovative content. Zhun is a passionate advocate and leader of educational transformation, as well as an educator. Before joining ClassPoint, she spent her past 7 years spearheading efforts to revolutionize education systems across different countries. She kickstarted an educational NGO, developed innovative solutions and curricula for various programmes, and actively volunteered with various NGOs and rural communities as an educator driving change.