Teachers often wrestle with a common challenge—navigating time constraints within the confines of a classroom. Whether it is juggling lesson plans, conducting timed activities or ensuring classroom productivity, without a way of keeping track of time effectively, it will unknowingly lead to minutes slipping away and an unproductive lesson.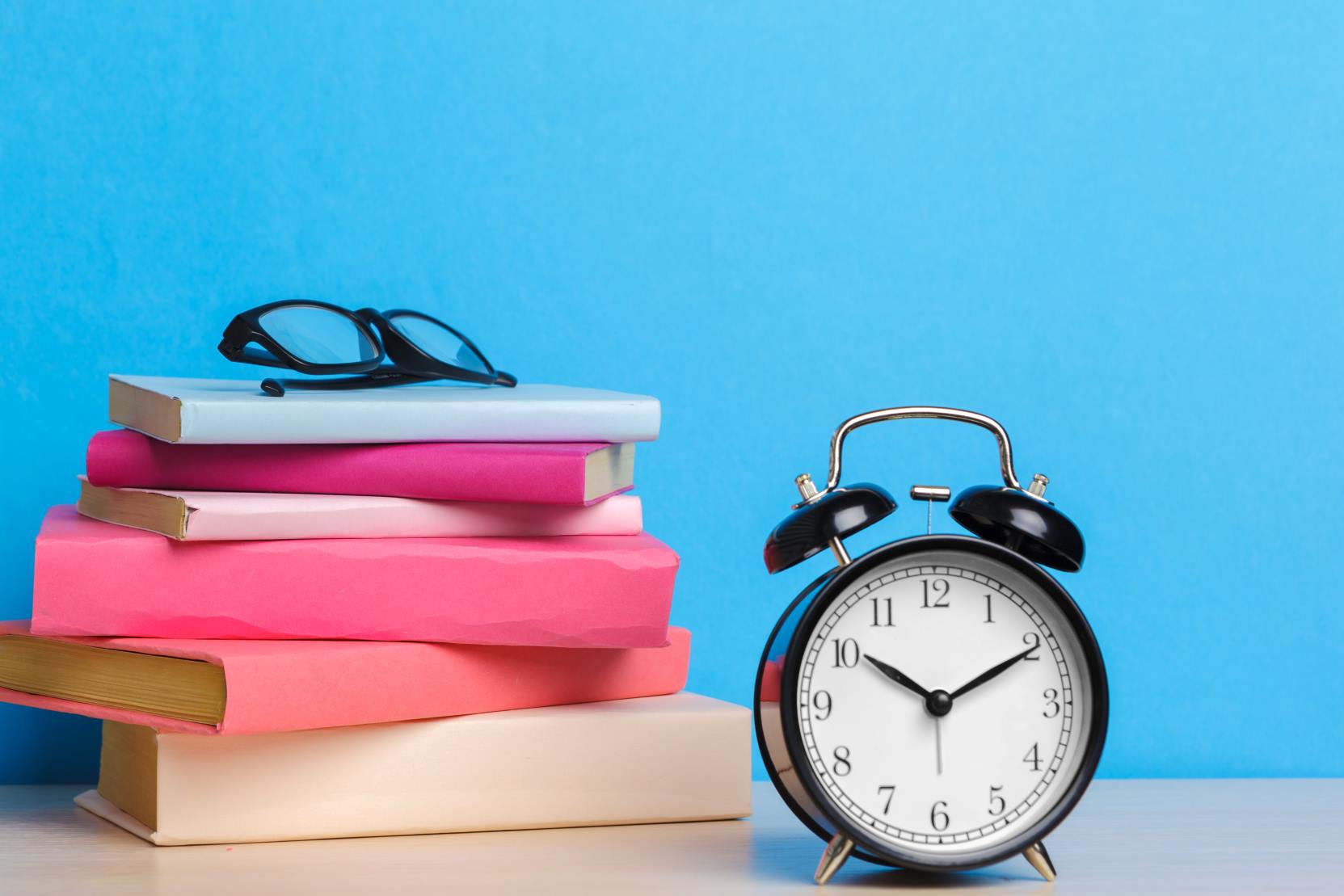 Teachers often present teaching materials or conduct classroom activities with presentation tools like PowerPoint, however, there is no native timer embedded in PowerPoint to help teachers navigate their slides with keeping track of time with finesse. Fret not, we are here to share with you exactly how you can insert a timer in your PowerPoint, as well as 7 proven ways to use a PowerPoint timer to streamline your revolutionize the way you manage classroom time!
How to Insert A Timer in PowerPoint?
But first, let us show you how you can insert a timer in PowerPoint in 4 simple steps. After trying out different possible methods of adding a timer in PowerPoint, we have discovered the most straightforward approach that yields the best results. In just 4 simple steps, we will guide you through the process of seamlessly incorporating a timer into your PowerPoint presentations.
How to Insert A Timer in PowerPoint?
Step 1: Download ClassPoint
Download ClassPoint at www.classpoint.io. ClassPoint is an all-in-one add-in that is seamlessly integrated in PowerPoint to instantly transform your PowerPoint into an interactive and powerful teaching tool.
Step 2: Access ClassPoint Toolbar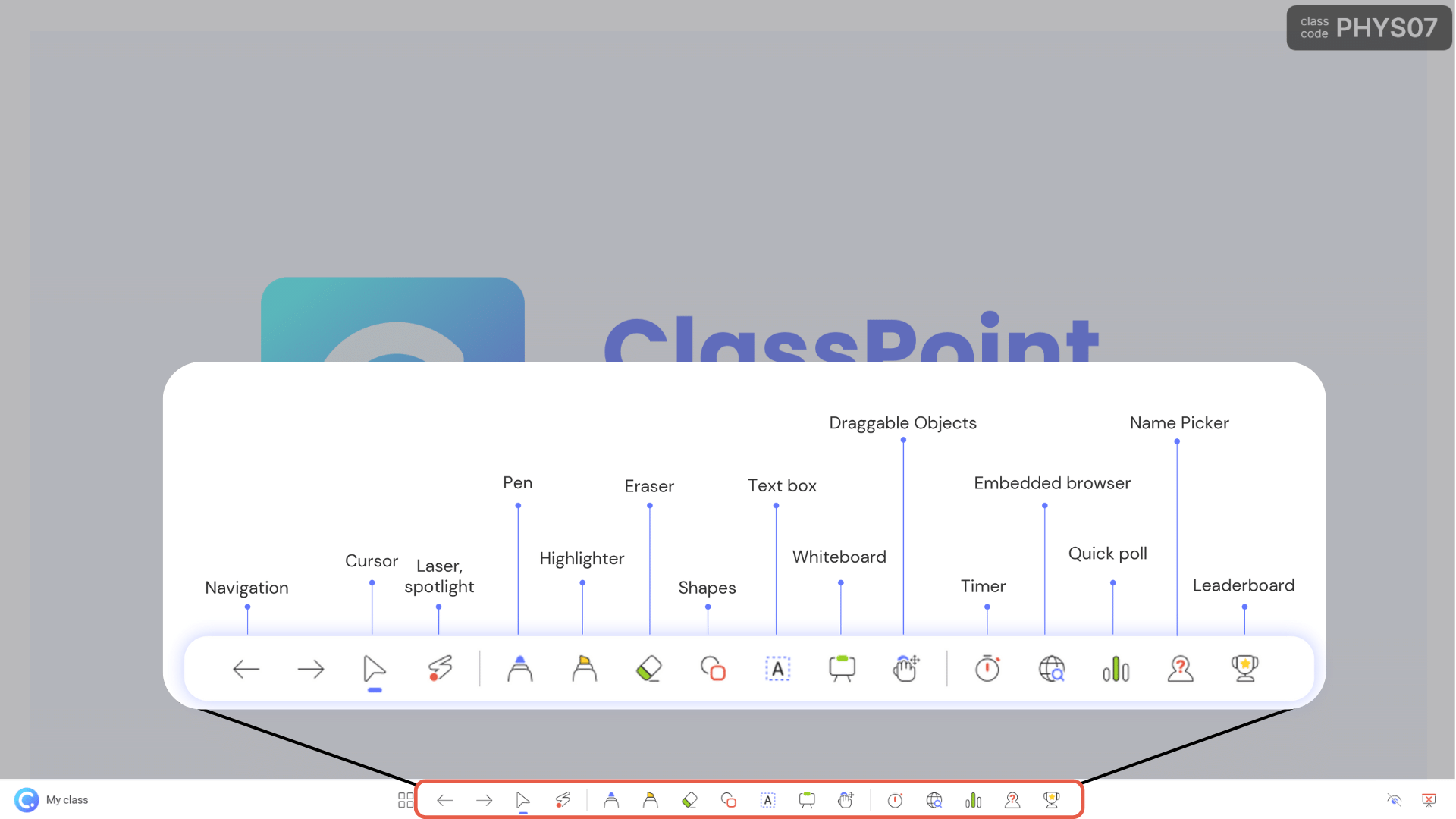 Once downloaded, you will notice ClassPoint toolbar has been added to the bottom of your screen when you enter slide show mode. It consists of a vast range of presentation and annotation tools to help you create next level presentation instantly.
The Timer tool is available at the ClassPoint Toolbar, right next to Embedded Browser and Draggable Objects.
Step 3: Run the PowerPoint Timer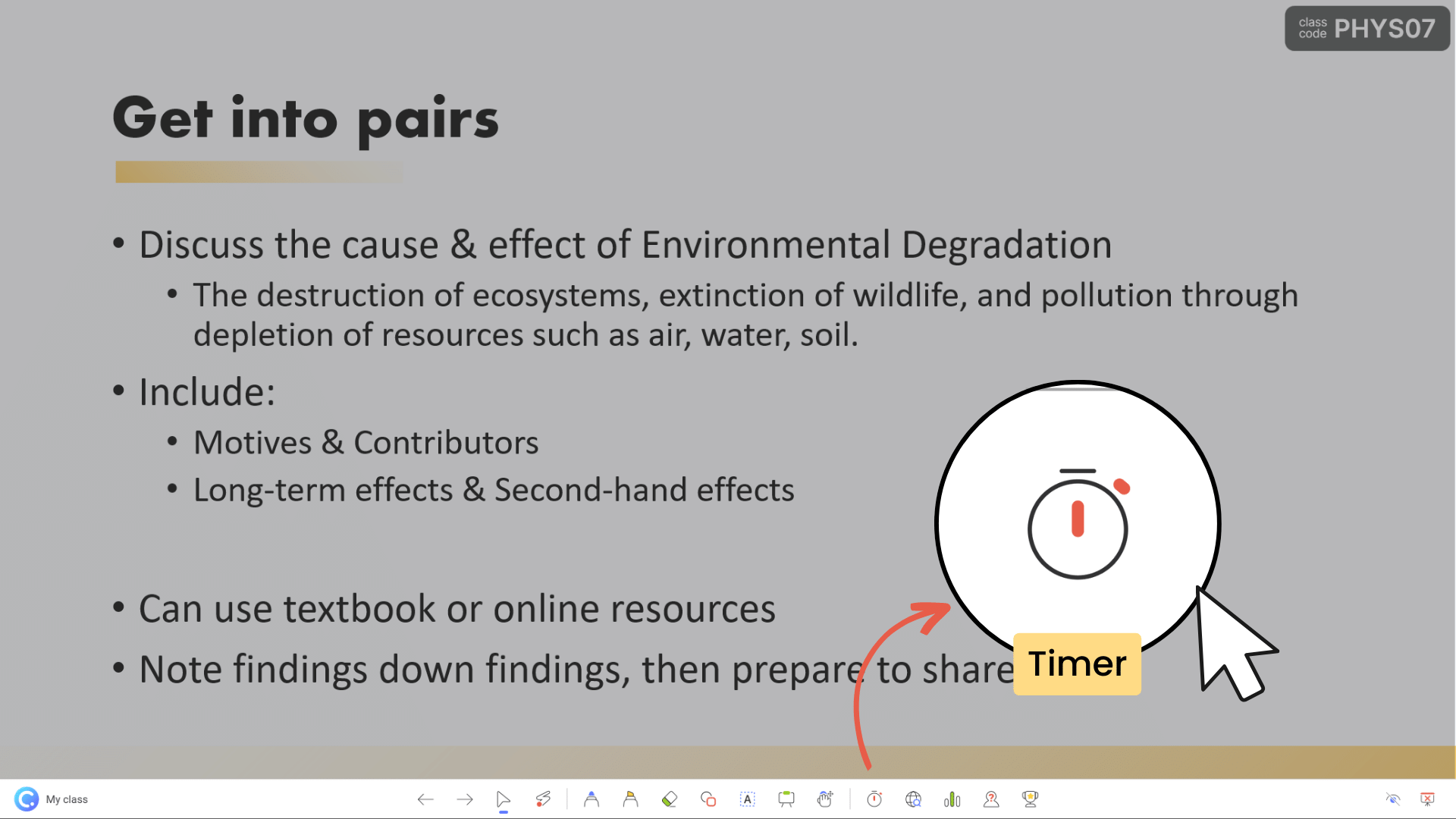 Click on the Timer icon on the ClassPoint toolbar whenever you want to start a timer.
ClassPoint timer has 2 modes – timer and stopwatch, providing flexibility to adapt to different teaching and presentation needs. You can easily toggle between "Timer" and "Stopwatch" mode.
You have the option to easily adjust the timer in increments of 30, 10, or single seconds. Additionally, you can manually input a precise time using the minute and second frames or adjust the quick (+) or (-) buttons.
Step 4: Customize the Options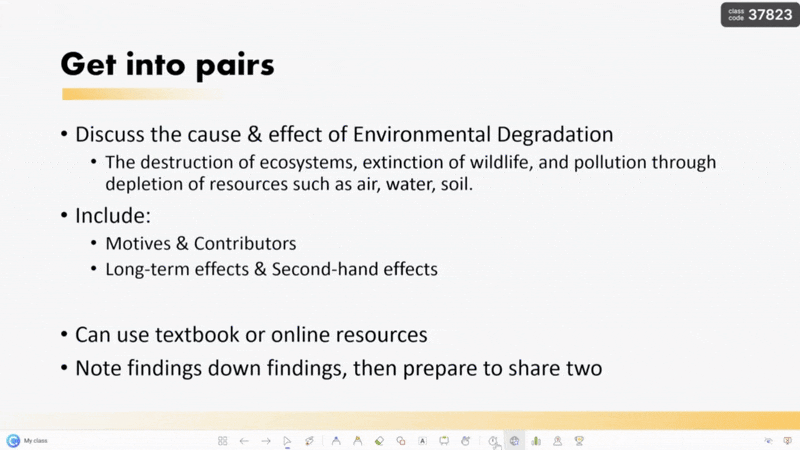 You can also maximise or minimise ClassPoint timer for optimal visibility, as well as adjusting the alarm tunes to match your preferences.
Then, start your timer!
---
The 10 Most Effective Ways to Use A PowerPoint Timer (or Timer) in Class
Now that you know how easy it is to insert a timer in PowerPoint, let us share with you the 7 proven ways you can start using a timer in your class or PowerPoint teaching presentation. With these strategies, you can harness the full potential of this tool to create a dynamic and efficient classroom environment that fosters engagement, comprehension, and a sense of structured learning.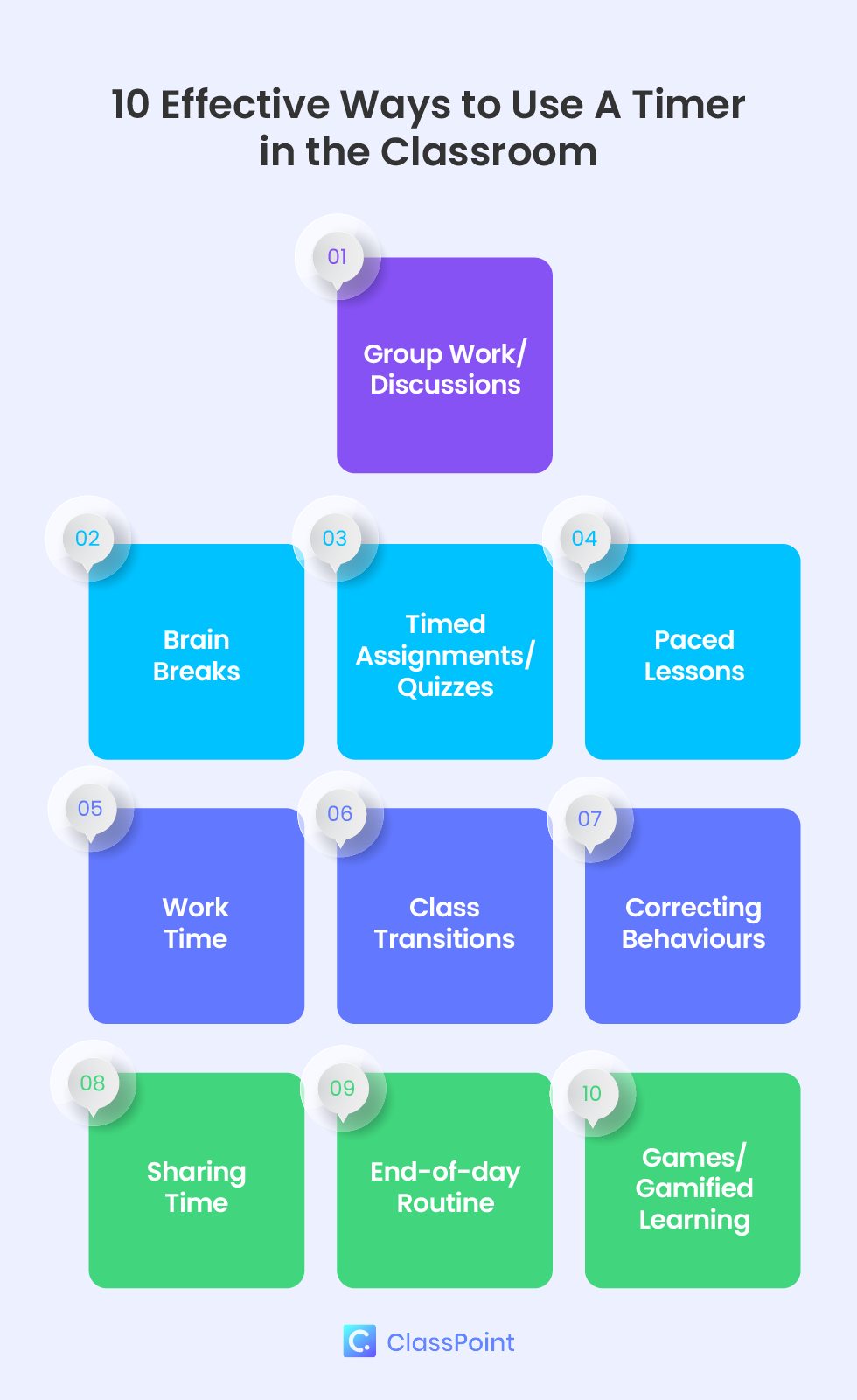 1. Group Work or Discussions
A PowerPoint timer can be your ally in fostering collaborative learning. Group work and discussions can easily become unfocused and unproductive without a clear structure and time limit. So, set a countdown to encourage focused group discussions, at the same time promoting active participation among the students, and motivating students to collaborate effectively within the allocated time frame.
Benefits of using a timer in group work or discussions:
Encourages active participation
Ensures discussions stay on track and focused
Provides structure and promotes a concise wrap up
2. Brain Breaks
Even though time in the classroom is limited, breaks are almost as valuable. Integrate refreshing brain breaks into your lessons using PowerPoint timers by setting a short countdown signals the transition to a quick physical activity or a mental recharge, rejuvenating students' focus and energy. Brain breaks can improve students focus, and can help students self-regulate their attention, focus, or lack of. Plus taking a breather breaks can reduce stress, anxiety, and frustration if students are feeling overwhelmed.
Benefits of setting a timed brain break:
Improve student focus
Encourage self-regulation and ease stress, anxiety, or frustration
Better classroom management
3. Timed Assignments or Quizzes
Give a timed exercises and quizzes to students during class with an emphasis on completion is great practice for test taking (especially standardized tests), problem solving, deepening knowledge level, improving reading comprehension, and cognitive thinking skills.
You can also enhance student time management skills and task completion rates with timed assignments. A PowerPoint timer makes it effortless to create a sense of urgency as well as discipline in the classroom.
Run interactive quizzes right inside PowerPoint by transforming your PowerPoint presentations into interactive quizzes with these interactive quiz buttons. 
Benefits of running timed assignments:
Improve test-taking skills
Better time management
Improve problem solving skills
Students get to practice time pressured assignments in a lower-stakes environment
4. Paced Lessons
Paced lessons are important for teachers to maintain a steady rhythm during lessons and ensure that all teaching materials are being covered. Whether it is introducing a concept, demonstrating examples, or facilitating discussions, setting specific time intervals ensures a balanced coverage of content without rushing or dragging through any particular section.
Instead of just relying on the clock, a PowerPoint timer is much more convenient and reliable with timer alerts that can remind you when to wrap up and move on.
Benefits of conducting paced lessons:
Hold one accountable for prioritizing time management of lesson
A proactive way of making sure all parts of your lesson plan are included during your lesson
5. Work Time
Work time is a dedicated period where students are hyper-focused on the tasks and practice exercises being assigned to them. And with PowerPoint timers, teachers can easily transition from teaching to applications without leaving PowerPoint.
This approach also helps students focus intensely on tasks, eliminates distractions, and instills a sense of responsibility for utilizing the given time effectively.
Benefits of setting work time:
Helps the teacher stay on track with lesson
Develop time management skills
Create a focus on task completion
Helps students avoid procrastination
Encourage a sense of responsibility
6. Class Transitions
The transition between class activities and between classes is always chaotic. With a PowerPoint timer, teachers can smoothly transition between classroom activities or lessons. Whether it is shifting from one subject to another or moving from group work to a lecture, a visual countdown assists in managing these transitions seamlessly. It trains students to become more accustomed to transitioning promptly, minimizing disruptions and maximizing learning time.
Benefits of implementing a timer in class transitions:
Improve class management
Reduce distruptions
Smooth lesson flow
7. Correcting Behaviours
A PowerPoint timer can actually do more than just managing timed activities and classroom flow. It can also help implement behaviour correction like quieting a class. You can allocate a specific time for settling down after a noisy class. As the timer ticks away, students understand that the behavior needs to change within the allocated time, encouraging self-regulation and minimizing classroom disruptions.
This classroom management strategy is louder than words. Students listen & focus up on their own, the timer acts as the disciplinary, and they will strive to listen faster each time without you having to verbally set that goal yourself.
Benefits of using a timer to correct behavior:
Place responsibility onto students to self-discipline
Give you control of the classroom
8. Sharing Time
Give students a chance to showcase their projects, ideas, or work with the help of PowerPoint timers. This encourages them to communicate effectively in a clear and concise manner, learning to express themselves within a set time limit. Plus, it ensures that every student, no matter their pace, gets an equal chance to share, creating a sense of inclusivity in the classroom.
Benefits of allocating sharing time:
Enhance communication skills
Encourage equal participation in the classroom
Build students' confidence levels
We recommend teachers to combine Timer with Name Picker for an effective and active sharing session. 
9. End-of-Day Routine
Wind down the day smoothly by using a PowerPoint timer to guide an end-of-day routine. Whether it's reflecting on the day's lessons, summarizing what was learned, or getting materials organized, the countdown provides structure to this period of transition. It helps students shift their minds from the classroom to their next activity with ease and clarity.
Benefits of end-of-day routine:
Ensure a structured closure to the day
Allocate time for reflective practice
Build consistency and routine
10. Games and Gamified Learning
An alternative (and more exciting) way to end the lesson would using classroom games. Use a PowerPoint timer when playing PowerPoint games at the end of a lesson or unit to add competitive fun or increase the intensity of the low-stakes game. Not only does a limit on time become an exciting motivator for student participation, but it also is practicing recall under a time crunch, which can help improve thinking, problem solving, and test taking skills.
Stopwatches too, can be a great tool for game-based learning! For example, you can use a stopwatch to time an activity like a quiz game or a scavenger hunt. Collect the different time splits that your students take in finishing an activity and whoever is the fastest wins!
Here is how you can easily transform your PowerPoint presentation into a game in a few clicks!
Benefits of using a timer or stopwatch for games:
Increase student engagement and motivation
Encourage healthy competition among students
Students can practice timed-pressured recall in a low-stakes environment
Prevent classroom games from going over allotted time
---
Teacher-Approved Tips on Using A Timer Like A Pro in Class
Using timers in the classroom can be a powerful tool to improve student learning, but it is important to use them effectively. Here are some expert-endorsed tips to use timer to elevate your classroom dynamics instantly:
Set clear expectations
What is the purpose of the timer? Make sure to let your students know what they are expected to achieve during that timed activity by clearly outlining the objectives.
Incorporate timers as apart of your routine
To really improve life-long time management skills for students, integrate a focus and prioritisation of time and timed activities as part of your classroom routine.
Be flexible
Remain flexible. Recognize that unforeseen circumstances can cause tasks to run longer than anticipated, and always be ready to adjust accordingly by either shortening certain activities or allocating additional time to uphold the intended learning goals.
Set rewards for time-based games
When employing a timer for classroom games, remember to infuse an element of excitement by providing rewards that enhance the fun factor and boost participation. Consider offering tangible incentives or employing a digital points system to elevate motivation, effectively incorporating a touch of gamification into your teaching strategy.
Make sure your timer is visible
Of course, make sure your timer is big enough and visible for everyone, especially to the students at the back of the class!
Pro tip: Maximise the ClassPoint timer in PowerPoint to bring the PowerPoint timer window to full screen mode. 
Conclusion
So, are you ready to incorporate these diverse strategies of utilising a PowerPoint timer into your teaching toolkit? From enhancing engagement and time management to fostering collaborative learning and instilling essential life skills, the power of a PowerPoint timer transcends its simplicity.
Embrace the timer as your ally, and watch your teaching prowess and students' educational experience thrive!
About Paige Puntillo
I'm Paige, a part of the global marketing team at ClassPoint. With education and experience in both marketing and education, EdTech is my jam! When I'm not working I'm probably starting new DIY projects or chilling with my cat!