Are you a teacher searching for an efficient and engaging way to involve every student in your classroom activities? Look no further than a random name picker for teachers. This tool is a game-changer for fostering participation and excitement in your classroom.
In this blog post, we'll delve into:
The significant benefits of using a random name picker in class.
Exploring different types of random name pickers.
A comprehensive guide to the best random name pickers available, tailored for educators.
Curious to discover how a random name picker can transform your teaching experience? Keep reading to find the perfect solution that fits your classroom needs!
---
Best Random Name Picker for Teachers: A Snapshot
Feature / Tool
ClassPoint Name Picker
Wheel of Names
ClassTools
Random Name Picker
Flippity Random Name Picker
Team Shake
Picker Wheel
Primary Tech Random Student Selector
Name Picker Ninja
Pricing
Free / $8 per month
Free
Free
Free
$2.99
$5.50 per month / $46 yearly
Free
Free
Integration with PowerPoint
✓
✕
✕
✕
✕
✕
✕
✕
Customizable Interface
✓
✓
✕
✓
✕
✓
✕
✕
List-Based Selection
✓
✕
✓
✓
✕
✕
✓
✕
Wheel-Based Selection
✓
✓
✕
✕
✕
✓
✕
✕
Group Randomizer Feature
✓
✕
✕
✕
✓
✕
✕
✕
Google Sheets Integration
✕
✕
✕
✓
✕
✕
✕
✕
Simple Interface for Quick Use
✓
✓
✓
✓
✓
✓
✓
✓
Save Lists
✓
✓
✓
✓
✕
✓
✕
✕
---
Benefits of Using a Random Name Picker for Class
When it comes to fostering an inclusive and dynamic classroom environment, a random name picker for teachers can be a remarkably effective tool. By introducing an element of chance into classroom participation, teachers can reap a variety of benefits that not only make their jobs easier but also enhance the learning experience for students.
Fair and Inclusive Participation
Equal Opportunity: Every student's name in the digital "hat" means each has an equal chance to be called upon, reducing the risk of unconscious bias and ensuring a fair distribution of participation opportunities.
Anxiety Reduction: For students who may feel anxious about raising their hands, the random name picker for teachers wheel takes away the pressure, allowing them to prepare mentally when they know that everyone has an equal chance of being selected.
Boosted Engagement and Interest
Anticipation Builds Attention: The suspense of who will be called next keeps students more attentive, knowing they could be the next one to answer a question or lead a discussion.
Enhanced Active Learning: Engagement tools like these encourage students to be present in the moment, which is crucial for active learning—a pedagogical approach where students engage with the material, participate in the process, and reflect on their learning.
Efficient Classroom Management
Streamlined Processes: The random name picker for teachers download options offer quick setup and easy integration into existing classroom routines, saving valuable teaching time.
Spontaneous Group Formation: When working with a random name picker in groups for teachers, you can swiftly create groups for activities or projects, making the process seamless and unbiased.
Reinforcement of Positive Classroom Behavior
Recognition and Rewards: Gamified elements such as earning points or rewards each time a student's name is picked and they answer correctly can motivate students to stay engaged and participate actively.
Progress Tracking: Some random name picker tools allow for tracking which students have been called on, helping to ensure all students are engaged equally over time.
---
Types of Random Name Pickers
In the world of teaching, variety isn't just the spice of life—it's a key ingredient in maintaining student interest and fairness. When it comes to random name pickers, teachers have a wealth of options to ensure that every student gets their moment in the spotlight.
Let's dive into the types of random name pickers that can make your classroom a hub of eager anticipation.
Here are 3 ways to use pick-a-name that you might find interesting!
The Straightforward Selector: List-Based Pickers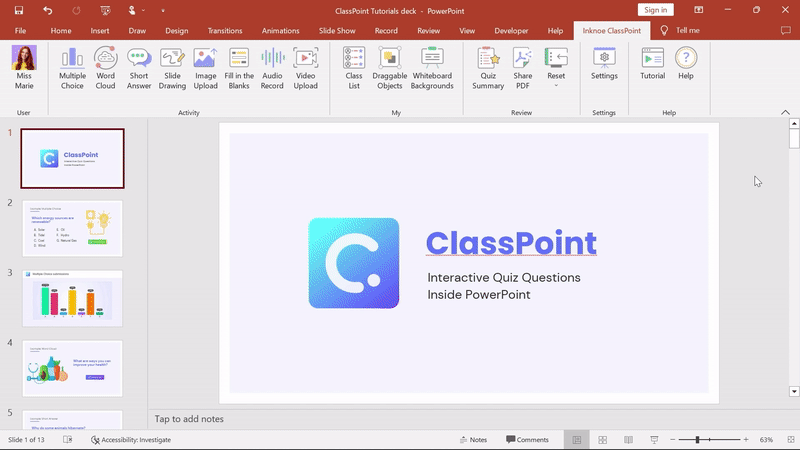 If you're looking for simplicity and efficiency, list-based random name pickers are your go-to.
Ease of Use: Just enter your student names once, and you're set for the year—no frills, no fuss.
Discreet Selection: For a more low-key approach, these pickers quietly choose a name without the fanfare, which can be great for quick transitions and maintaining a calmer classroom environment.
The Wheel of Fortune: Wheel-Based Pickers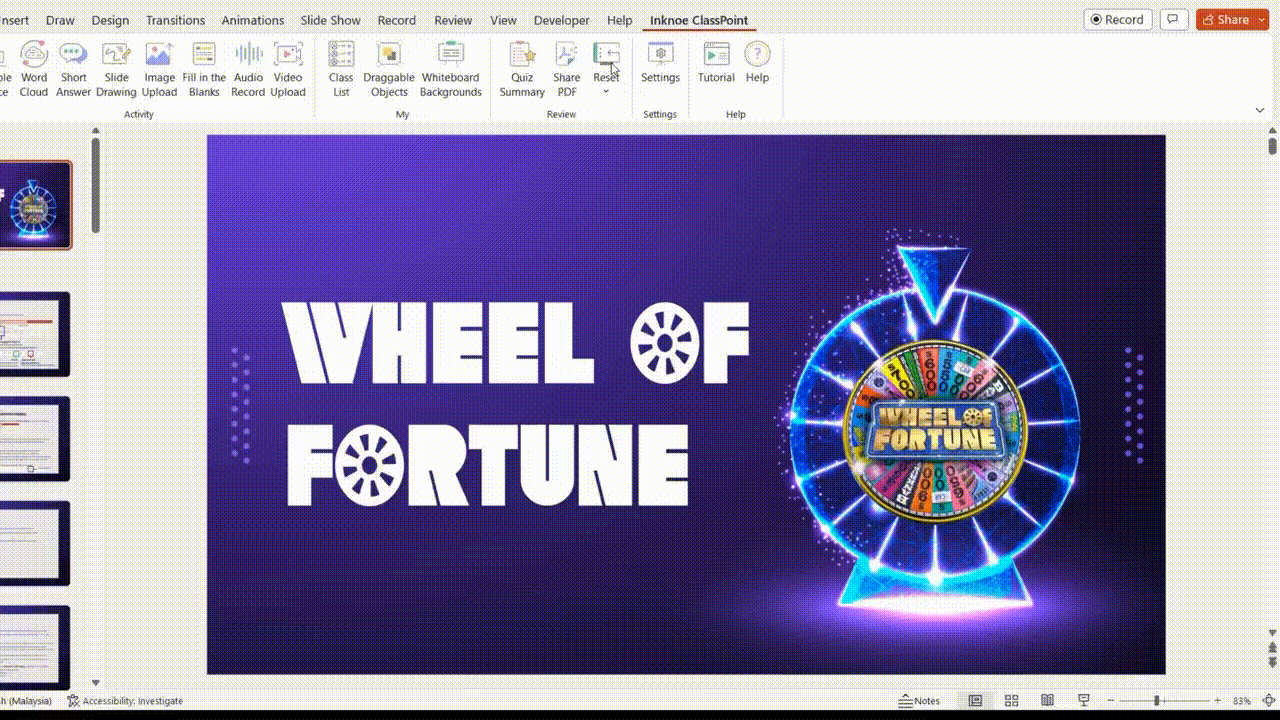 Imagine the thrill of a game show right in your classroom—that's what wheel-based random name pickers bring to the table.
Visual Appeal: With a colorful spin wheel, these pickers grab attention and build excitement with every rotation.
Customization: You can often personalize these wheels with different colors, sounds, and even add images, making it a vibrant part of your teaching toolkit.
Versatility: Some wheels allow you to add various categories, so you can use them for choosing topics, questions, as well as names.
The Collaborative Catalyst: Group Randomizer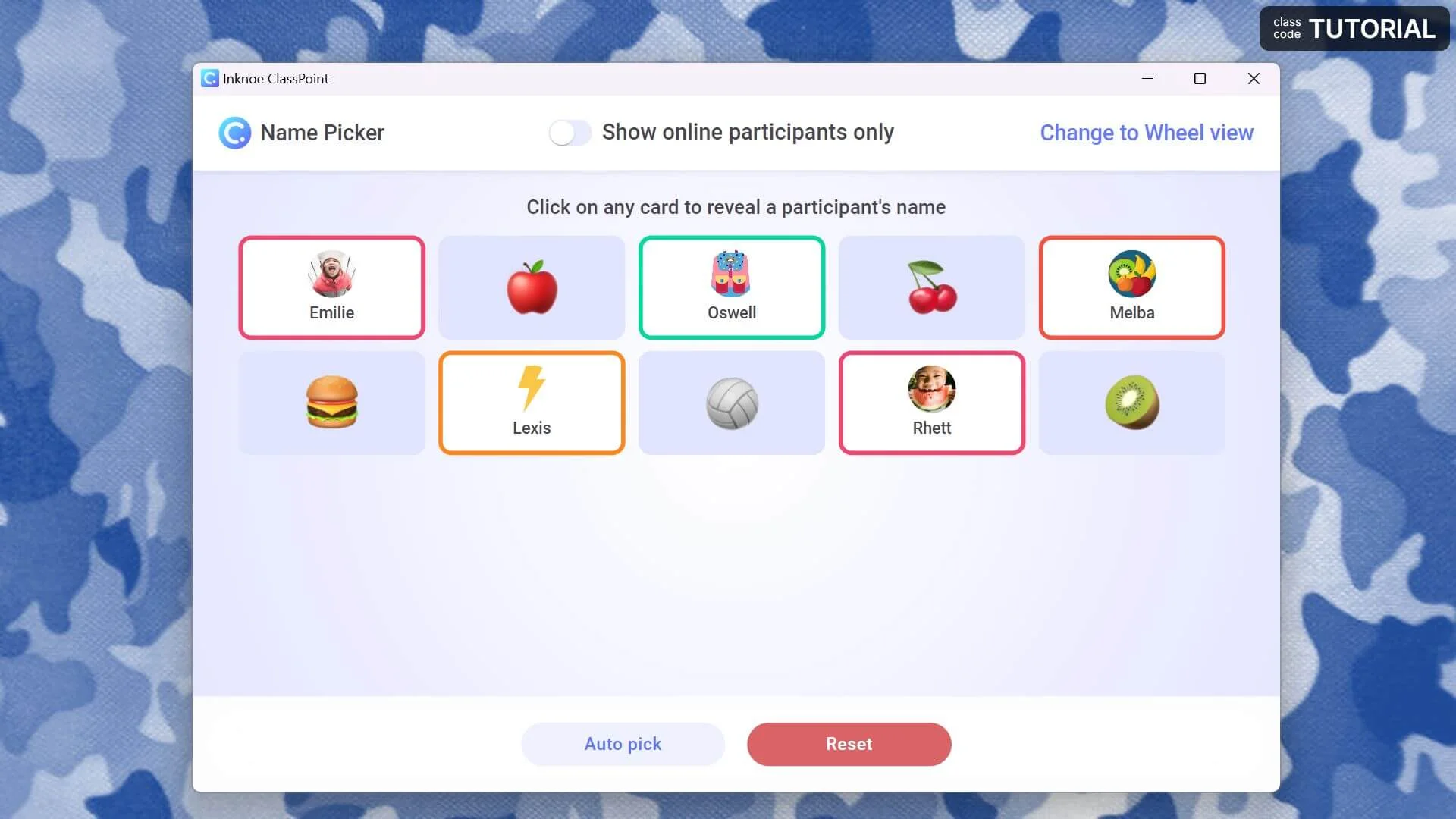 Then there's the random name picker for grouping—perfect for when you want to mix things up and encourage collaboration.
Diversity in Grouping: By randomly grouping students, you ensure a diverse mix of abilities and personalities, which can lead to more dynamic interactions and learning opportunities.
Effortless Team Creation: These pickers remove any hint of favoritism or bias in group assignments, fostering a more inclusive classroom culture.
---
8 Best Random Name Pickers for Teachers in 2023 Compared
Here's a snapshot of the tools you can explore:
Best For All-in-One Name Picker: ClassPoint's Name Picker
Best For the Wheel Enthusiast: Wheel of Names
Best For the List Lover: Name Picker Ninja
Best For the Group Guru: Team Shake
Whether you're aiming to increase participation in a large lecture hall, manage group activities in a workshop, or encourage quieter students to engage in a smaller classroom setting, there's a random name picker out there that fits your needs.
Let's explore these tools in more detail, highlighting how they can be integrated into various teaching scenarios to maximize student involvement and facilitate a more interactive learning experience.
#1 ClassPoint: An All-in-One Game-Changer in Classroom Random Name Picking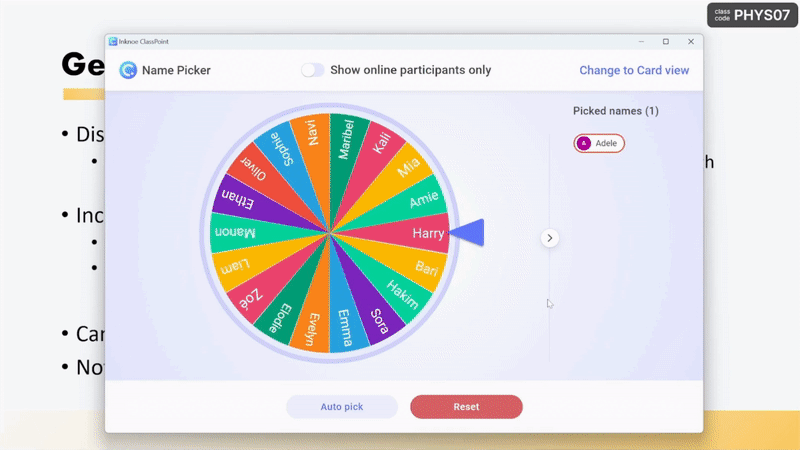 When it comes to incorporating technology into the classroom, ClassPoint stands out, particularly for its intuitive and seamless random name picker feature. This tool is more than just a name selector; it's a comprehensive solution for educators aiming to bring more dynamism and fairness into their teaching.
Check out this blog for a quick tutorial on how to add a spinning wheel of names to PowerPoint.
Key Advantages of ClassPoint
Integrates all Name Picker Types: Incorporates both wheel and card views, allowing flexibility for teachers to select either individual students or groups as needed.
Seamless Integration: Works effortlessly within PowerPoint, a familiar tool for most educators.
Ease of Use: Simple to set up and use, requiring minimal technical know-how.
Interactive and Fun Design: The use of emojis in the random name picker design keeps students interested and engaged in learning.
The ClassPoint random name picker isn't just a tool for calling on students. It represents a step towards more interactive and inclusive classrooms. By incorporating this tool into your lesson plans, you can:
Encourage Equal Participation: Every student has a chance to be involved, ensuring a more inclusive classroom environment.
Track Student Engagement: Monitor which students have been called upon, promoting balanced participation over time.
Foster a Gamified Learning Experience: Use the tool to add elements of gamification to your lessons by instantly awarding stars to students who are selected, increasing student motivation and engagement.
Pros
Enhances existing PowerPoint presentations
Reduces the need for additional software
Engages students in a familiar presentation format
Intuitive interface and appealing design
Versatile modes for diverse uses
Save and edit class lists
Built-in gamification features to pick students and award stars simultaneously.
Cons
Requires basic knowledge of PowerPoint
Limited to PowerPoint users
Price
Name Picker is available in the free plan for up to 25 students per class with an option to upgrade to Pro for $8 a month for up to 200 students per class.
Who it's for: ClassPoint is ideal for educators who regularly use PowerPoint and seek to add an interactive element to their presentations. It's particularly effective in environments where technology is embraced as a means to enhance teaching and learning.
Implementing ClassPoint's Name Picker: A Quick Guide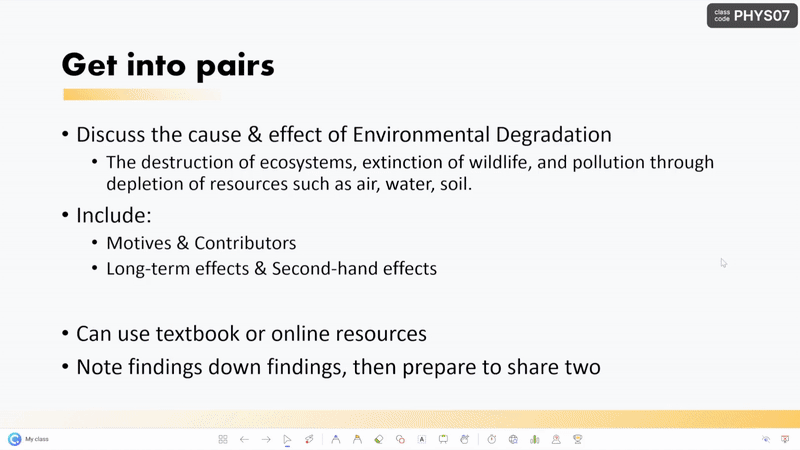 Integrating ClassPoint's random name picker into your teaching routine is straightforward and user-friendly. Here's a concise step-by-step process to get you started:
Download and Install ClassPoint: First, ensure you have Microsoft PowerPoint installed. Then, download ClassPoint from its official website and follow the installation instructions.
Set Up Your Class List: Within the ClassPoint tab in your PowerPoint ribbon, access "Class List" enter your students' names. You can do this manually or import a list if you already have one prepared.
Initiate the Name Picker: With your class list set up, click on the name picker feature in slideshow mode. This will activate the tool within your current PowerPoint presentation.
Engage and Interact: Use it to randomly select students during your lesson. It integrates seamlessly into your teaching flow, keeping students attentive and ready to participate.
Customize as Needed: ClassPoint offers customization options to suit your specific teaching needs, allowing you to switch between wheel view and card view.
Learn how to use ClassPoint features to engage students without devices!
#2 Wheel of Names: For Turning Your Class Into a Fun Wheelhouse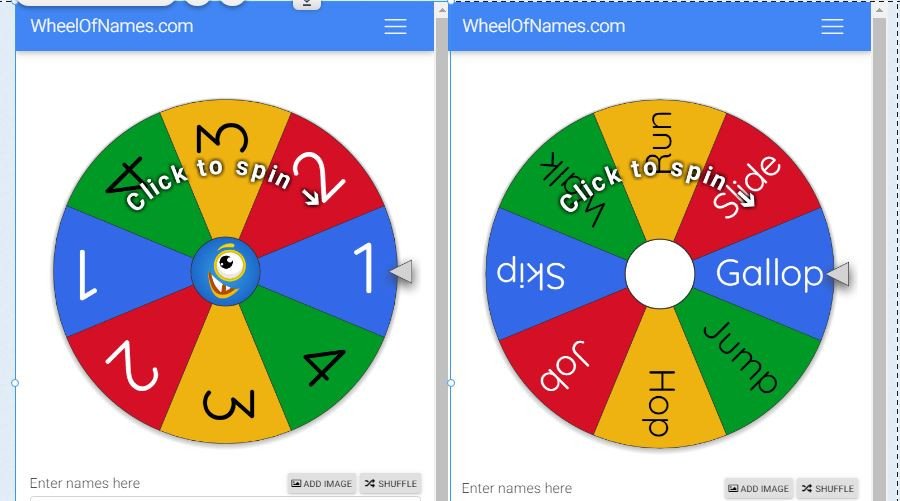 The Wheel of Names adds an element of game show-like excitement to the classroom. It's not just a tool; it's an experience. Teachers can customize the wheel with different colors, add images or even sounds to make each selection a thrilling event for students.
Key Features
Customizable wheel
Save and edit lists
Add images and sound effects
Pros
Highly engaging visuals
Easy to use and customize
Fun sound effects enhance experience
Cons
Internet-dependent
Limited to one selection style
Price
Who it's for: Perfect for teachers looking to create a visually stimulating and fun environment in their classroom. It's especially useful for activities that benefit from a high-energy approach, such as game-based learning or ice-breaking sessions.
#3 Random Name Picker (by ClassTools): A Customizable Slots Approach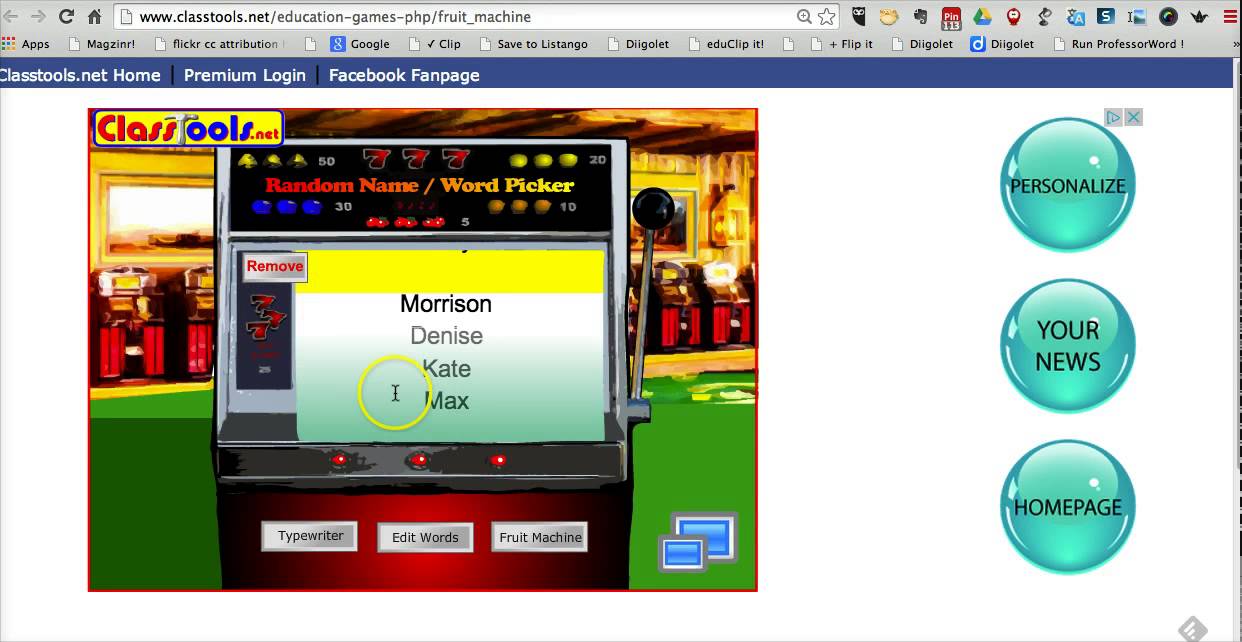 Random Name Picker by ClassTools offers a straightforward, list-based selection method. It's the digital equivalent of drawing names from a hat, but with the added benefit of easy list management and a clean interface.
Key Features
No-frills name selection
List-based system
Easily add or remove names
Pros
User-friendly interface
Quick setup
Efficient for regular use
Cons
Basic visuals
No advanced features
Price
Who it's for: Ideal for teachers who value simplicity and efficiency. It works well in any classroom setting where quick, random selections are needed, like pop quizzes or selecting student presenters.
#4 Flippity Random Name Picker: For the Non-Techy Grouping Enthusiast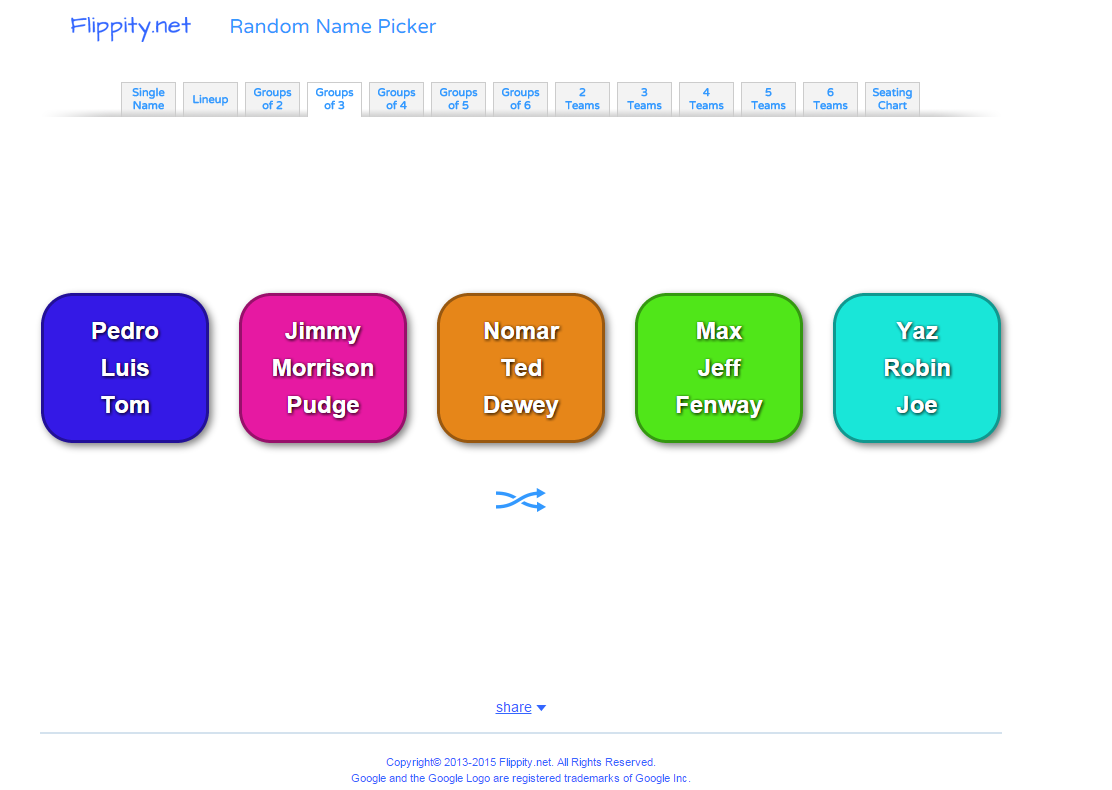 Flippity takes integration to the next level by linking with Google Sheets. This allows for a high degree of customization and collaborative possibilities. Teachers can share lists and configurations, making it a versatile tool for classroom use.
Key Features
Google Sheets integration
Customizable lists
Shareable with a link
Pros
Great for tech-savvy teachers
Easy sharing and collaboration
High degree of customization
Cons
Requires Google account
Slightly steeper learning curve
Price
Who it's for: Best suited for teachers who are already using Google's suite of educational tools and are comfortable with a bit more technology in their classroom. It's particularly useful for projects that require collaborative planning or for distance learning settings.
#5 Team Shake: Grouping Made Easy and Convenient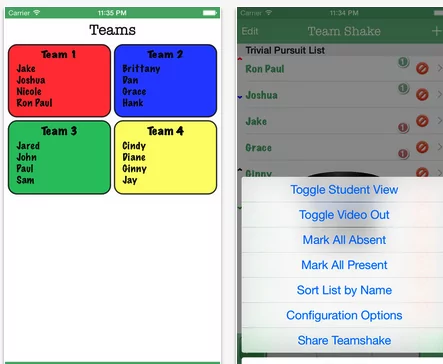 Team Shake is tailored for teachers who frequently organize group activities. It takes the hassle out of creating balanced and diverse groups, allowing for randomization based on different criteria such as skill level or gender.
Key Features
Group randomization
Save lists for future use
Balance groups by gender, ability
Pros
Perfect for group activities
Saves significant time
Ensures diverse groups
Cons
Paid app
More suited for group activities than individual selection
Price
Who it's for: Ideal for teachers who prioritize group dynamics and want to ensure a fair and balanced distribution of students in group tasks. It's particularly useful in classrooms where collaborative projects are a regular part of the curriculum.
#6 Picker Wheel: For Picking More Than Just Names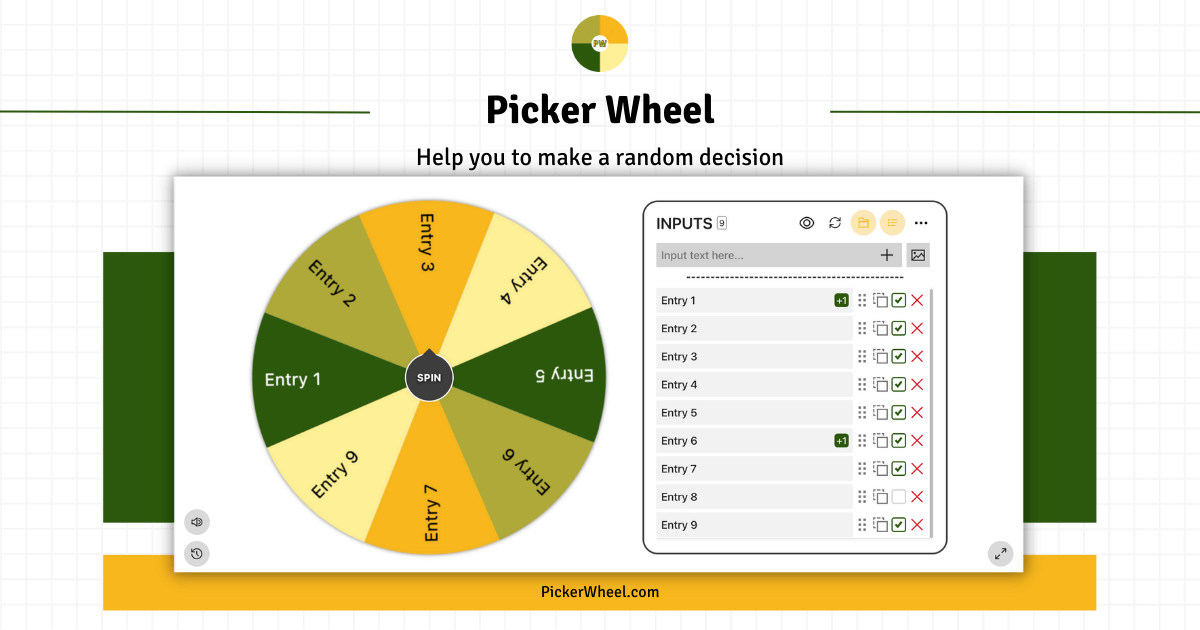 Picker Wheel is another spin-the-wheel tool that offers a fun, game-like experience for students. With multiple modes and customization options, it provides a versatile and engaging way to randomly select names.
Key Features
Digital spinning wheel
Multiple modes (normal, elimination, accumulation)
Customization options (colors, sounds)
Pros
Engaging for students
Versatile modes for different uses
Simple interface
Cons
Can be distracting for some students
Requires device or projector
Price
$5.50 per month / $46 yearly
Who it's for: Best for teachers looking to add a touch of excitement and versatility to their classrooms. It's especially effective in environments where student engagement is key, such as younger classrooms or special education settings.
#7 Random Student Selector (by Primary Technology): A Classic Name Picker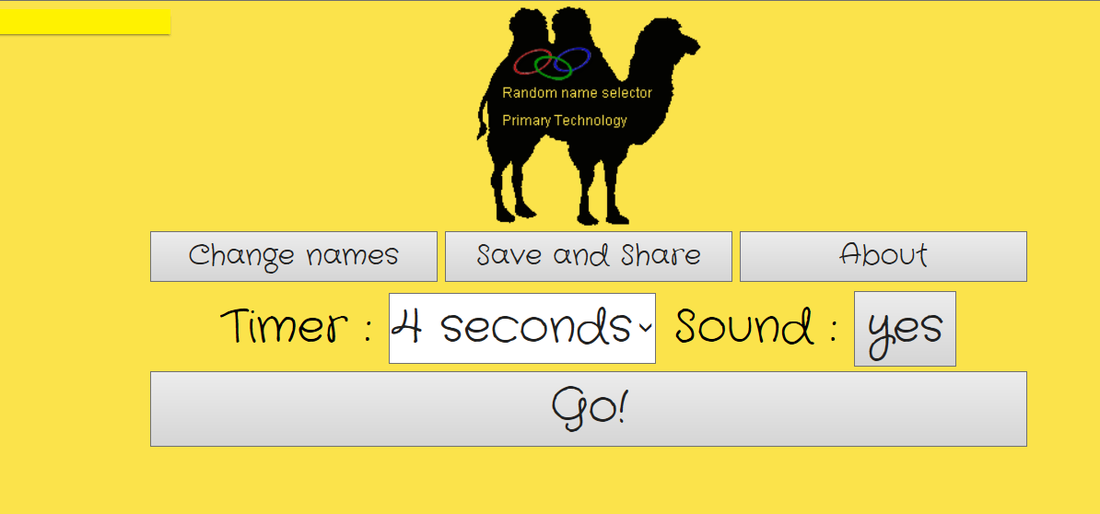 This tool embodies simplicity and functionality. It's a straightforward tool designed for quick and easy use, making it a reliable option for teachers who need a no-frills solution.
Key Features
Straightforward name selection
Add names quickly
Minimalistic design
Pros
Extremely easy to use
No setup required
Quick name selection
Cons
Lacks advanced features
Basic visual appeal
Price
Who it's for: This tool is a great fit for teachers who need a straightforward, reliable way to select students. It's particularly effective in situations where time is of the essence, such as in large classrooms or when transitioning between multiple activities.
#8 Name Picker Ninja: Creating and Picking Ninja Names for Your Class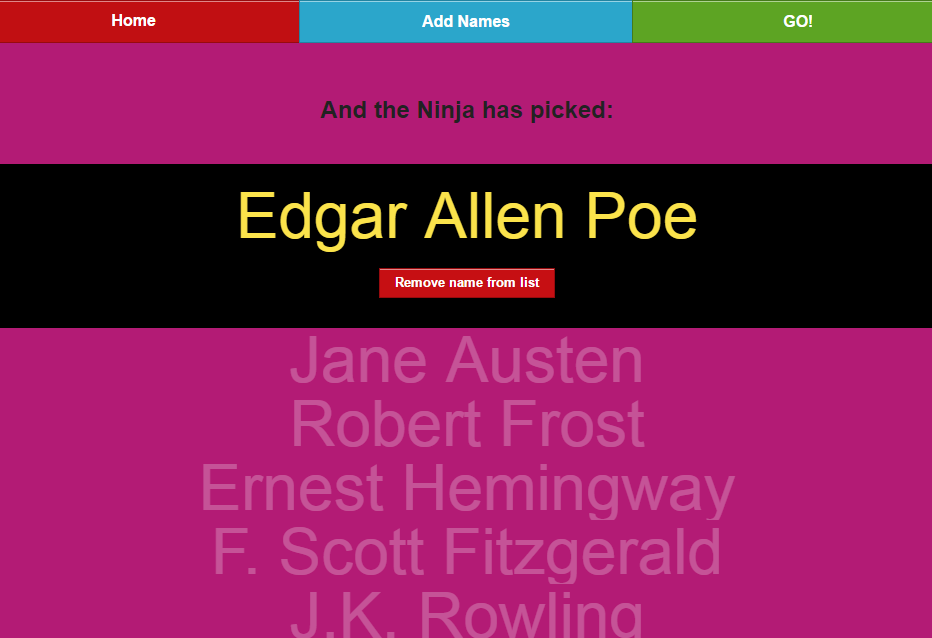 Name Picker Ninja offers a sleek, modern approach to random name selection. Its streamlined interface makes it a fast and efficient tool for everyday classroom use.
Key Features
Sleek, modern interface
Quick add and remove names
Random selection with a click
Pros
Visually appealing
Fast and efficient
Simple to use
Cons
Basic functionality
No list saving option
Price
Who it's for: Suitable for teachers who appreciate a blend of style and efficiency. It's great for tech-forward classrooms and teachers looking for a modern tool that's both easy to use and visually appealing.
---
Bonus: Random Name Picker Classroom Use Cases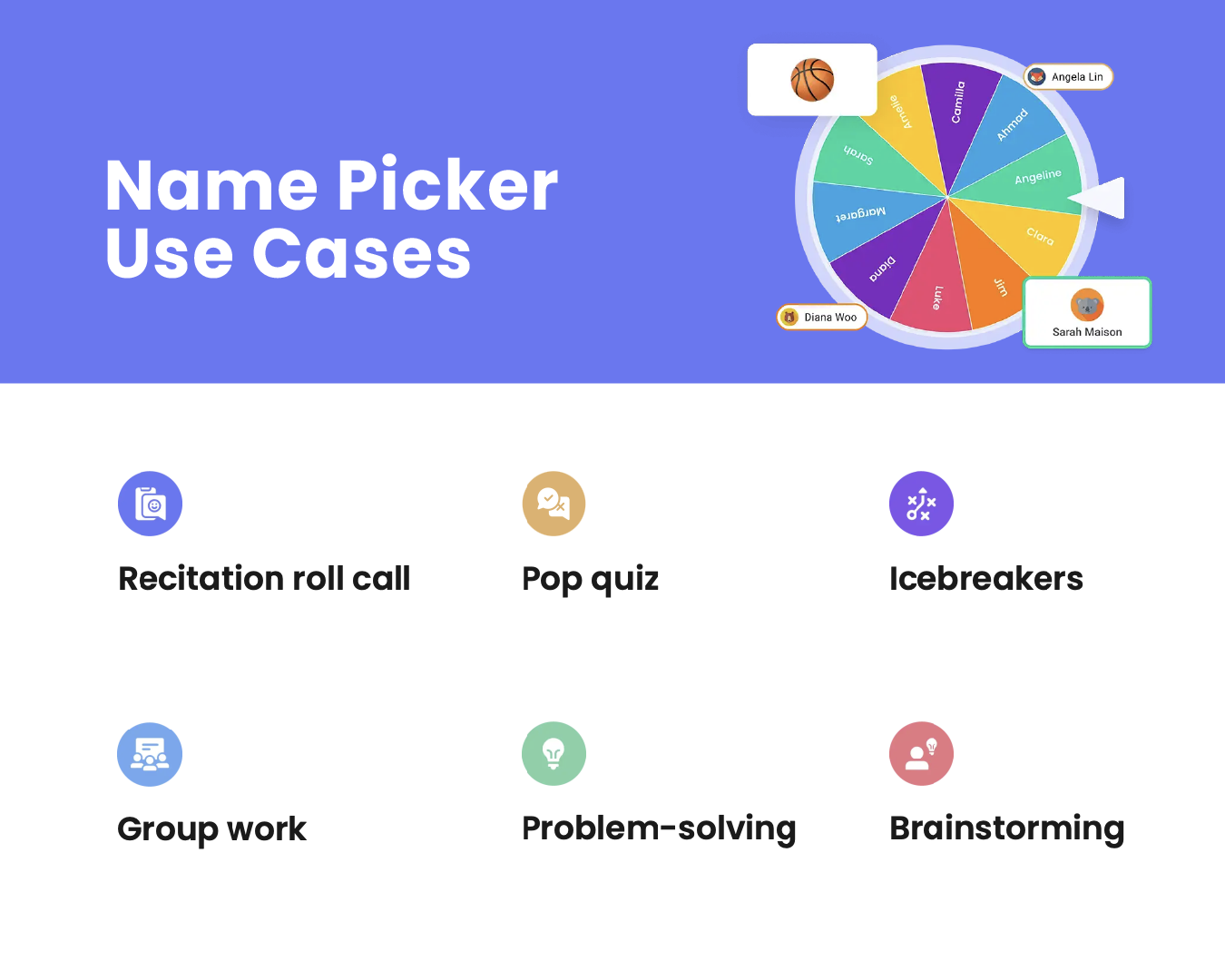 Random name pickers are not just for calling on students. They can enhance classroom dynamics in several ways:
Recitation Roll Call: Randomly select students to recite work, building public speaking skills.
Pop Quizzes: Keep students engaged with spontaneous questions from recent lessons.
Icebreakers: Foster community by randomly choosing students to share personal stories or opinions.
Group Work: Mix up student groups for projects, encouraging diverse collaboration.
Problem-Solving: Promote critical thinking by randomly selecting students to tackle class challenges.
Brainstorming: Facilitate idea-sharing sessions, ensuring all voices are heard.
Step into the Future of Classroom Engagement
Tired of the same old teaching methods? It's time to bring your classroom to life with ClassPoint. This tool not only includes an innovative random name picker but also offers a suite of features designed to boost student interaction and participation.
Take action now:
Try ClassPoint for Free: Experience firsthand how ClassPoint can transform your teaching style.
Enhance Student Engagement: Utilize ClassPoint's interactive quizzes, polls, and more to keep your students excited about learning.
Don't miss this opportunity to elevate your teaching experience. Try ClassPoint today and see the difference in your classroom!
About Mikel Resaba
Mikel Resaba is a seasoned content strategist and writer specializing in EdTech. With over a decade of experience, Mikel has collaborated with startups and established companies alike to enhance digital learning experiences. Passionate about the transformative power of education technology, his writing offers valuable insights into effective e-learning practices, emerging trends, and the impact of digital tools on pedagogy. Mikel's work serves as a bridge between educators and technologists, aiming to foster environments where students and teachers can thrive.