AI tools for teachers are becoming increasingly popular and accessible. With the use of AI in education, teachers can make the most of their classroom time and resources.
In this blog, we will be looking at 7 of the best AI tools for teachers that will help you make the most out of this 2023. These AI tools will not only enhance your teaching experience but also ensure that your students are getting the most out of their learning experience.
Are you a teacher looking for ways to stay ahead of the curve when it comes to educational technology? Then this one's for you, so continue reading to find out more about these amazing AI tools for teachers!
Best AI Tools for Teachers in 2023
| AI Tools for Teachers | Useful For | Pricing |
| --- | --- | --- |
| ClassPoint AI | Instant quiz generation from PowerPoint slides (question types based on Bloom Taxonomy) | Free and Premium plans |
| Quillbot | Plagiarism checking, grammar rewriting, citation | Free and Premium plans |
| PowerPoint Speaker Coach | PowerPoint presentation improvement, rehearsal report | Free and Premium plans |
| SlidesAI.io | Instant text-to-slide generation (comes with pre-made templates and designs) | Free |
| Education Co Pilot | Lesson planing, worksheet, handout and assessment generation | Free and Premium plans |
| Gradescope | Grading and feedback for all subjects and levels (comes with built-in plagiarism checker) | Free and Premium plans |
| Formative AI | Real-time feedback, assessment generation (diverse assessment types available) | Free |
1. ClassPoint AI
ClassPoint AI is an incredible tool that has been designed specifically for teachers to generate questions out of any PowerPoint slide. Even as simple as putting one word on a slide, ClassPoint AI will generate a question out of it.
For example, if the slide contains the word "English", then ClassPoint AI will detect that and create questions about English. If the slide is loaded with text about the Biology topic of photosynthesis, then ClassPoint AI will generate questions related to photosynthesis.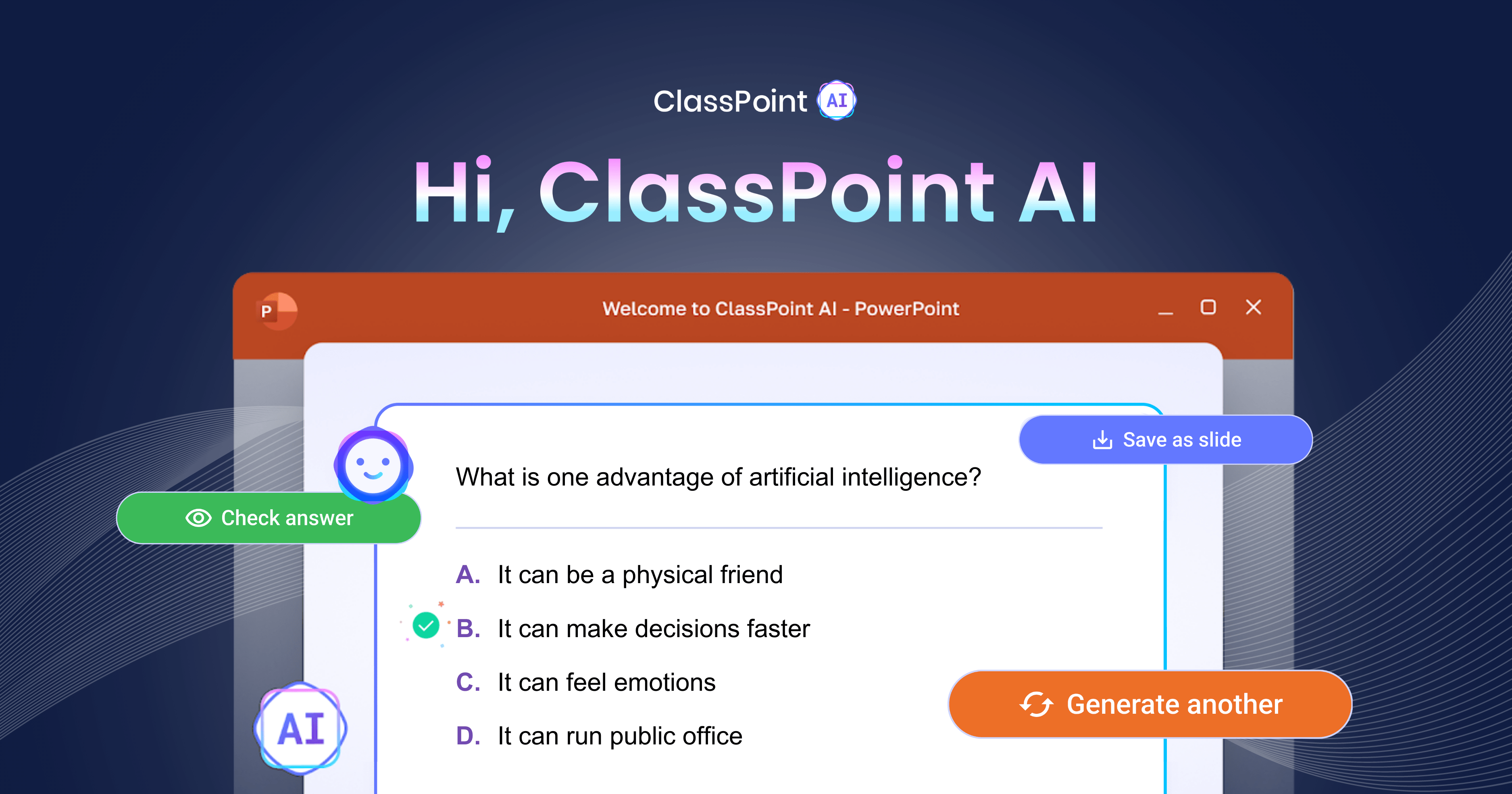 Special Features: Teachers can also immediately turn these questions generated by AI into interactive quizzes in the form of Multiple Choice questions, Short Answers, or Fill in the Blanks. In addition, teachers can also adjust the type of assessment by choosing which Bloom's Taxonomy Level they would like to see applied in that question for more formative and pedagogical questions.
Pricing: ClassPoint is free and absolutely easy to use. To use all its features with no limit, teachers can subscribe to ClassPoint Pro Plan which comes with unlimited access to ClassPoint AI, Draggable Objects, Saved Classes, and advanced Gamification.
With its intuitive user interface, teachers of all levels of tech-savviness can easily use this tool. Furthermore, ClassPoint AI is integrated into PowerPoint Presentation, allowing educators to utilize it with a tool they are already familiar with.
2. QuillBot
QuillBot is an AI-powered paraphrasing tool that uses cutting-edge algorithms to help teachers save time creating lesson materials, worksheets and assessments. Teachers can effortlessly input a sentence or paragraph into the tool, and it will swiftly generate a diverse range of alternative sentences that preserve the original meaning while employing distinct words or phrasing.
This AI paraphrasing tool can help teachers create new teaching materials and worksheets from existing materials without reinventing the wheel. It is also super useful when it comes to supporting language learners. More specifically, teachers can use QuillBot to teach students how to express their thoughts and ideas more clearly and effectively through providing them with alternatives.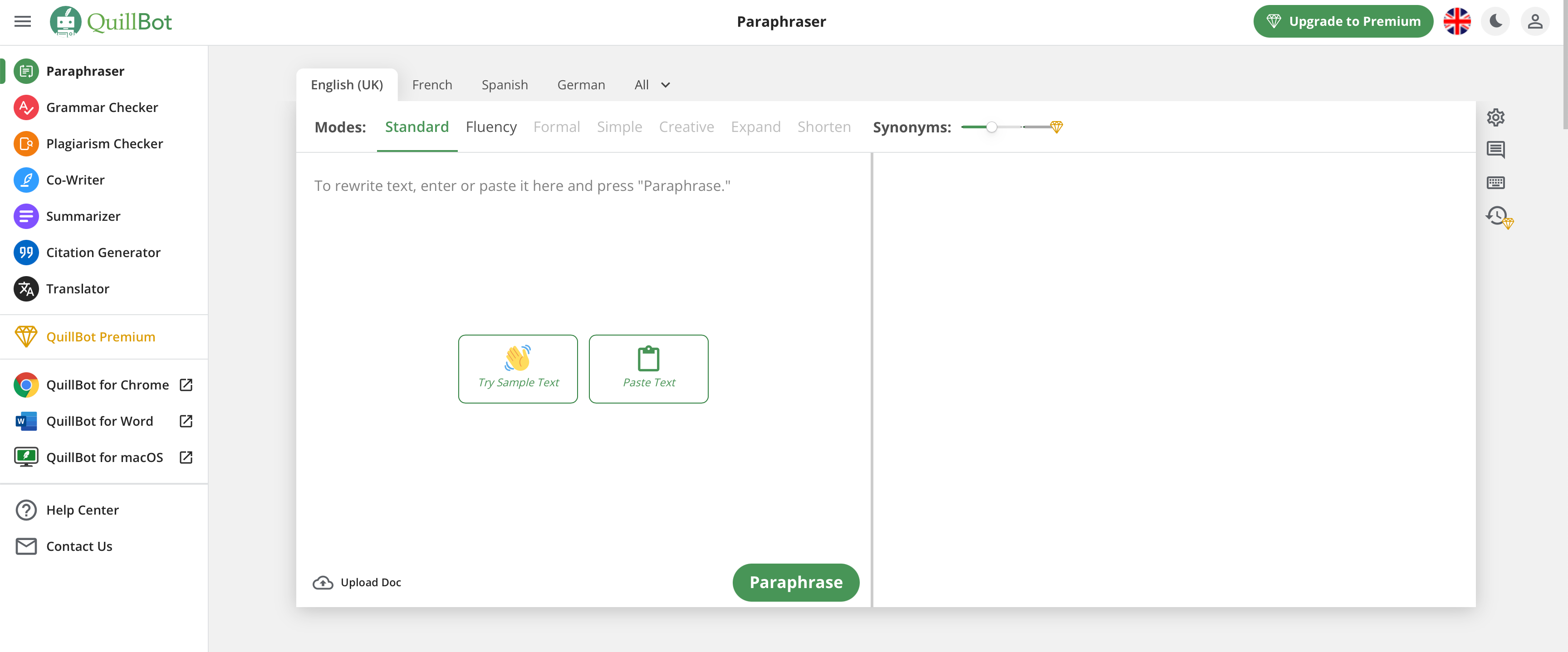 Special Features: While QuillBot is primarily a paraphrasing tool, it also incorporates grammar checking, plagiarism checking and citation generation features to help educators create high quality content while ensuring academic integrity.
Pricing: QuillBot offers a free plan, as well as premium plan at USD 9.95 monthly which includes unlimited words in the paraphraser, advanced grammar rewrite, plagiarism checker, tone detection and many more. With affordable pricing plans and a free trial option, teachers can easily incorporate QuillBot into their classrooms without breaking the bank.
3. PowerPoint Speaker Coach
As the name suggests, PowerPoint Speaker Coach helps teachers deliver effective and engaging presentations in class. The tool analyses the pace, tone, and emphasis of the teacher's voice while delivering a PowerPoint presentation and offers suggestions for improvement.
PowerPoint Speaker Coach is perfect for educators who are looking to make their classroom presentations more dynamic and engaging. By helping teachers fine-tune their delivery, it makes it easier for students to stay focused and engaged during the lesson. The tool is especially useful for new teachers who are just starting out or need some extra guidance on how to best deliver their presentations.
PowerPoint Speaker Coach is available on PowerPoint web app, and is available on "Slide Show" > "Rehearse with Coach".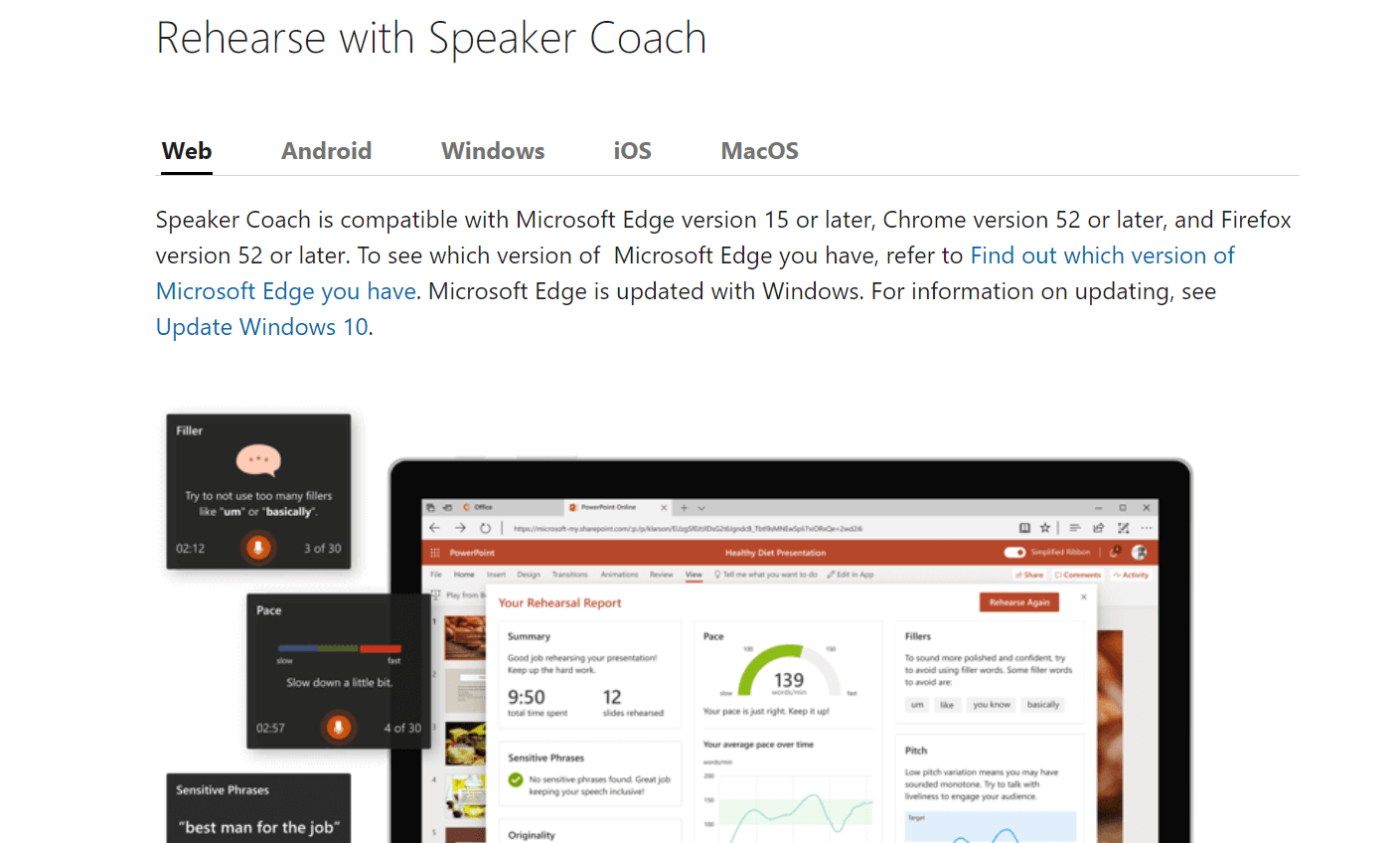 Special Features: PowerPoint Speaker Coach provides a rehearsal report which include essentials feedback including pace, the use of fillers and sensitive phrases, total time and ways for improvement.
Pricing: PowerPoint Speaker Coach offers both free and paid versions. The paid version provides additional benefits, such as more detailed analysis and feedback.
4. SlidesAI.io
SlidesAI is a powerful AI tool that can help teachers create visually appealing and engaging presentations for their classroom teaching instantly. It uses advanced AI technology to generate presentations slides and designs based on text input, so you can focus on what matters — the slides content. It also automatically suggest relevant images and graphics based on the content of the presentation.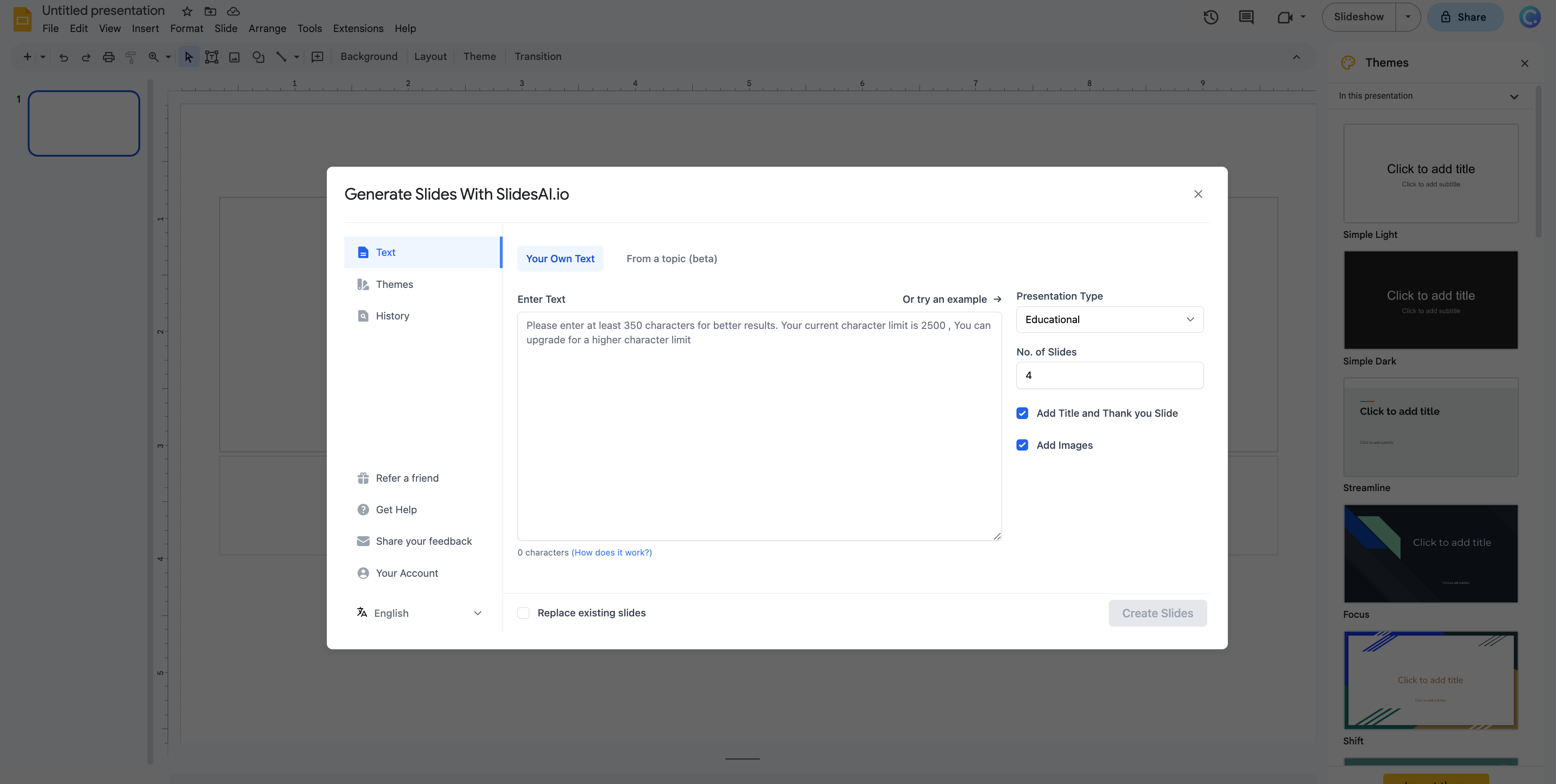 Refer here for additional AI PowerPoint generators to generate teaching presentations with ease.
Special Features: SlidesAI is seamlessly integrated with Google Workspace, and it also offers pre-made templates and themes for you to choose from.
Pricing: Slides AI is free to use, making it an excellent choice for educators on a budget. It also offers paid plans from USD 10.60 monthly that unlock additional features, such as the ability to export presentations in high-quality formats and access to premium templates. And if you are a regular PowerPoint user, check out more ways to improve your presentation efficiency with AI here!
5. Education CoPilot
Education CoPilot is an AI tool that every teacher needs to have in their classroom. This software helps teachers design their curriculum, lesson plans and activities, and track the progress of their students. It can also help teachers create custom learning plans for to cater to the unique needs of each student in their classes. What better AI assistant could a teacher ask for?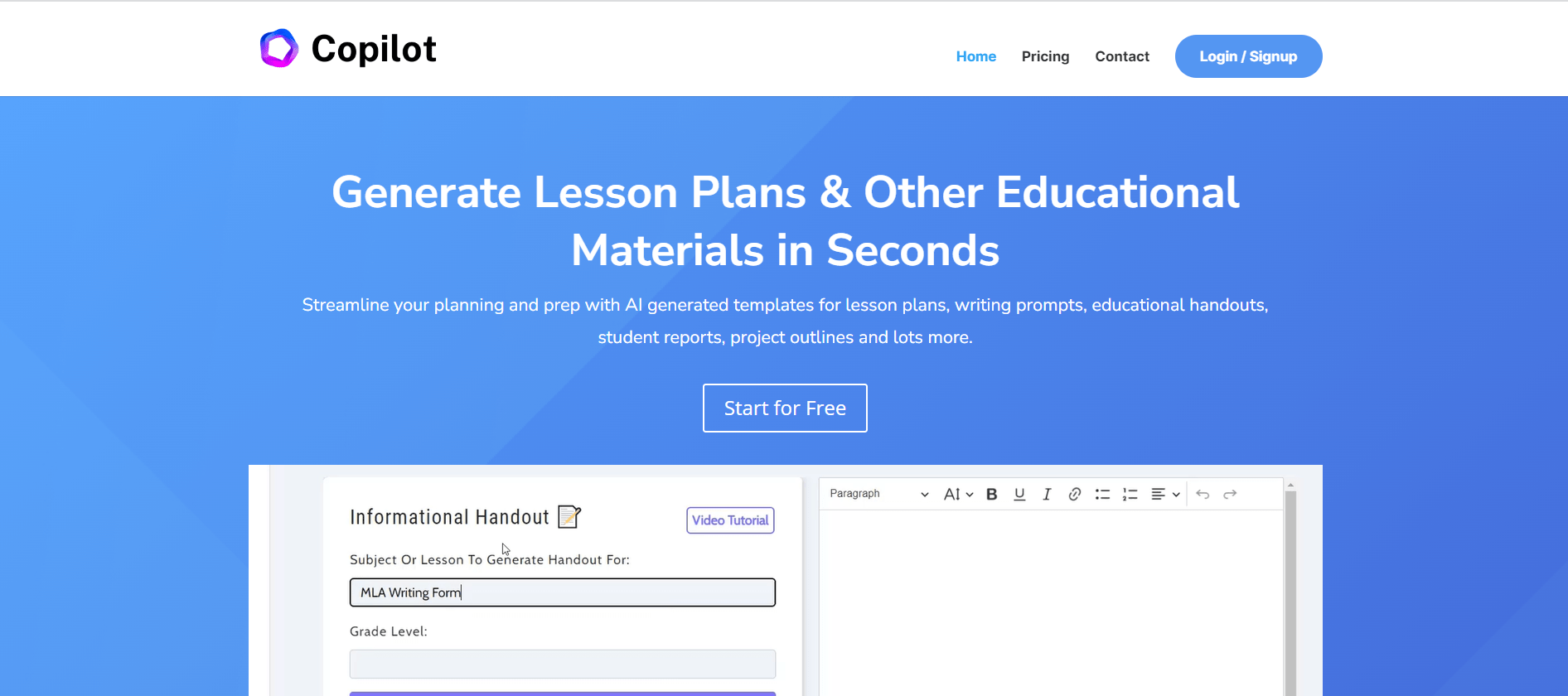 Special Features: The ability for Education CoPilot to draft handouts, assignments and other relevant teaching materials instantly is just simply amazing!
Pricing: Education CoPilot offers both free and paid versions. The free version is packed with many features already, but if you are looking for more advanced features, like AI templates, documents editing, long form handouts creation and auto-save, you can always upgrade to the paid version.
6. Gradescope
Gradescope is an AI-powered grading and assessment tool that is gaining popularity among educators recently. It is designed to make paper, assignment and exam grading more efficient and effortless. The best part is, Gradescope is able to support grading for a wide range of subjects and levels in science and humanities.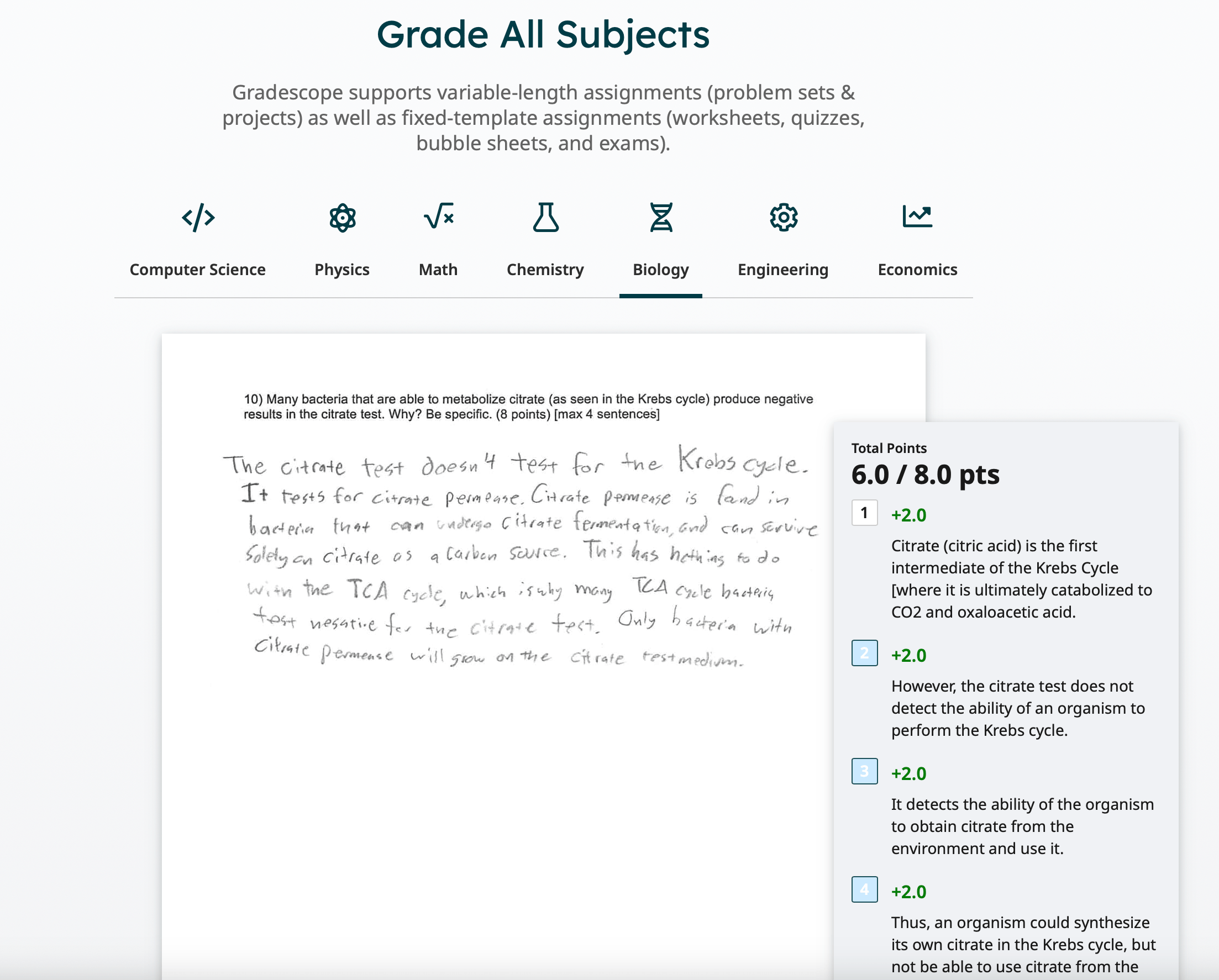 Special Features: Gradescope has a built-in plagiarism checker, which helps teachers detect unoriginal work without exiting the platform. Additionally, Gradescope provides detailed analytics that allows teachers to identify areas for improvement.
Pricing: Gradescope comes with both free and paid versions. The paid version provides more features, including the ability to create custom rubrics, integrate with other tools, and collaborate with colleagues.
7. Formative AI
Similar to Gradescope, Formative AI is an AI tool that assists teachers in assessing their students' work. It provides real-time feedback on students' performances, identifies areas of strengths and weaknesses, and helps teachers adjust their teaching strategies accordingly. Formative AI helps teachers save time by automating the grading process and providing insights into student performance that can inform future lesson plans.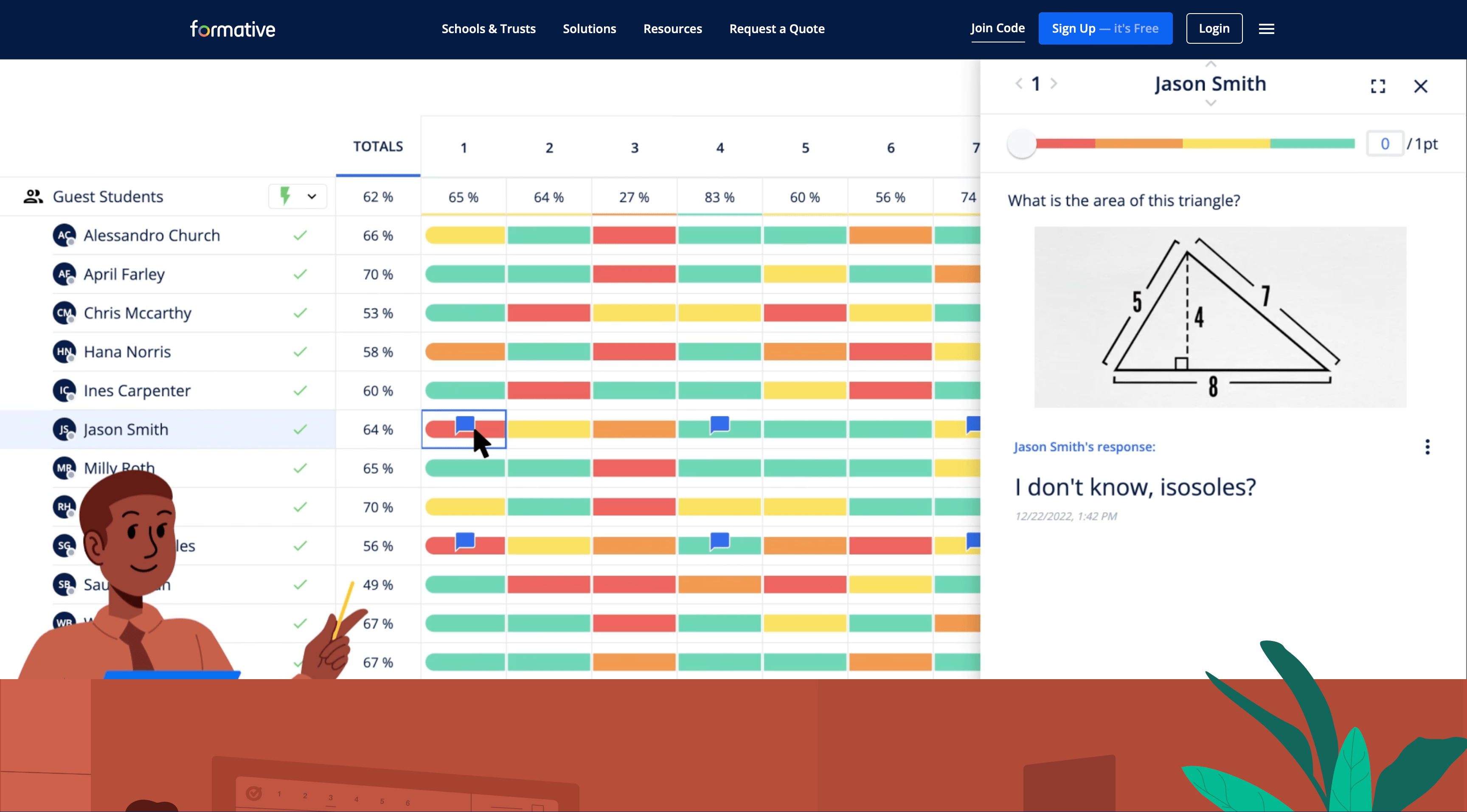 It also offers a variety of assessment options, including multiple-choice, open-ended, true or false, image-based questions, and many more. This way teachers can create classroom assessments effortlessly from scratch or use the pre-made templates provided.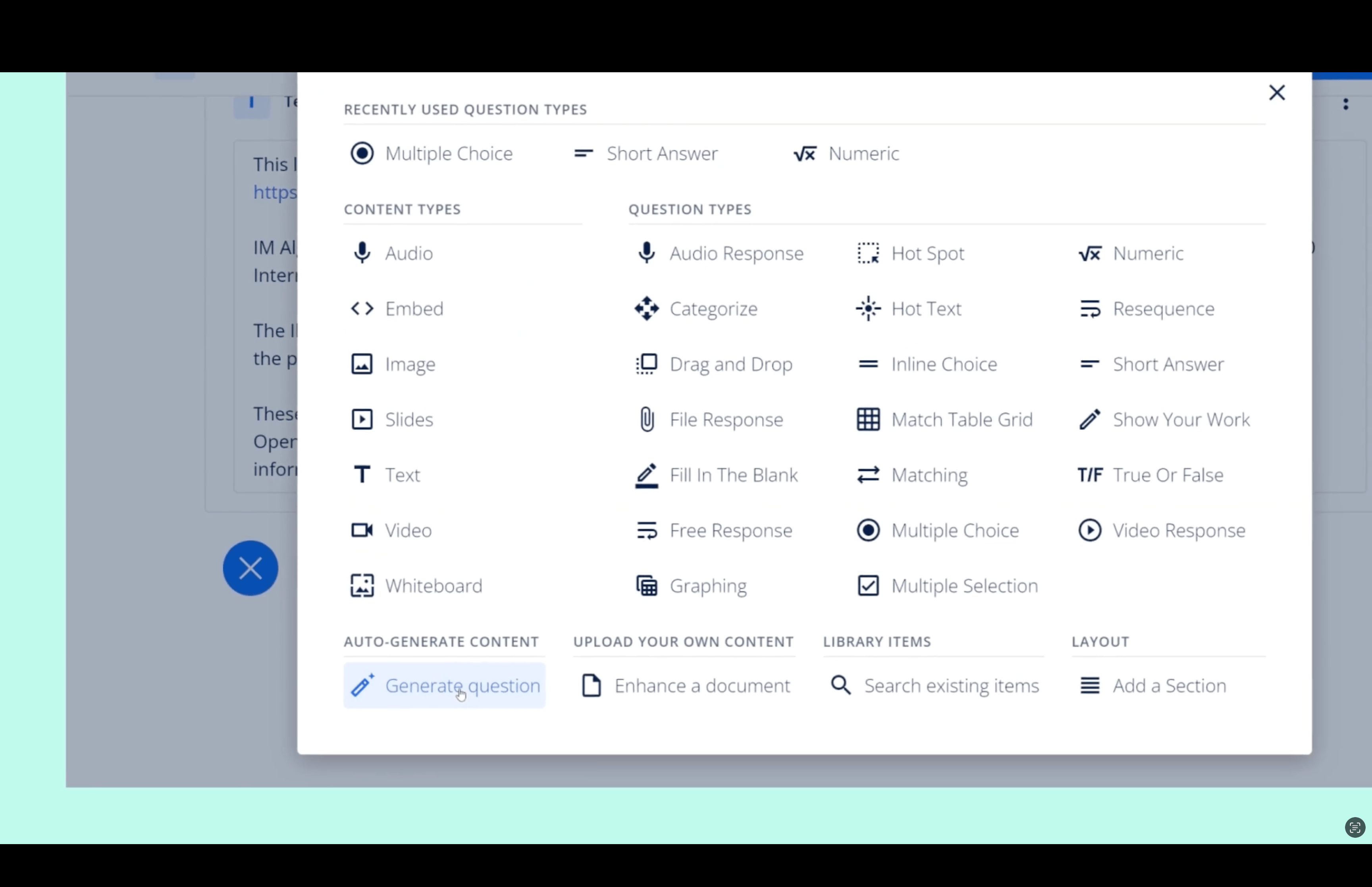 Special Features: What makes Formative AI one of the best tools for teachers is its ability to personalize learning. It uses AI algorithms to analyze student responses and provide feedback that is tailored to each student's individual needs. This means that teachers can provide targeted support and intervention to help students succeed.
Pricing: Completely free to use.
If you are interested, check out these 10 ways AI is begin used in education for more inspiration on how you can use these AI tools!
---
How to Use AI tools Effectively
With the best AI tools for teachers listed above, you can start creating more impactful and effective teaching in no time! Here are some tips to incorporate these AI tools effectively into your teaching or lessons:
1. Define your goals
Start by identifying the areas in which you would like to reduce your workload or get help with. It could be creating more interactive lesson plans, identifying students needing help, or grading assessments more efficiently.
2. Research available tools
There are many AI tools available for teachers, so it is important to research which ones will best fit your needs. Look for reviews and recommendations from other teachers to get an idea of which tools have worked well for them.
3. Integrate the tools into your teaching
Once you have narrow down the AI tools you would like to use, don't be afraid to experiment with them in your teaching! Start exploring the tools, and slowly adjusting and integrating them into your workflow! If they are not suitable, you can always try new ones or revert to your previous teaching method.
4. Analyze results
One of the biggest benefits of using AI tools in classroom is the ability to collect and analyze data. Make sure you are taking advantage of this feature which is usually readily available in the tools by regularly checking the analytics provided. Use these insights to make more informed decisions about your teaching approach.
By following these tips, you can make the most of AI tools in your teaching and provide a better learning experience for your students. Ultimately, AI tools should not be viewed as replacements of human teachers but rather as your powerful allies to enhance teaching and learning.
---
Advantages of Using AI in Teaching
If you are not convinced to use AI tools in your teaching still, here are some additional benefits of using AI in teaching:
Time-Saving: Of course, time-saving is one of the most obvious benefits of AI tools for teachers. AI tools can help teachers save time and streamline many administrative tasks, so they can spend more time on what matters most in teaching, such as building relationships with your students and creating engaging teaching experience.
Personalized Learning: AI can help teachers provide personalized learning experiences for their students. With the help of AI tools like Gradescope and Formative AI, teachers can track student progress, analyze their strengths and weaknesses, and tailor lesson plans to each individual student. This helps ensure that each of your student is receiving the right amount of attention and support to achieve academic success.
Increased Engagement: AI tools can also increase student engagement in the classroom. By using AI tools, teachers can make learning more engaging and fun for students instantly. For instance, ClassPoint AI generates interactive quizzes and can easily be paired with gamification features to help students stay interested and focused in learning.
Data-Driven Insights: Most AI tools can analyze data and provide analytics related to student performance, behavior, and engagement. These data help educators identify learning gaps, monitor progress, and adjust their teaching strategies accordingly.
Final Thoughts
With the rapid advancement of AI in education AI tools have become an integral part of modern education, revolutionizing the way teachers deliver their lessons and interact with their students. As we step into the second half of 2023, consider using the AI tools we recommend to stay ahead of the curve and provide the best possible learning experience for your students.
Each of these AI tools suggested has its own strengths and selling points. If you are looking for an all-in-one teaching tool, we recommend you check out ClassPoint!
Further Readings:
About Dianne Adlawan
Dianne Adlawan is a Marketing Executive at ClassPoint. She focuses on driving B2C marketing initiatives, as well as delivering invaluable impacts to teachers through customer support, assistance, and feedback. Dianne enjoys gaining insights and experiences from the many teacher-influencers that she works with, and translating the insights she learned into blog articles she shares with her readers. Dianne enjoys taking long walks during her off days as well as meditating, bonding with friends and family, and binge-watching her favorite shows on streaming platforms.