Presenting a slideshow can be a daunting task, especially when you're speaking to a large audience. Thankfully, most presentation software comes equipped with the ability to add notes to your slides, making it easier for you to stay on track and deliver a seamless presentation – no full memorization needed.
In this blog, we will explore two different ways that you can to add notes to PowerPoint:
Presentation notes that you prepare in advance and only you can see or
Adding live notes to your presentation for your audience to see
By leveraging these techniques, you'll be able to engage your audience effectively and deliver memorable presentations. Let's dive in.
How to Add Presenter Notes in PowerPoint
Presenter Notes in PowerPoint are notes that you can view on your screen while you are presenting. Your audience will not see these notes, just you, so you can stay on track, remember important points, and deliver your information clearly and easily. Presenters, here's everything you need to know to add notes to PowerPoint.
Add Notes in Edit Mode
Notes can be added to any slide in PowerPoint. Follow these steps:
Start by clicking on the Notes button located beneath each slide. If you don't see it, click on the View tab at the top of the screen and then click on Notes Page.
Begin typing your notes for that slide, providing additional details, reminders, or cues to guide your presentation.
Repeat the process for each slide you want to add notes to.
Once you've added your notes, you're ready to deliver your presentation with confidence!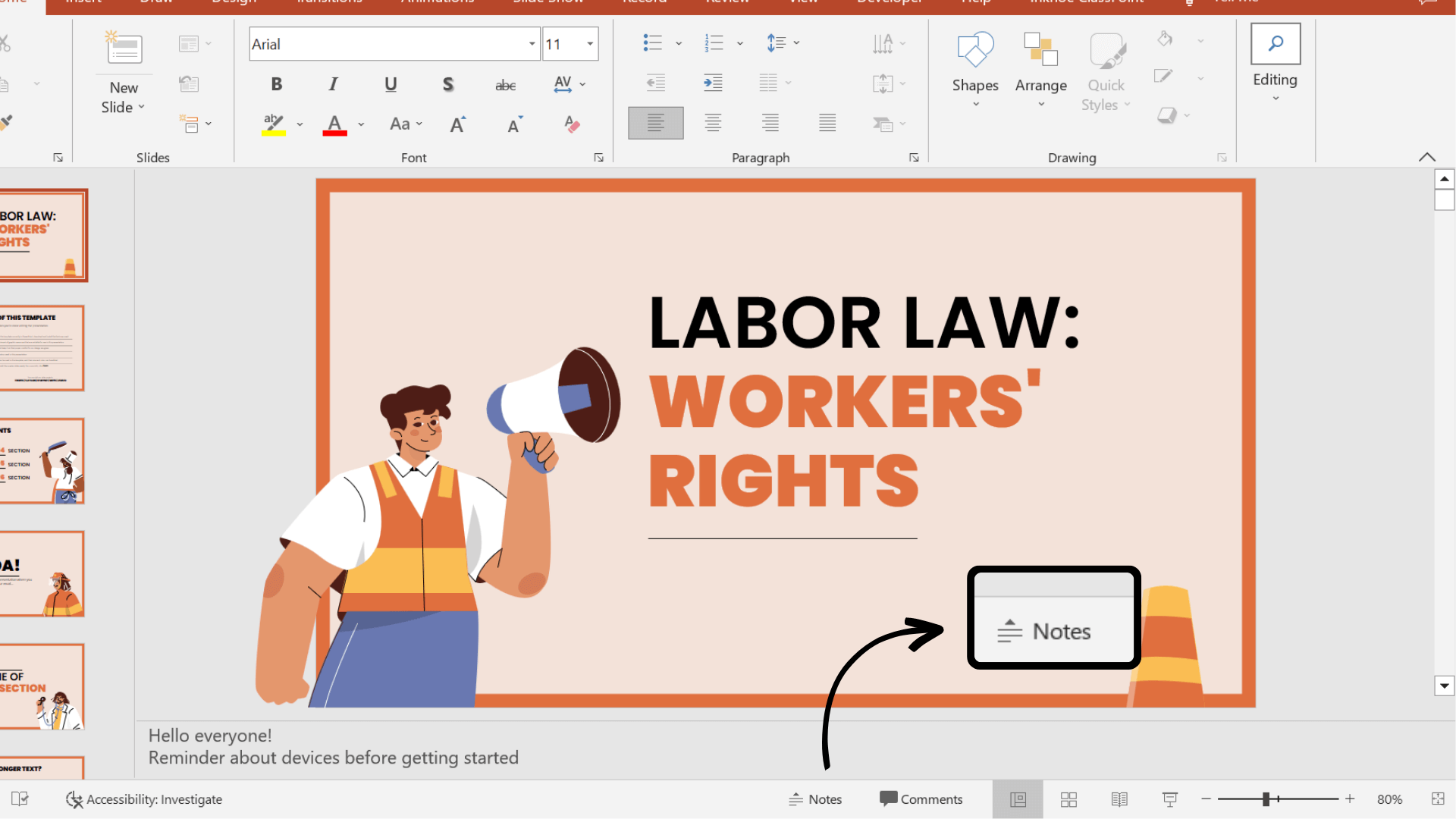 Present with Notes
Now that your notes are added to your presentation, let's learn how to use them during the presentation. Do note that to present with the Presenter Notes, you will need to be connected to another screen or projector.
First, select the Slide Show tab in the PowerPoint ribbon
In the Set Up section, click the check box for Presenter View
Enter Presentation Mode! You should see your presentation on one screen (such as your projector) and your notes displayed on the other screen (such as your laptop).
⚠️ If the Presenter view appears on the wrong screen, you can swap this by clicking on the Display Setting on top of the Presenter view screen.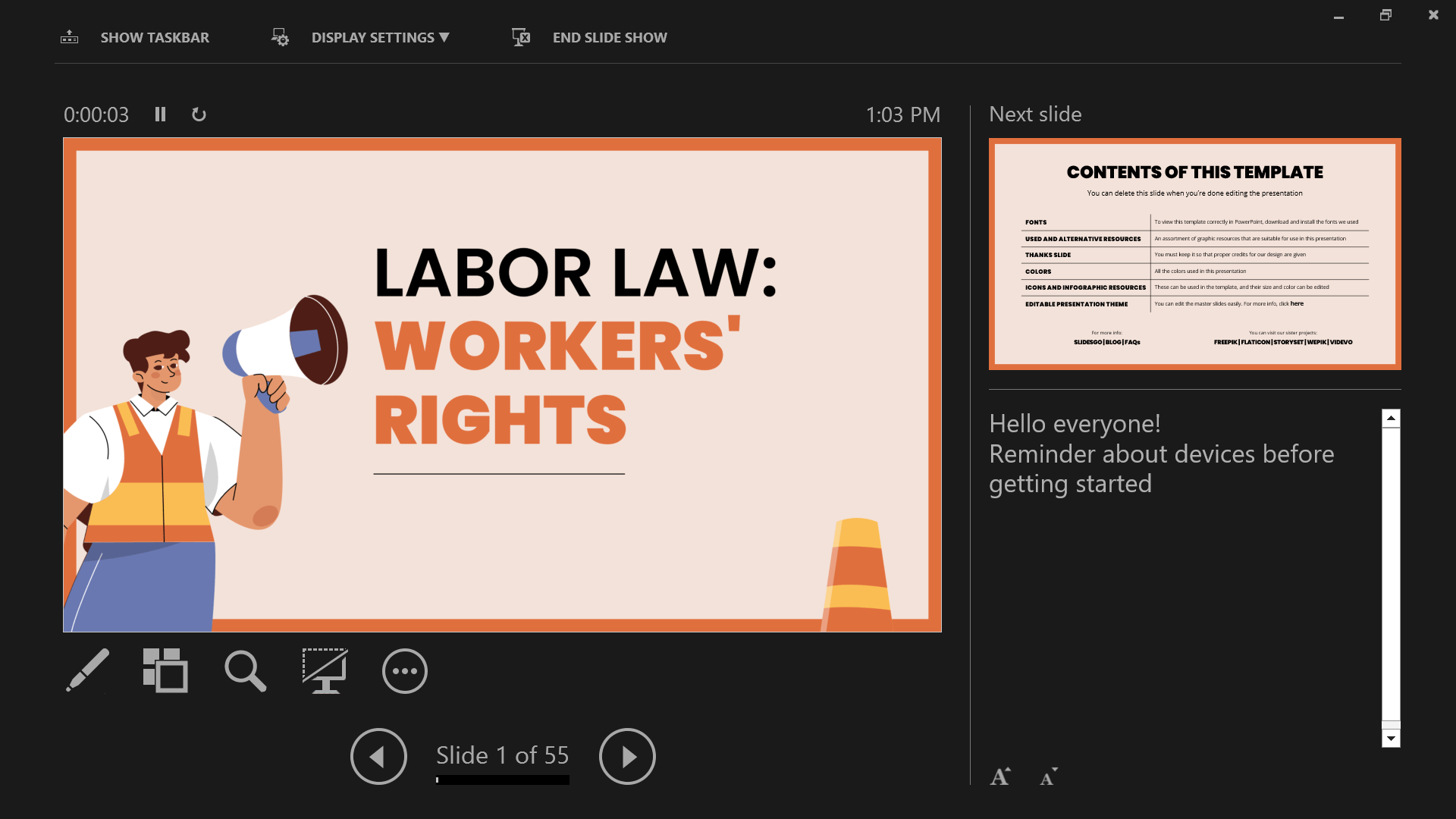 As you move through your slides, your notes will automatically advance with the slides, keeping you right on track.
Print Notes
If you prefer a physical copy of your notes to present with or want to share it with your audience, you can print them from PowerPoint.
To do this go into File → Print → and under Settings, choose Notes Pages. Now, you can Print.
Presenting with notes in your PowerPoint presentation helps you stay on track, maintain confidence, engage your audience, adapt to unexpected situations, and appear professional and organized, ultimately leading to a smoother, more impactful delivery. But what if you want to further explain a concept with notes and annotations during your presentation? You can with annotation tools! →
Add Notes During a Presentation
Need to add notes to aid your presentation and help your audience understand, follow along, and stay engaged? Presenter tools such as annotations are great tools to help your presentation delivery and pace. By interacting with your slide information throughout your presentation, you can encourage active learning and audience participation in the presentation. There are a few ways you can add notes to PowerPoint:
Add Notes to Any Slide
During your presentation, you can add notes in two main ways:
1.You can use PowerPoint's built-in simple pen and highlighter to add notes to your slide. This is found in the bottom left corner of the screen click on the pen and choose your color to begin drawing.
2. For sightly more advanced pen tools, text boxes, and shapes, you can use the free PowerPoint add-in ClassPoint, to add notes to PowerPoint sides. Once downloaded, ClassPoint, an audience engagement tool, will add a toolbar at the bottom of your presentation screen with these additional annotation & presentation tools.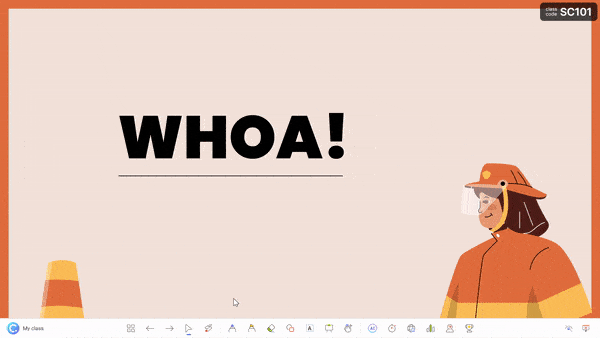 This gives you different thickness options and color options for the pens, highlighters, shapes, and text boxes on your slide.
Insert Whiteboard Slides
Did you know you can even add a blank whiteboard slide into your PowerPoint presentation while you are presenting? With ClassPoint, it's true!
Perfect for when you run out of space, want to brainstorm, or have fresh details to convey to the audience.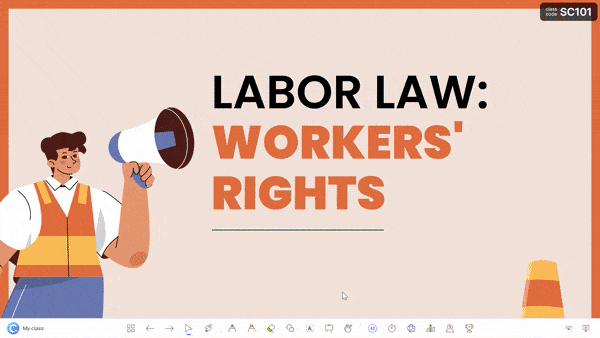 To add a whiteboard slide to your presentation, click on the Whiteboard icon on the ClassPoint toolbar. From there, choose a template provided, or add your own whiteboard background design. This slide will be opened & inserted right into your presentation and you can begin adding your notes. All annotations added will be saved once you exit out of the presentation mode.
Add disappearing laser ink
With ClassPoint's presentation toolbar, you can also use the laser pointer to write with disappearing ink!
Although this will not save to your slide, it is a great way to help your audience follow along and make connections to your slide information.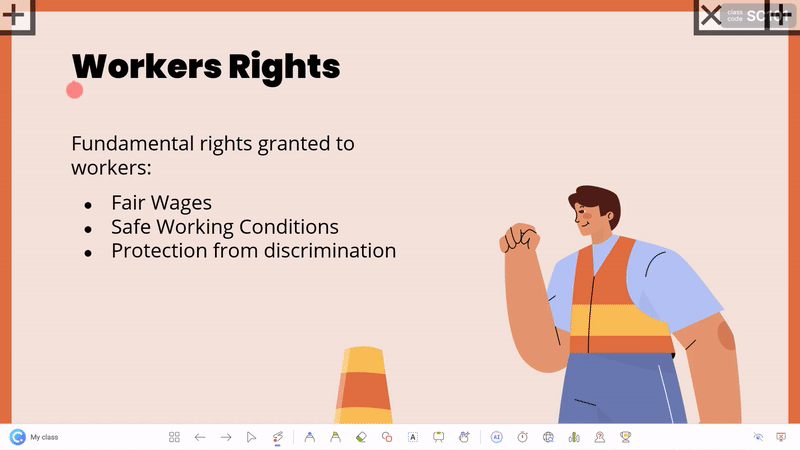 Did you know that you can freely move slide objects around your slide? Perfect for grabbing the audience's attention by hiding and revealing notes on your slide! Learn more with ClassPoint's Draggable Objects. 👇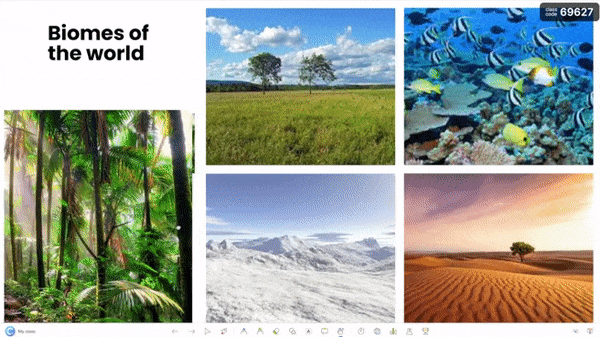 Share Notes
Just like when you printed your Speaker Notes above, you can also share all the notes you added to your PowerPoint slides. Print your presentation, or share it with your audience via a QR code.
Click on the Share PDF icon on the ClassPoint tab in the PowerPoint ribbon. Select to include the whiteboard and annotations that you made and click Generate. A QR code will appear that your audience can scan to access your PowerPoint slides and see all the notes you have added!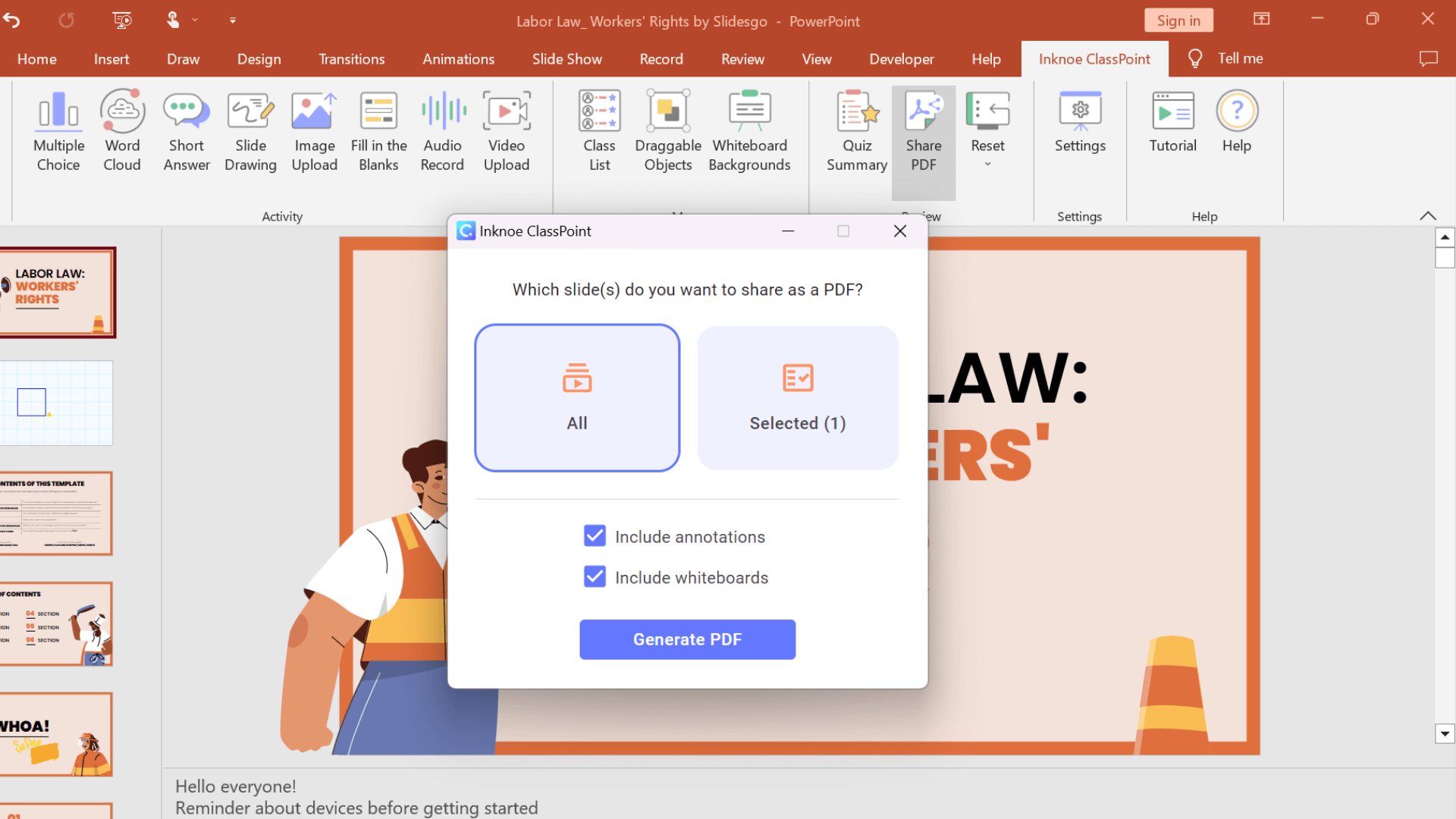 Overall, adding annotations to your PowerPoint presentation is a great way to enhance your message, engage your audience, and make your presentation more effective. So if you haven't tried it before, why not give it a go and see the difference it can make to your next presentation?
Conclusion
Adding notes to your presentation is a simple but effective way to elevate your overall performance. Whether you're adding notes in edit mode or during your presentation, PowerPoint offers a variety of tools to help make your presentation a success. Start implementing these strategies with ClassPoint, and watch as your presentations become more engaging and impactful than ever before!
About Sara Wanasek
Sara Wanasek is a PowerPoint expert with a deep understanding of education technology tools. She has been writing for ClassPoint for over 3 years, sharing her knowledge and insights in educational technology and PowerPoint to teachers. Her passion extends beyond writing, as she also shares innovative ideas and practical presentation tips on ClassPoint's YouTube channel. If you are looking for innovative ideas and practical tips to elevate your presentations as well as the latest trends in educational technology, be sure to check out it out for a wealth of insightful content.