If you are looking for game night activities or ways to spice up your classroom, creating an interactive PowerPoint trivia game is the easiest way to do so! You can challenge your peers to a showdown and boggle their minds with tricky knowledge questions we prepared in this trivia template.
Benefits of Playing Trivia Games:
Knowledge and Learning: Trivia games can cover a wide range of topics, allowing players to expand their general knowledge and learn interesting facts.
Mental Stimulation: Trivia games challenge your memory, critical thinking, and problem-solving skills. Trying to recall information and connecting dots between different clues or questions can help stimulate your brain and keep your cognitive abilities sharp.
Entertainment and Fun: Trivia games are entertaining and they offer a chance to relax, have a good time, and laugh together as you navigate through questions and answers. Trivia can also be a source of excitement and suspense, especially in competitive settings.
Break from Routine: Engaging in trivia can provide a break from daily routines or mundane activities. It offers a form of entertaining yet mentally-stimulating recreation.
Team Building: Trivia games are commonly used in team-building activities within organizations. They promote collaboration, communication, and teamwork as participants work together to find answers and solve challenges. Trivia can help foster a sense of camaraderie and strengthen relationships among team members.
Ready to get started? We have prepared this downloadable trivia template for you to kickstart your trivia game session. Now let us not delay any further and get this showdown started!
What Are Included in the Trivia Template?
Game Rules for Individual Player and Team Players
15 General Knowledge Questions

We have crafted some of the most challenging questions you can find, arranged based on difficulty level.

Interactive Quizzes

This PPT trivia template is made more interactive and engaging with the help of ClassPoint. ClassPoint offers a wide range of interactive quiz options, including Multiple Choice & Fill-In-the-Blanks quiz buttons embedded right inside the PPT trivia template.

Player Leaderboard

Another ClassPoint feature that you will surely love — gamification. You no longer have to create leaderboard manually to tally your contestants' scores, simply use ClassPoint's in-built leaderboard in PowerPoint to calculate points and determine winners!
Ready for a trivia challenge? Our PowerPoint Trivia Template is pre-loaded with 15 general knowledge questions that you can use right away! Both individual and team play options are available, so you can enjoy it with friends of any size! Just explain the game rules to your contestants, and you're ready for an enjoyable trivia showdown!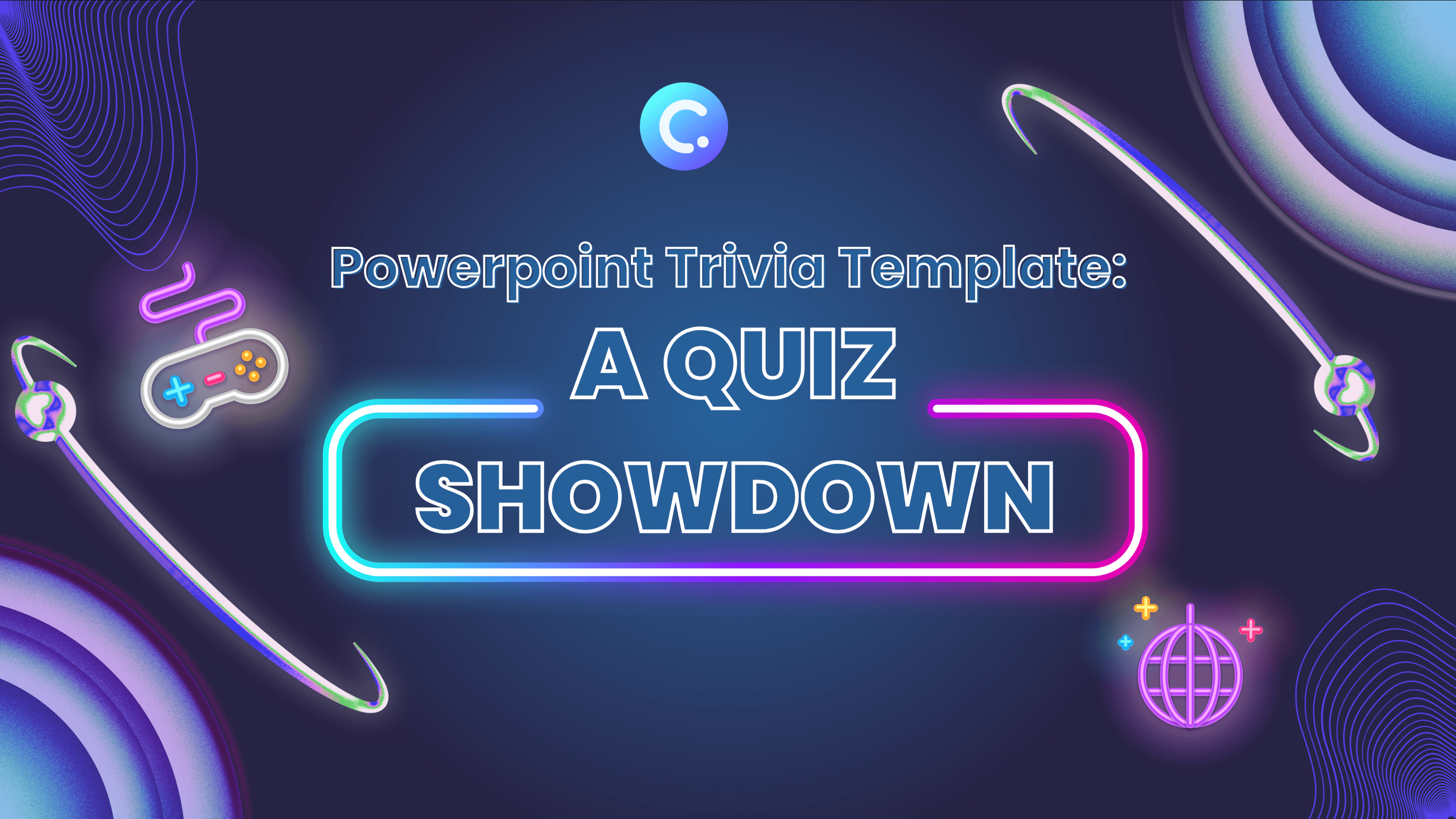 How to Play Trivia Game on PowerPoint
Now, I will walk through the quick and easy process of playing trivia game right inside PowerPoint with the trivia template you have just downloaded!
On Presenter's Device
Open PowerPoint Presentation with the Trivia template.
After downloading ClassPoint, create your ClassPoint account by filling up the necessary details and verifying your email.
Enter slideshow mode and start the game!
On Participant's Device
On your device's browser, go to: classpoint.app
Type in the class code that can be found on the upper right corner of the presenter's slide.
That's it. Start playing!
How to Make A Trivia Game on PowerPoint!
Step 1: Download ClassPoint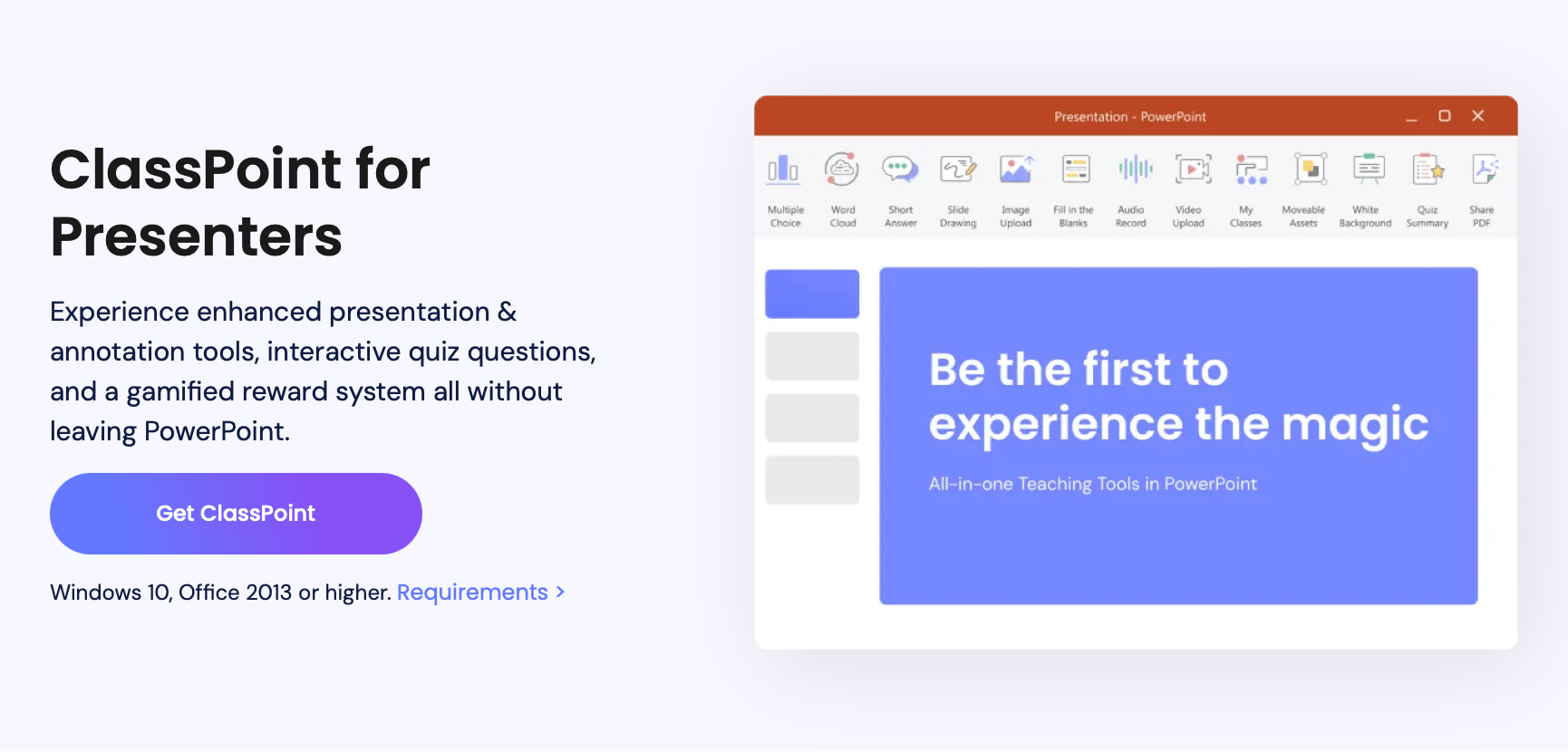 Download ClassPoint, then create your ClassPoint account in PowerPoint by filling up the necessary details, and verify your email.
Step 2: Add Interactive Quiz Questions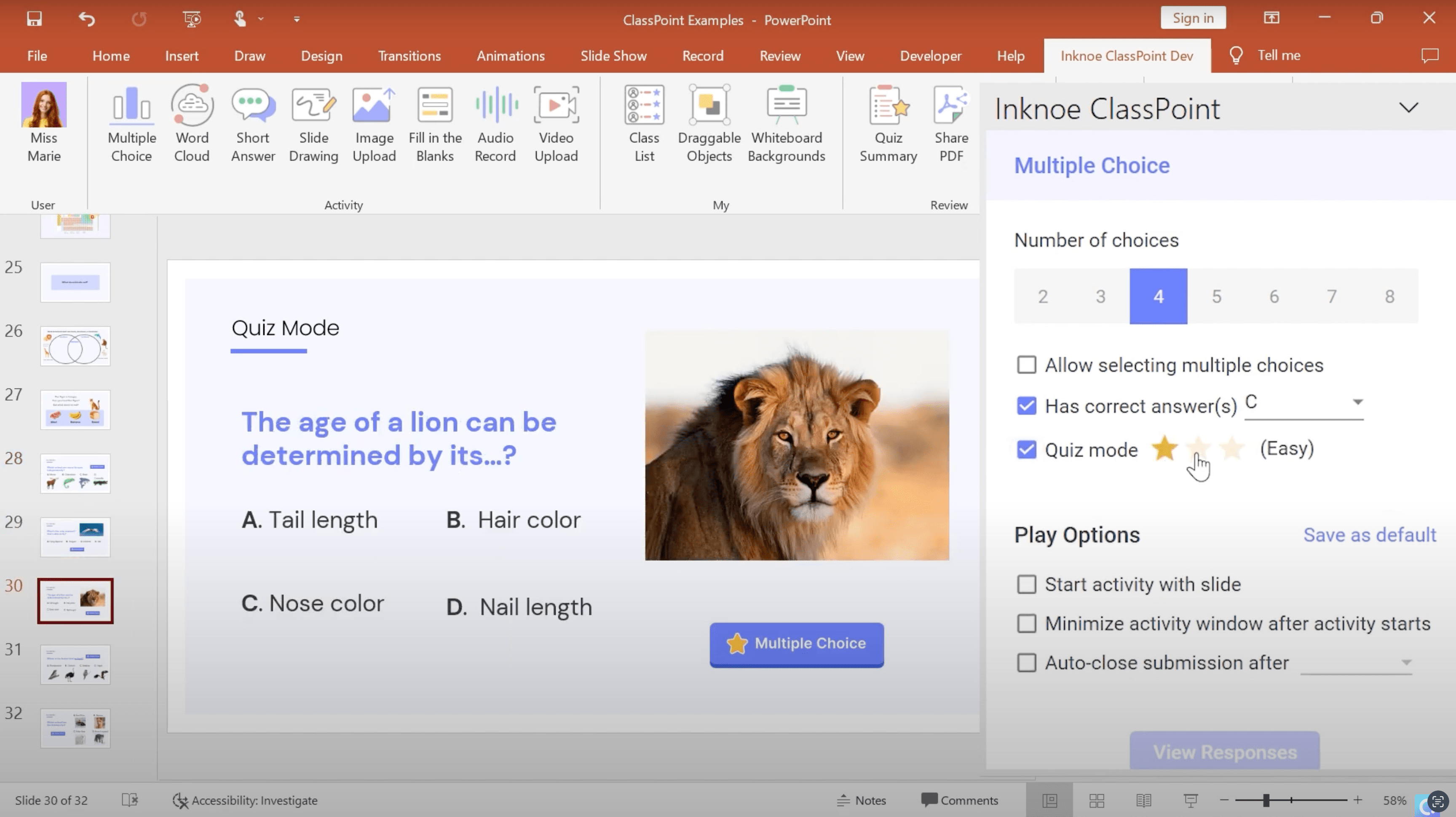 Head over to Inknoe ClassPoint tab in your PowerPoint Ribbon, and create your trivia questions by choosing from the different quiz buttons available, including fill-in-the-blanks, multiple choice, short answer and many more.
For Multiple Choice questions, you also have the option to do auto-grading based on difficulty level by enabling Quiz Mode.
Step 3: Enter SlideShow and Start the Game!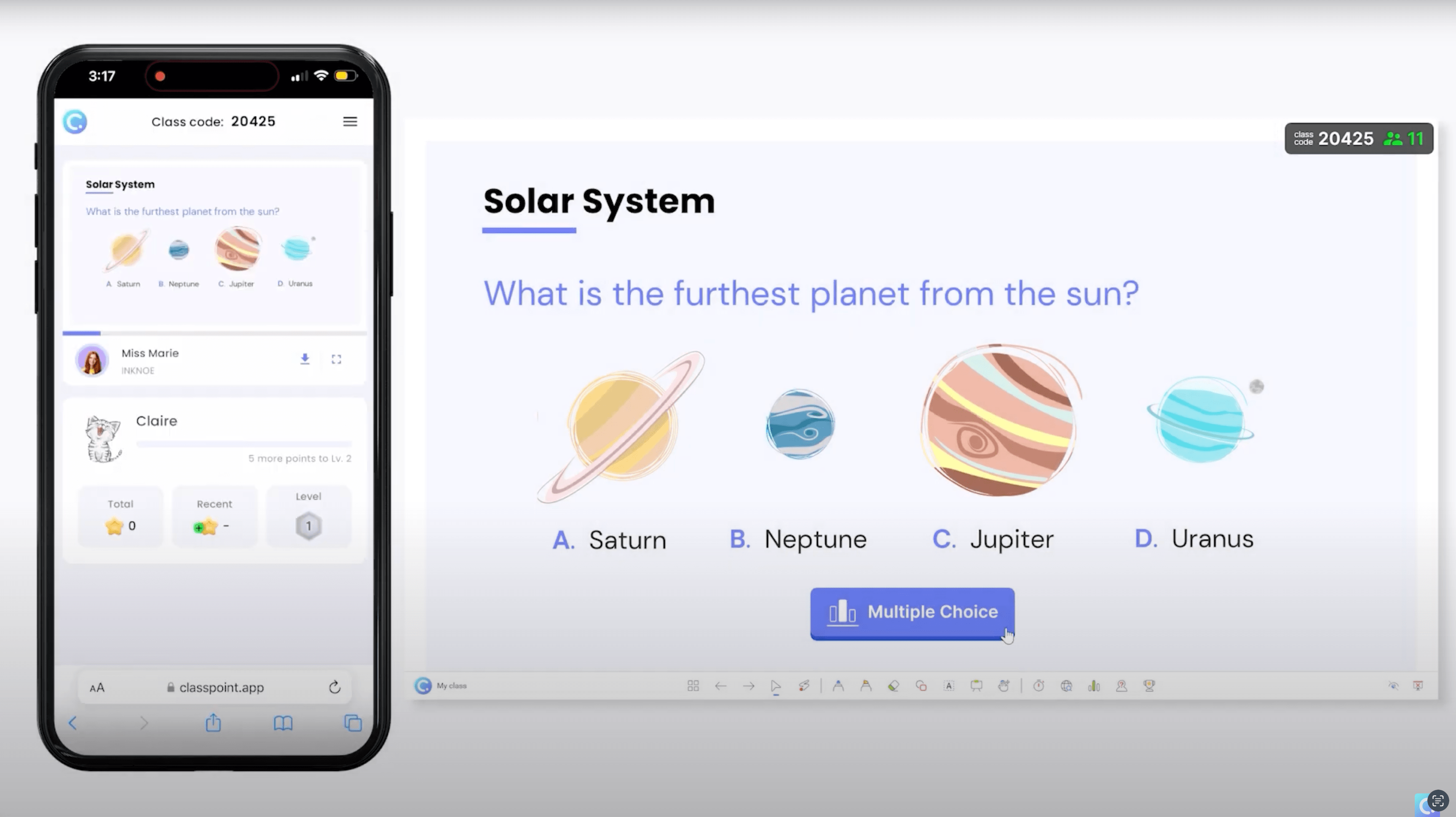 Enter PowerPoint slideshow mode and start the game by clicking on the ClassPoint quiz buttons. You can start collecting answers from the participants by inviting the participants to join through classpoint.app.
Step 4: Leaderboard Winners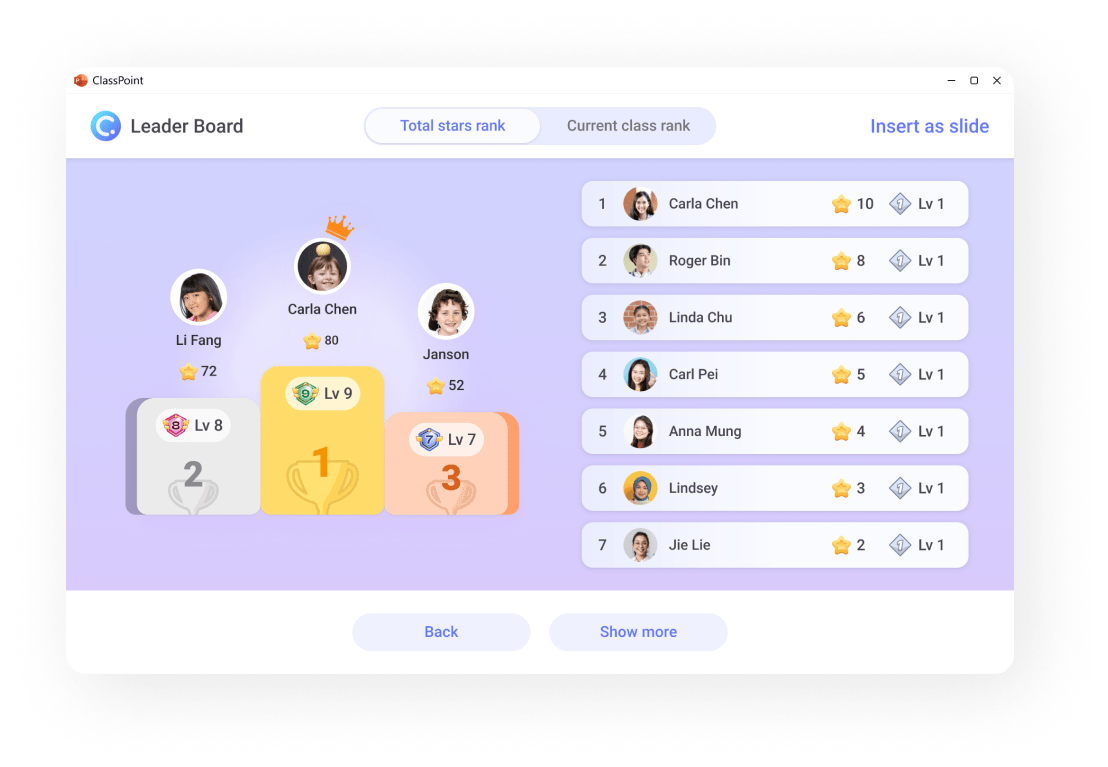 ClassPoint's leaderboard feature allow you to easily turn your PowerPoint slides into a game arena! You can showcase the top participants at the end of the trivia game in two ways: through the scores they earned in this game session or the total points accrued across all game sessions.
Start Playing/Create Your Own PowerPoint Trivia Game Now!
I hope you had an amazing time playing our trivia game on PowerPoint. ClassPoint is not only designed for interactive classes but also for engaging game sessions that are suitable for all ages! Discover diverse ways in which you can utilize ClassPoint to create and play interactive games inside PowerPoint and unlock a whole new level of fun and interactivity!
About Dianne Adlawan
Dianne Adlawan is a Marketing Executive at ClassPoint. She focuses on driving B2C marketing initiatives, as well as delivering invaluable impacts to teachers through customer support, assistance, and feedback. Dianne enjoys gaining insights and experiences from the many teacher-influencers that she works with, and translating the insights she learned into blog articles she shares with her readers. Dianne enjoys taking long walks during her off days as well as meditating, bonding with friends and family, and binge-watching her favorite shows on streaming platforms.