In the modern teaching world, there is an array of classroom apps for teachers available, all designed to enhance both the teaching and learning experience. These classroom apps transcend the boundaries of traditional chalkboards and textbooks, presenting dynamic and interactive ways to engage students, streamline administrative tasks, and create a more inclusive learning atmosphere.
Recognizing the importance of diversity, we have carefully curated a selection of the best classroom apps for teachers that cater to a wide spectrum of teaching styles, subjects, and student profiles. These apps are not merely tools; they serve as vital bridges connecting teachers to the ever-evolving landscape of education.
So, whether you're a seasoned educator seeking to breathe new life into your lessons or a newcomer to the teaching profession, enjoy looking through these 18 best classroom apps for teachers to spark your curiosity and inspire your teaching journey.
18 Best Classroom Apps for Teachers Recommended by Education Professionals
1. ClassPoint – Best for All-In-One Teaching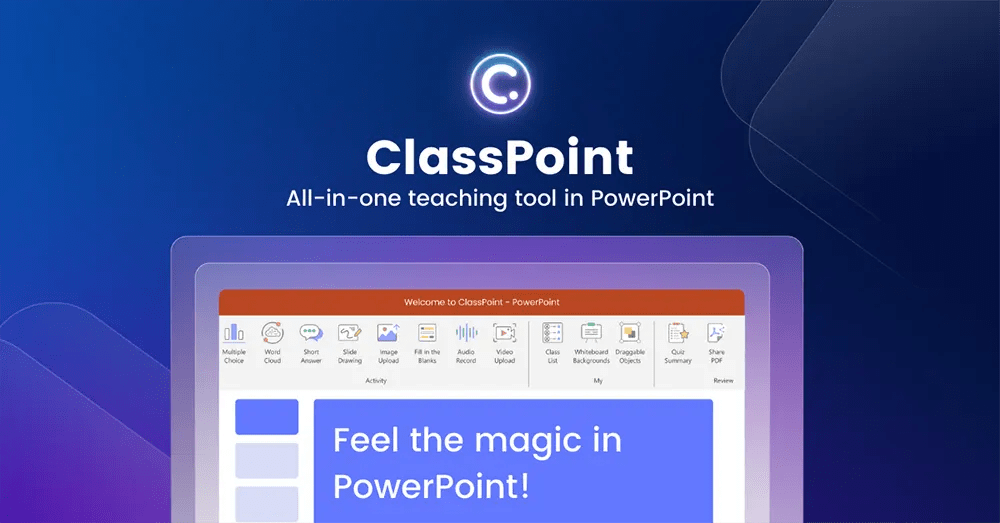 ClassPoint is an interactive all-in-one teaching tool made for educators, integrated seamlessly with Microsoft PowerPoint. ClassPoint elevates PowerPoint presentations through annotation and presentation features, interactive audience quizzes, and an advanced gamification system, all without the need for student devices. Plus, you can also get AI-generated questions in PowerPoint in a few clicks!

Benefits:
Fosters active student participation.
Instant student feedback.
User-friendly, easy to use.
Integrated seamlessly with PowerPoint.
Key Features: 8 interactive quiz question types, AI-question generator, real-time polling, annotation tools, random name picker, and more.

Price: Forever Free with limitations, Pro starting at $96 per year.
2. Parlay Genie – Best for Interactive Classroom Discussions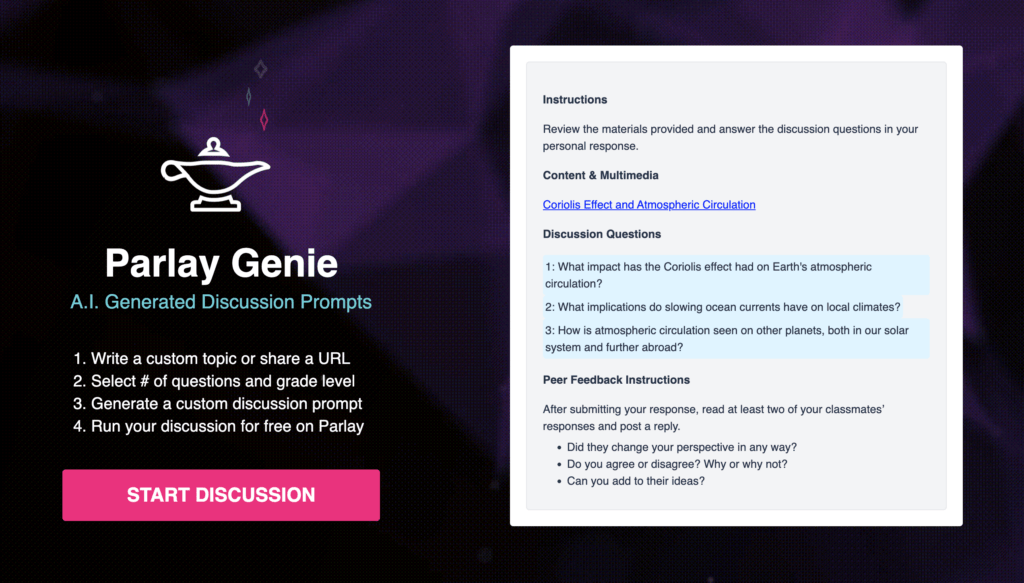 Parlay Genie is an interactive classroom discussion platform that facilitates structured discussions by providing discussion prompts and real-time tracking of student participation. Educators can assess student contributions, and seamlessly integrate discussions into their curriculum using this platform, promoting critical thinking in the classroom.

Benefits:
Promotes meaningful student conversations.
Encourages critical thinking and active participation.
Offers valuable insights and feedback.
Key features: AI-generated prompts, integration with LMS, automated assessment.

Price: Free version or Pro starting at $120 per year.
3. Remind – Best for Parent-Teacher-Student Communication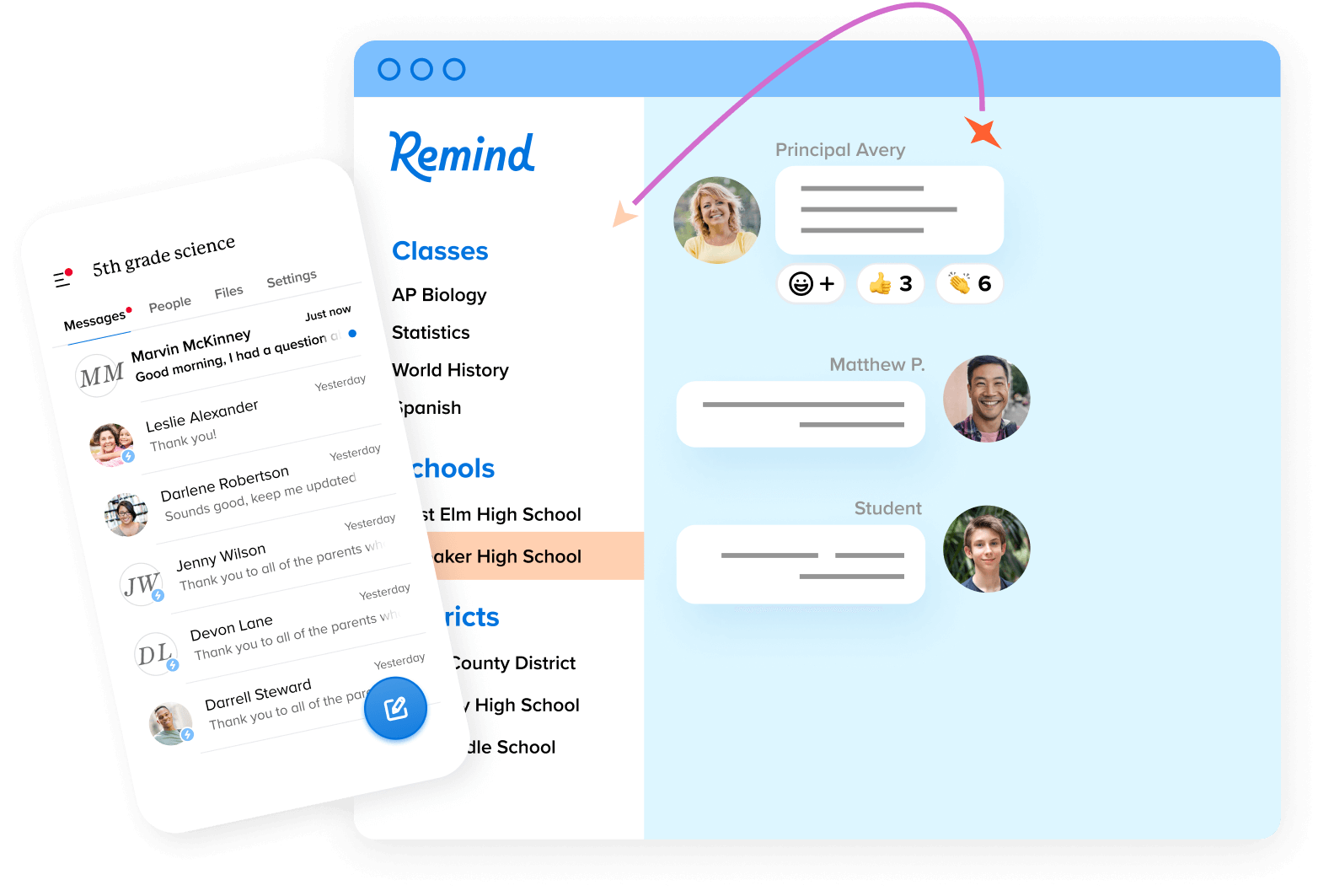 Remind is a communication app that simplifies parent-teacher-student communication by allowing teachers to send messages, announcements, and reminders without sharing personal contact information. It streamlines communication, enhances engagement, and supports efficient information sharing within educational settings.
Benefits:
Simple, efficient communication.
Keeps students and parents engaged in class activities and events.
Prioritizes privacy and security.
Key features: Two-way messaging, automatic translation, real-time notifications, no phone number needed.
Price: Remind Chat is free but additional costs occur for Remind Hub and Remind Tutoring.
4. Class Dojo – Best for Classroom Management and Gamified Learning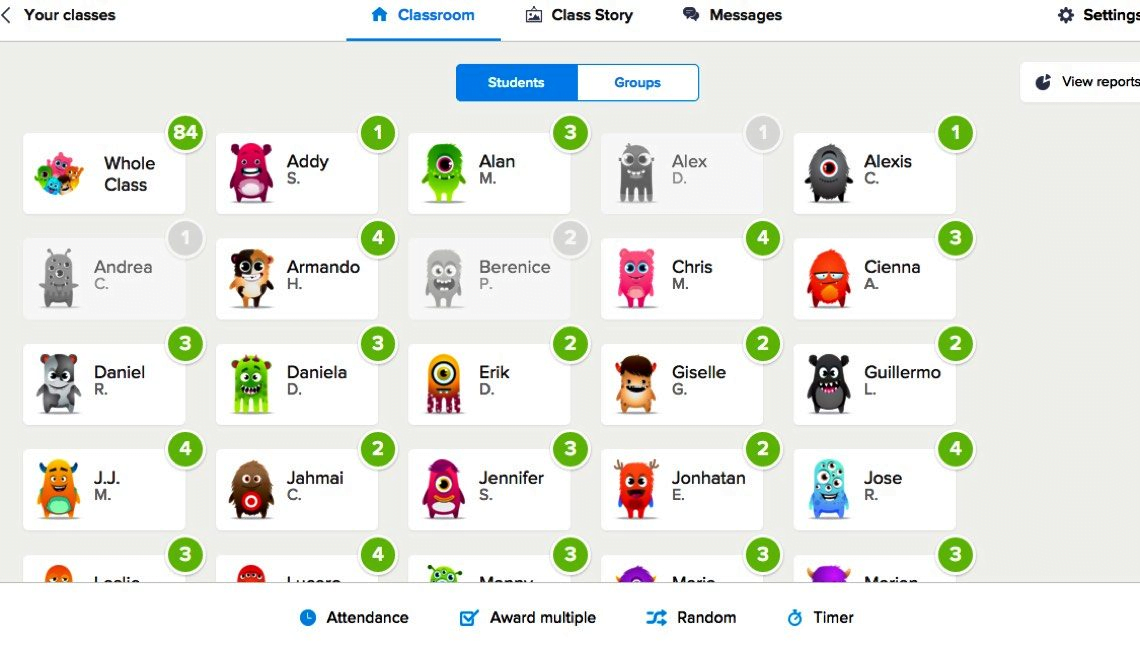 ClassDojo is a classroom management and communication app that helps teachers create a positive classroom environment by reinforcing desired behaviors through a point-based reward system. Teachers can award or deduct points, communicate with parents, and engage students in real time to promote a constructive learning atmosphere.
Benefits:
Promotes positive classroom behaviors.
Fosters parent-teacher and parent-student communication.
Encourages student participation in class.
Key Features: Behavior tracking, messaging, sharing stories of classroom events and student portfolios.
Price: Free basic plan with premium features available for $60 per year.
5. Bing Image Creator- Best for Image Creation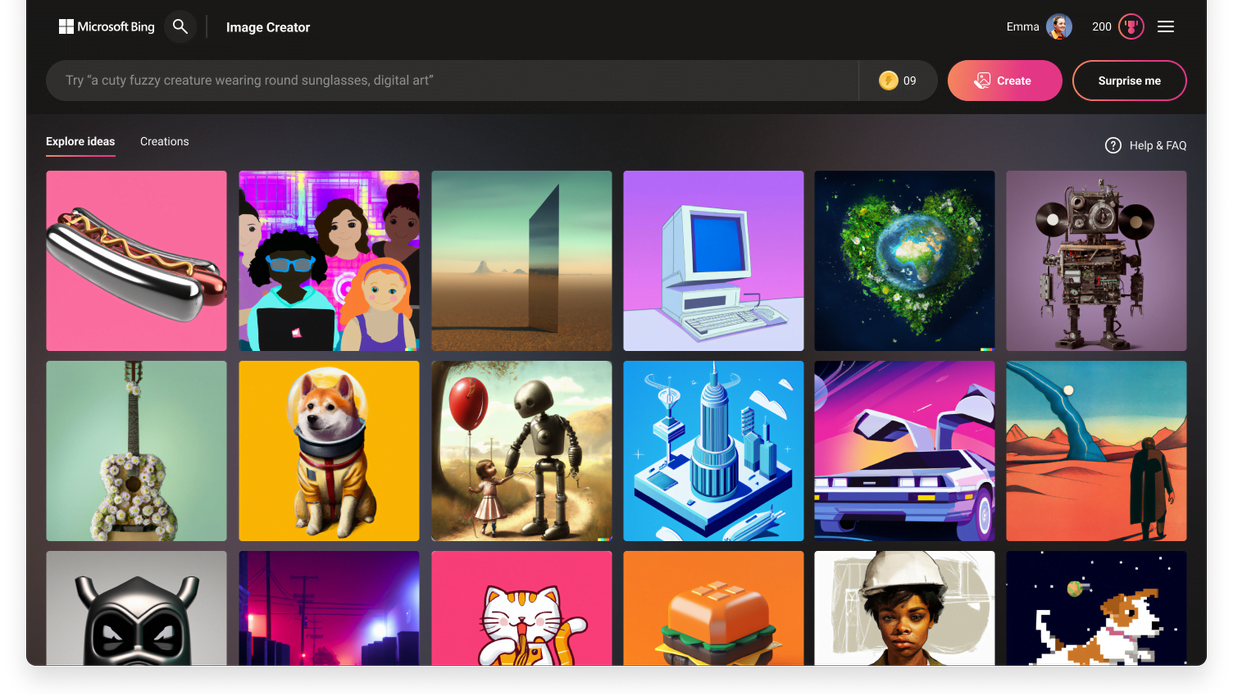 Bing Image Creator is an AI image creator that allows you to create visually appealing images and designs based on text inputs. It offers a range of image editing features and design templates, enabling you to customize graphics for various purposes, including educational materials, presentations, digital content, and more.
Benefits:
Simple, quick image creation.
Enhances visual content in many different forms.
Custom personalized designs without a designer.
Key Features: Text-to-image creation, wide variety of design styles.
Price: It's free!
6. Grammarly – Best for Writing and Editing
Grammarly is an AI-powered writing assistant that helps you improve your writing by offering suggestions for grammar, spelling, punctuation, and style enhancements in real-time as you type or edit text. It operates through browser extensions, desktop applications, and web-based platforms to help enhance writing from emails and essays, to professional documents and content creation.
Benefits:
Quick upgrade of writing quality.
Ensures clarity in communication and written content.
Key Features: Active across multiple apps and platforms, grammar and style suggestions, plagiarism detection.
Price: Offers both free and premium subscription plans for $12 or $15 per month.
7. Flip – Best for Learning Using Video Content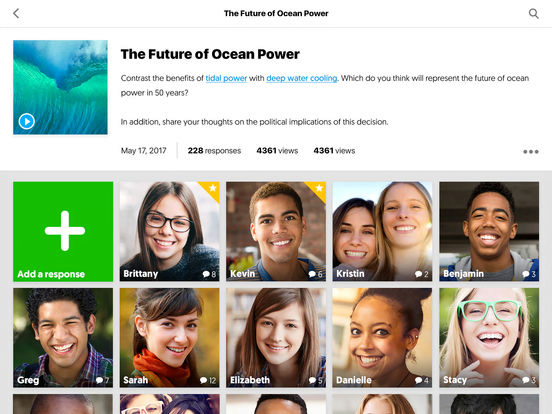 Flip (formerly FlipGrid) is a video discussion platform that encourages student voice and collaboration by allowing students to respond to prompts with short video recordings. You can create discussion topics or questions, and your students respond in video format, fostering engagement, communication, and reflective learning in both virtual and in-person classrooms.
Benefits:
Public speaking practice and confidence building.
Peer-to-peer learning and collaboration.
Inclusivity and differentiated instruction.
Key Features: LMS Integration, connecting with students and classrooms around the globe, accessibility features.
Price: Free on both web and mobile.
Alternatively, if you are a PowerPoint user, try ClassPoint's Video Upload feature to allow students to upload videos during your lesson, making learning more fun and engaging!
8. SeeSaw – Best for Younger Students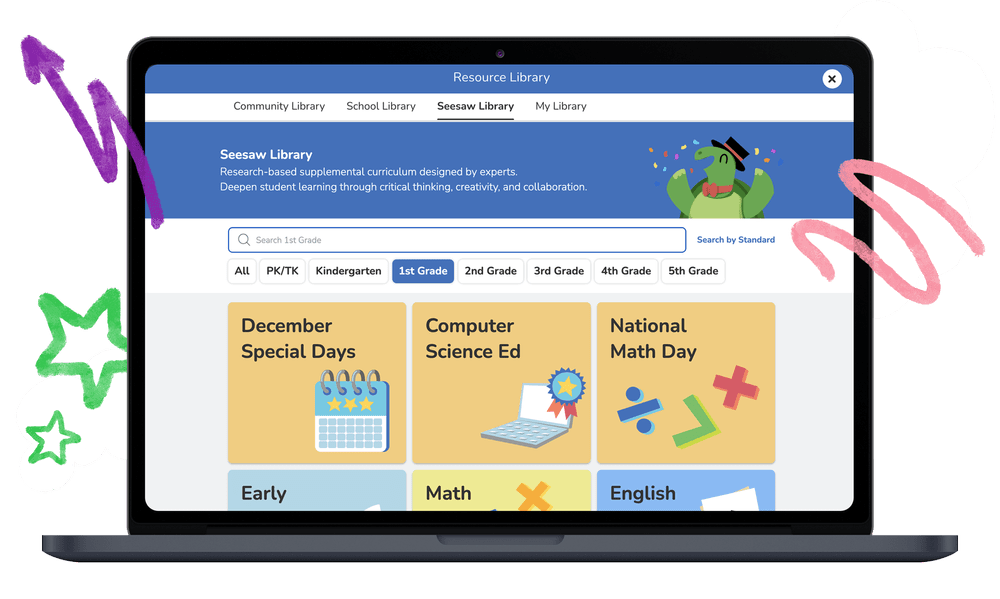 SeeSaw is a digital portfolio and parent communication platform designed for younger students. It provides them with a place to create and share digital work, like images, videos, drawings and documents, with teachers and parents. 
Benefits:
Encourage student reflection.
Connect students, teachers, and families.
Support creative student expression.
Key Features: Integrates with popular LMS and SIS platforms, student-driven portfolios, multimodal inputs and outputs, auto-graded formative assessment questions.
Price: Free basic plan or for more features, upgrade with school and district plan.
9. Prodigy – Best for Math Educational Games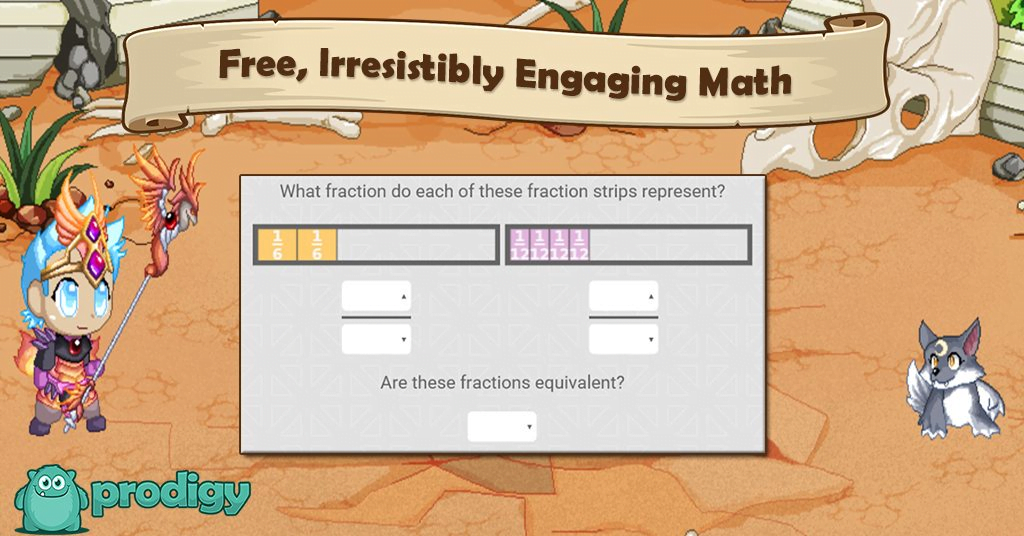 Prodigy is an educational game platform designed to make learning math more engaging and fun for students. It offers interactive math games, assessments, and a personalized learning experience that adapts to each student's skill level, helping them build math proficiency in a fun and engaging way.
Benefits:
Gamifies math learning.
Provides personalized feedback.
Tracks student development and adjusts game content to fit your lessons.
Key Features: Variety of aames, access to adaptive assessments, reports, and rewards, align with curriculum standards.
Price: Offers a free version and a premium subscription for additional features.
10. EverNote – Best for Note-Taking
Evernote is a versatile note-taking and organization app that helps students and teachers capture, organize, and share information across devices. It allows students and teachers to create digital notebooks, store various types of content, and provides tools for document scanning, handwriting recognition, and seamless collaboration.
Benefits:
Enhanced productivity.
Syncs across devices – great for collaboration.
Key Features: Offline note-taking, supports multimedia within note pages, document scanning, project management.
Price: Free and paid plans starting at + $100 per year.
11. Canva – Best for Design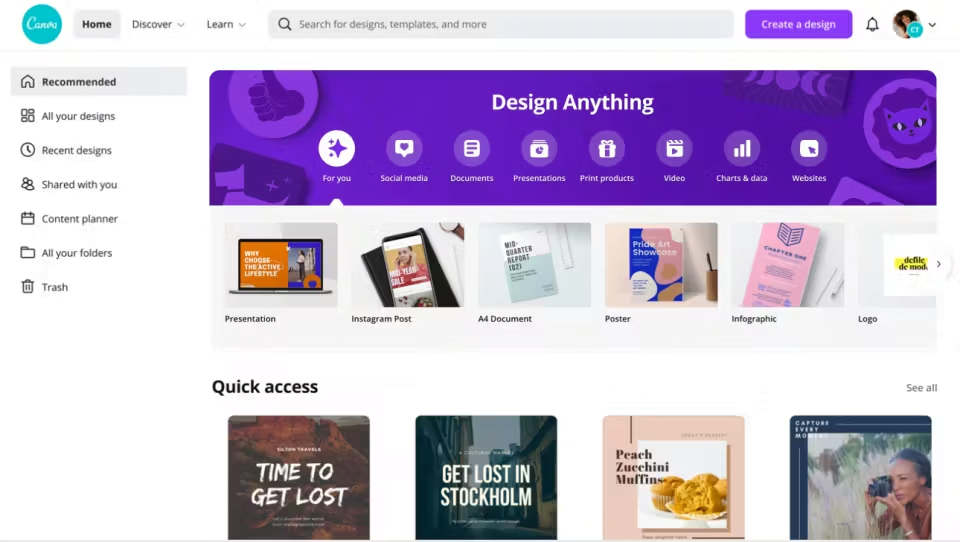 Canva is a user-friendly graphic design platform that empowers teachers to create visually appealing graphics, presentations, and documents without the need for advanced design skills. It offers a wide range of design templates, intuitive drag-and-drop tools, and an extensive library of visual assets to facilitate the creation of professional-quality visuals.
Benefits:
Simplifies the process of graphic design.
Engages students visually with your content.
Delivers real-time feedback on student designs.
Key Features: Ready-to-use templates, a huge library of options, AI text-to-image and design helper, LMS integration.
Price: Free for teachers or district and offers school-wide options.
12. ChatGPT – Best AI-Powered Teaching Companion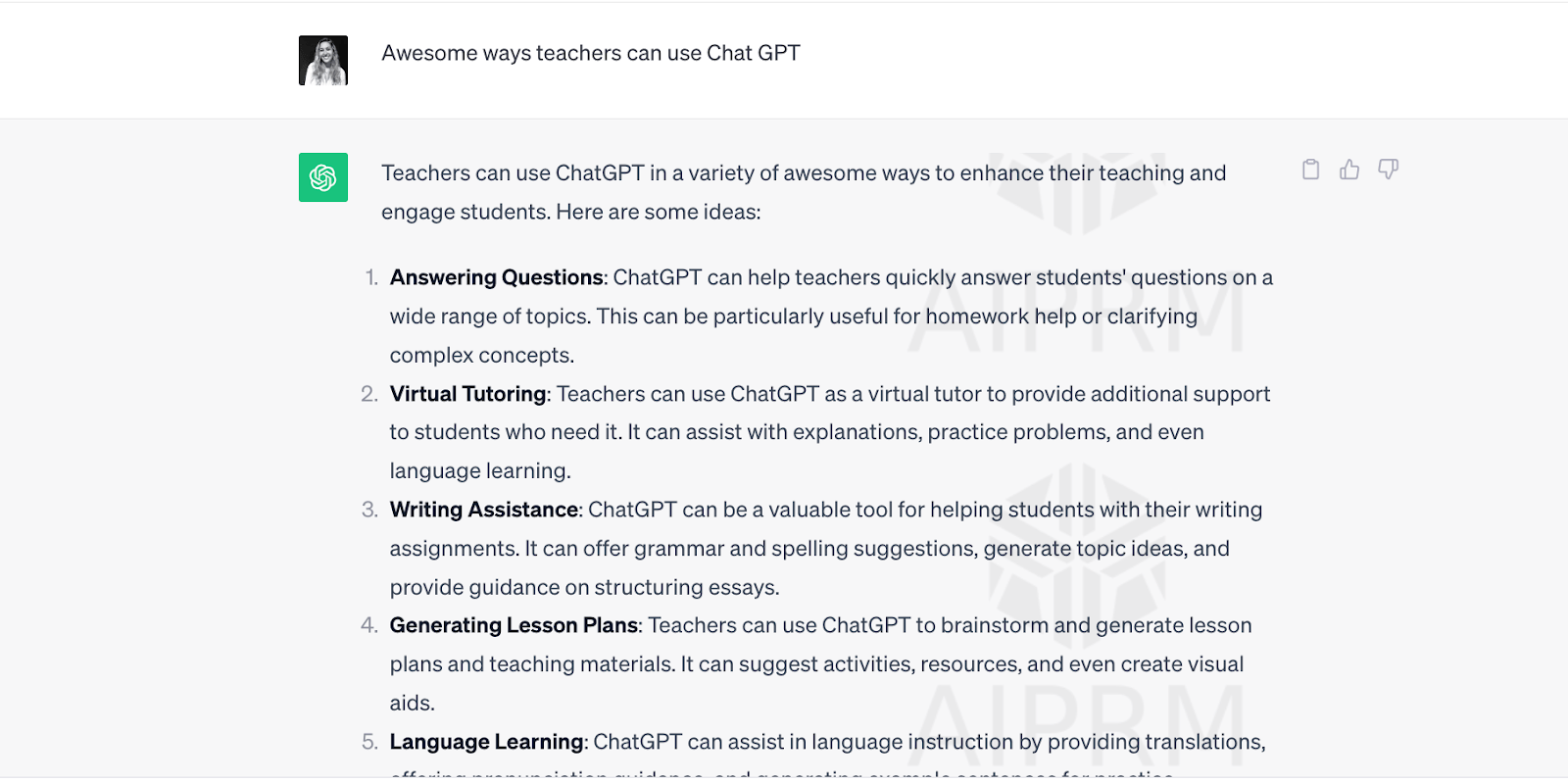 ChatGPT is an AI-powered chatbot that can be used for a wide range of applications, including answering questions, providing information, and automating customer support. To learn more about the ways to use ChatGPT in your classroom, check out 100 ways to use it in your classroom.
Benefits:
Efficient lesson planning.
Streamlined teaching.
Creative brainstorming and idea generation.
Teaching assistant.
Integrates with other tools you are already using.
Key Features: Get responses in real-time, ask any question on any subject, easy copy and paste material
Pricing: Free, though GPT-4 is only available to paid Plus users.
Get all your ChatGPT queries answered here.
13. Khan Academy – Best for Library of Instructional Content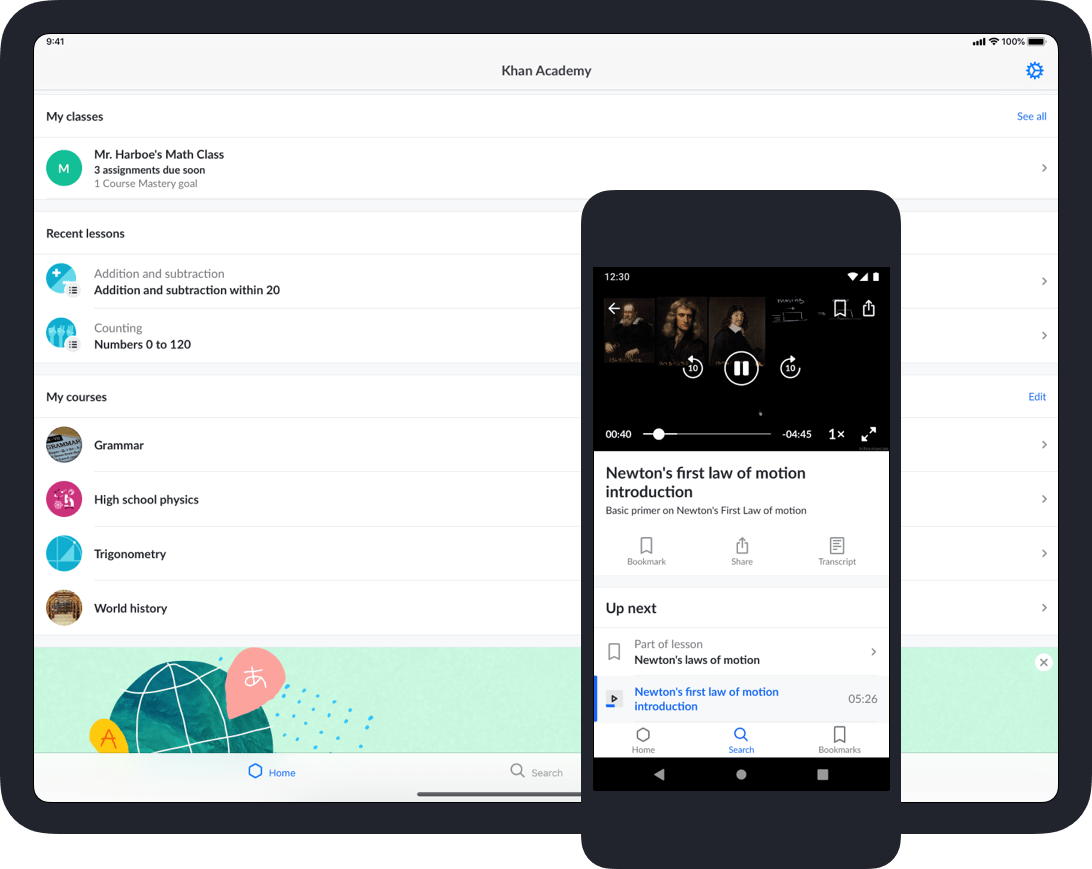 Khan Academy is an online educational platform that provides a vast library of instructional videos and interactive practice exercises spanning a wide range of subjects and grade levels. Students can access free, high-quality educational content, track their progress, and receive personalized recommendations to enhance their understanding on various topics.
Benefits:
Effectively gauges learning gaps among your students.
Personalized practice questions and exercises.
Wide range of topics suitable for students of all ages and skill levels.
Key Features: Extensive library of video lessons and practice exercises, progress tracking and personalized recommendations, test prep materials.
Pricing: It's free!
14. Socratic – Best for Homework Assistance
Socratic is an AI-powered homework assistance app that helps students with their homework and studies. They can take a photo of a question or type it in, and the app provides visual step-by-step explanations, answers, and additional resources, making it a valuable tool for independent learning.
Benefits:
Supports students with homework and problem-solving.
Encourages independent learning and critical thinking.
Offers explanations in a variety of subjects.
Key Features: AI-powered step-by-step solutions, subject coverage in math, science, literature, and more, accessible on mobile devices.
Pricing: It's free!
16. Animoto – Best for Video Creation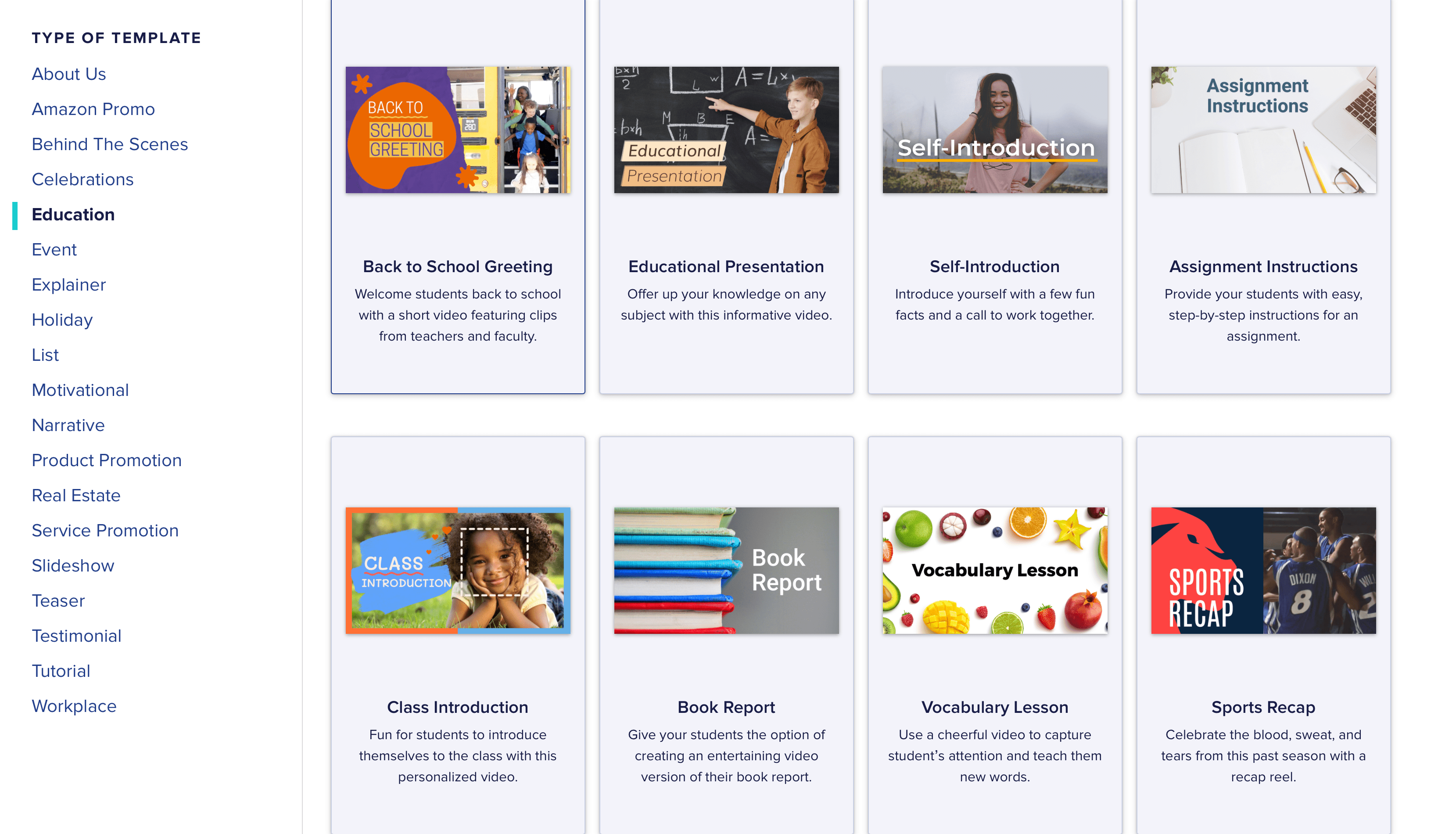 Animoto is a video creation platform that allows you to easily produce professional-quality videos and slideshows. It operates through a user-friendly drag-and-drop interface, offers customizable templates and music options, and is suitable for various purposes, including presentations, marketing, and storytelling for both teachers and students.
Benefits:
Easy-to-use video creation and editing tools.
Enhances visual communication and engagement.
Easily collaborate with others and give feedback with time-stamped comments.
Key Features: Library of pre-built templates and music, multiple sharing and exporting options, screen recording options.
Pricing: Animoto offers a free plan with limited features, as well as multiple paid plans starting at $8 per month.
17. Book Creator – Best for Digital Book Creation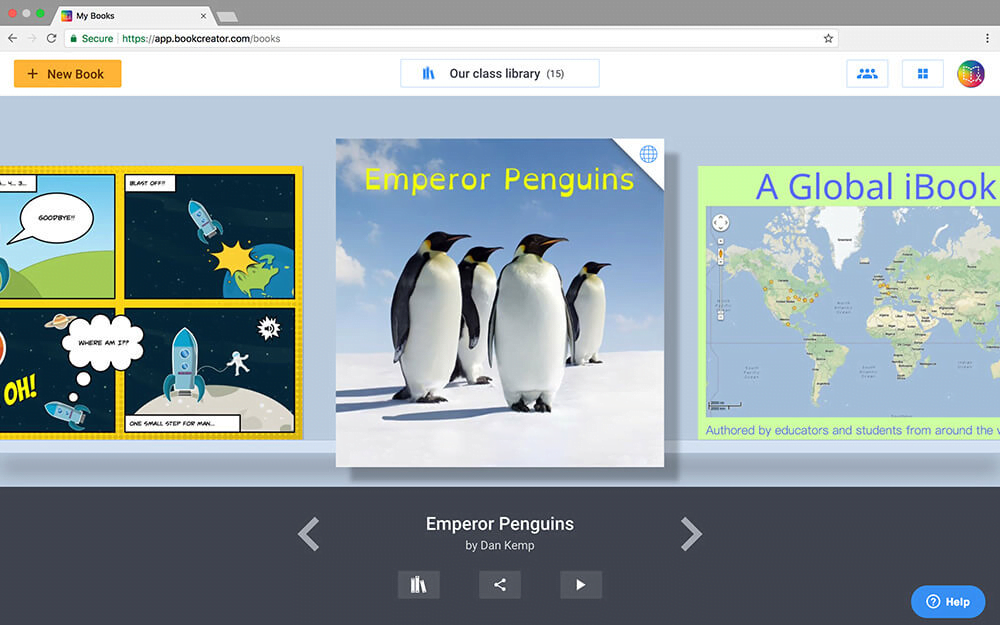 Book Creator is a digital book creation platform that enables teachers and students to design and publish interactive e-books. Easily create multimedia-rich books by adding text, images, videos, and audio elements, fostering creativity, digital literacy, and collaborative content creation.
Benefits:
Encourages creativity and storytelling skills.
Supports digital literacy and content creation.
Supports multiple languages and offers accessibility features for special education.
Key Features: Collaboration tools for co-authoring, ability to add videos, music, voice recordings, images, and more, pen tools to draw and annotate.
Pricing: Book Creator has a free version and a paid version starting at $12 per month.
18. EdSurge – Best for Latest EdTech News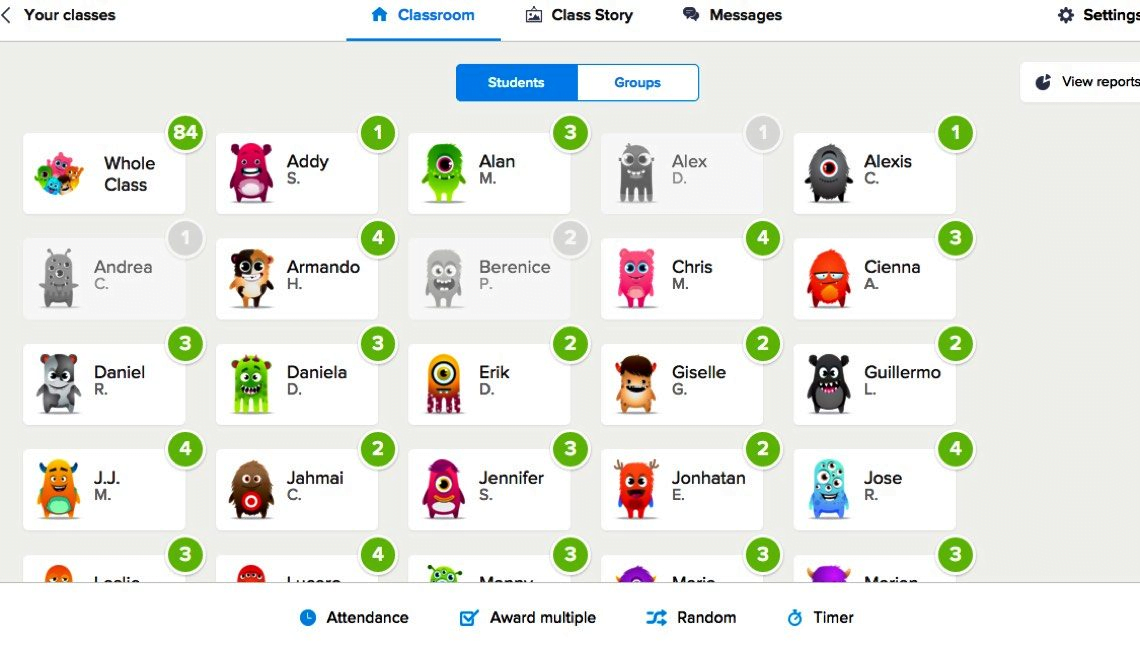 Stay up-to-date with education news. EdSurge is an educational technology news and resource website that provides educators with insights into the latest trends, tools, and practices in the field of education technology. It serves as a valuable platform for staying informed about advancements in educational technology.
Benefits:
Up-to-date trends and innovations in EdTech.
Offers a wealth of articles, reviews, and reports to inform teaching practices.
Fosters professional development by providing resources and insights from experts in the field.
Key Features: News articles, analysis of edtech trends, reviews of educational technology tools, reports, and research.
Pricing: EdSurge provides most of its content for free; premium paid content is also available.
Alternatively, you can also stay up-to-date with EdTech trends and pedagogies and how you can apply them in your classroom here. 
Conclusion
In the ever-evolving landscape of education, the classroom apps have become indispensable companions for teachers, revolutionizing traditional teaching methods and transforming them into engaging and interactive experiences.
Unlock the potential of these classroom apps, and empower yourself to shape a brighter future for your students—one engaging lesson at a time.
About Sara Wanasek
Sara Wanasek is a PowerPoint expert with a deep understanding of education technology tools. She has been writing for ClassPoint for over 3 years, sharing her knowledge and insights in educational technology and PowerPoint to teachers. Her passion extends beyond writing, as she also shares innovative ideas and practical presentation tips on ClassPoint's YouTube channel. If you are looking for innovative ideas and practical tips to elevate your presentations as well as the latest trends in educational technology, be sure to check out it out for a wealth of insightful content.