In the digital age, PowerPoint has evolved far beyond its traditional role as a static slideshow tool. It has emerged as a versatile canvas where creativity knows no bounds, and where education and entertainment can seamlessly co-exist. Imagine captivating your audience not just with information but with an interactive journey that sparks curiosity, competition, and camaraderie. This is the magic of PowerPoint games.
📸 Picture this: a classroom abuzz with excitement as students eagerly participate in a trivia quiz that feels more like a game show. Or a virtual conference where attendees don't just listen passively, but actively engage with the content, making choices that shape the narrative. The secret behind these captivating experiences lies not just in PowerPoint itself, but in the innovative tools that unlock its true potential.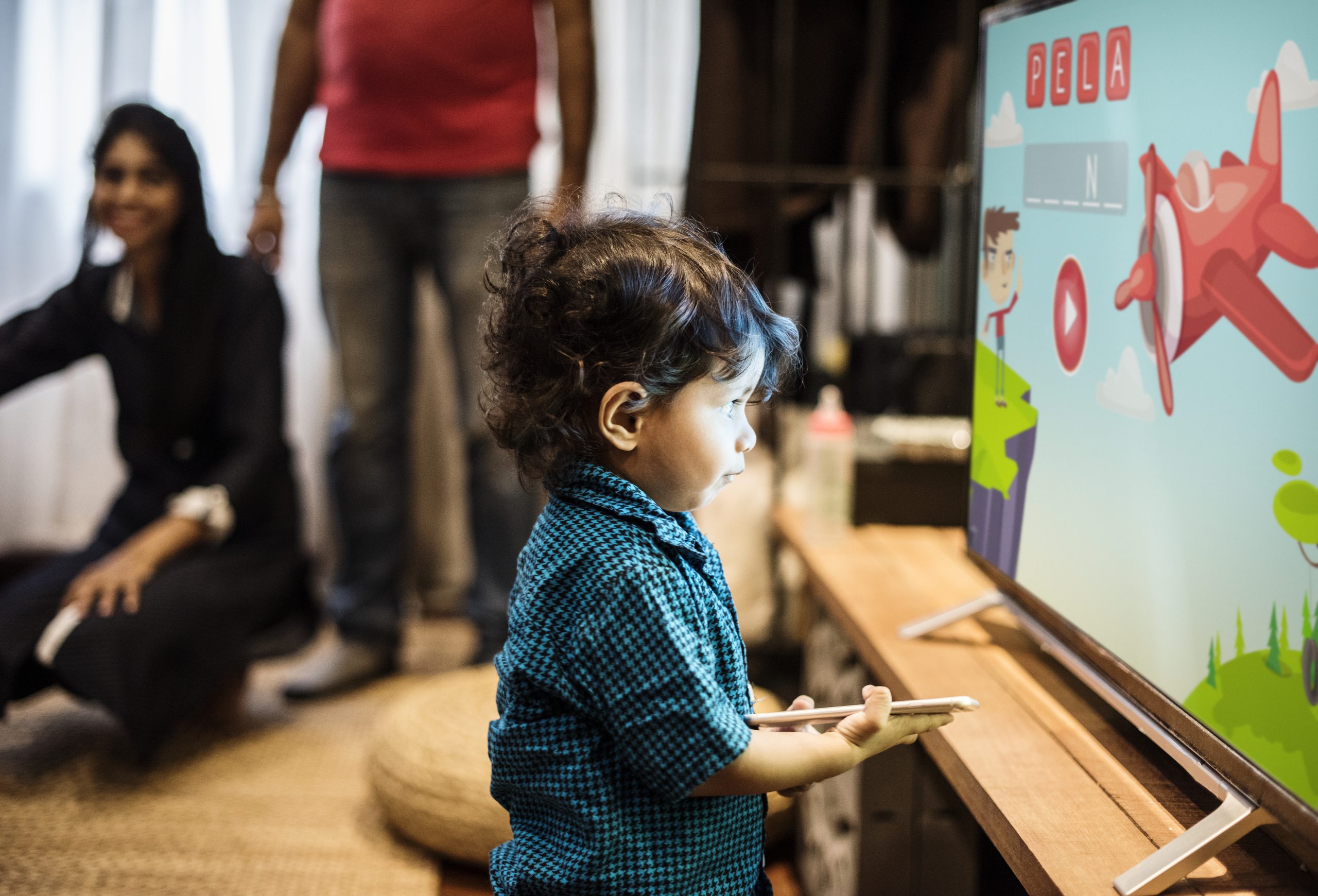 In this blog, we will explore the art and science of creating games that educate, entertain, and leave a lasting impact. We will delve into the principles of gamification with actual, downloadable PowerPoint game templates powered a subtle yet potent ally that can further elevate your game. Follow along so you would know what this power tool is!
Table of Contents
The Power of Gamified PowerPoints
Ah, the thrill of the game – it's not just about fun, it's about learning too! Gamification has unleashed a revolution in education, transforming the way we absorb knowledge. Imagine turning seemingly mundane concepts into exciting challenges, where every answer unlocks a new level of understanding. That's the magic of gamification, and it's changing the game (pun intended 😉) in classrooms and beyond.
But here's the twist – technology isn't just a bystander; it's the co-pilot on this educational joyride. In the world of PowerPoint games, technology plays a pivotal role in infusing interactivity and engagement into the learning process. With a click and a slide, we're whisked away to a realm where questions become quests, and answers are the keys to conquering new horizons.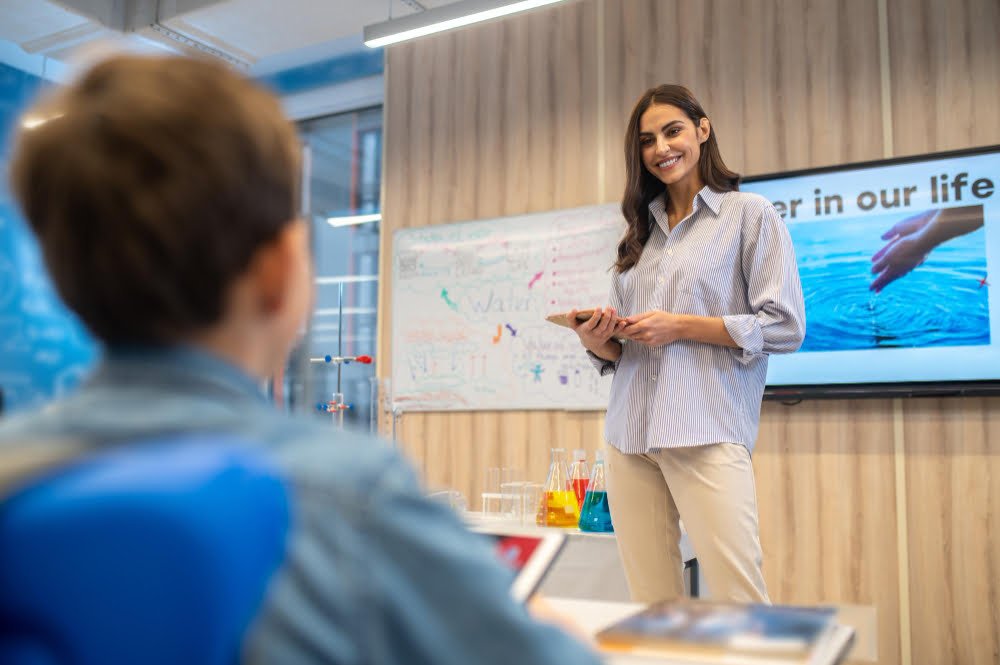 Now, imagine taking this gamification marvel and coupling it with the prowess of PowerPoint. Enter powerpoint games – a blend of creativity, technology, and education that opens doors to a whole new dimension of learning. And guess what? Tools like ClassPoint are your trusty sidekicks, effortlessly enhancing this gamification journey.
The Psychology Behind Gamification
Gamification isn't just about the thrill of competition – it is a carefully crafted blend of psychology and technology that captivates minds and fuels a hunger for knowledge. Let us explore the psychological underpinnings that make gamified PowerPoint presentations an educational powerhouse:
🧠 Intrinsic Motivation
Gamification taps into our innate desire to learn and achieve. By framing learning as a game, students become more self-motivated, eager to conquer challenges and unlock new levels of understanding.
💭 Immediate Feedback
The instant gratification of feedback in gamified presentations is a game-changer. It satisfies our craving for knowledge validation and fuels the urge to keep progressing.
🎯 Goal-Oriented Learning
Just like a game's objective, learning becomes purposeful. Each concept mastered is a checkpoint reached, making the learning journey feel like a series of accomplishments.
🎁 Rewards and Recognition
The allure of rewards, badges, and stars triggers a surge of dopamine – the brain's feel-good chemical. This not only boosts engagement but also makes learning a positively charged experience.
🏆 Sense of Achievement
Accomplishments in gamified PowerPoint games create a sense of achievement that's hard to replicate in traditional learning settings. Every correct answer and level completed becomes a mini-victory.
🙋🏻‍♂️ Active Participation
The interactive nature of gamification transforms passive listeners into active participants. This hands-on approach solidifies understanding, as learning becomes an experience rather than a lecture.
🎱 Competition and Collaboration
Gamification strikes a balance between healthy competition and teamwork. ClassPoint's features, like leaderboard, inspire friendly rivalry while fostering cooperation and peer learning.
😮‍💨 Reduced Anxiety
The game-like environment reduces anxiety associated with learning. Students feel more comfortable taking risks, experimenting, and learning from mistakes.
⏳ Long-Term Engagement
By tapping into our psychological need for novelty and challenge, gamified presentations maintain long-term engagement, preventing knowledge decay over time.
📚 Personalized Learning
Gamification allows for tailored experiences. Students can navigate at their own pace, focusing on areas they find challenging, enhancing the feeling of individualized attention.
Yes, we know you are excited to turn your lesson into an epic adventure. But before that, let us share a few pro tips with you so you can create much more powerful classroom games with PowerPoint:
---
Are you ready to turn your lesson into an epic adventure?
4+1 Downloadable PowerPoint Game Templates
We have prepared a collection of captivating PowerPoint game templates that you can use straightaway! Each one is meticulously designed to transform education into a thrilling journey. With the help of these templates and ClassPoint's ingenious gamification features, you will be able to create interactive PowerPoint games that capture attention, spark curiosity, and foster a deeper understanding of your content.
Let's get started!
PowerPoint Game Template #1: Memory Game
Who said memory exercises have to be boring? With our Memory Game template, you will be able to craft an engaging classroom challenge that is not only entertaining but also enhances memory recall. Using a mix of shapes and in-app icons, you will create a grid of hidden blocks, each concealing unique icons.
Pro tip: With ClassPoint's 

Draggable Objects

, you can unveil these icons with live drag & drop actions during your presentation. It's like a game of hide and seek that keeps your audience on their toes!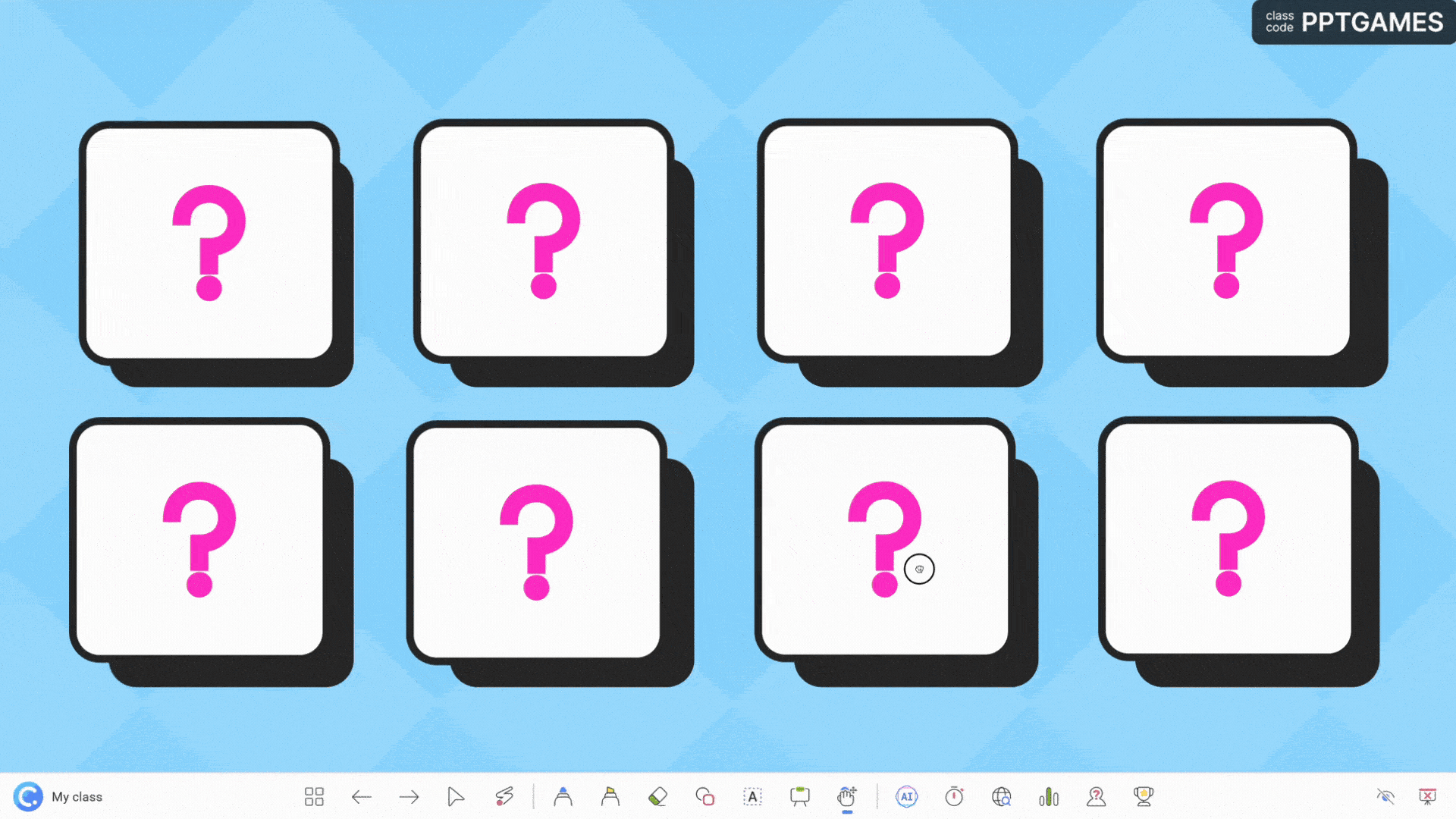 PowerPoint Game Template #2: Slide Zoom AI-Generated Quiz
Behold the Slide Zoom AI Quiz – a dazzling fusion of technology and education that will leave your audience in awe! Thanks to ClassPoint's AI quiz feature, generating questions is a breeze. It is as simple as creating a PowerPoint slide; our AI does the rest. Whether your slide is about "marketing" or even "bananas," our AI can create questions in a snap. Powered by OpenAI, the very technology that fuels ChatGPT, ClassPoint AI provides you with a ready-to-go quiz in seconds!
But that is not all! Transform these question slides into dynamic mini slides using PowerPoint slide zoom animation to bring your PowerPoint game to the next level. And the magic does not have to stop there – utilize ClassPoint's Draggable Objects to reveal these mini slides, adding a dash of intrigue to your PowerPoint game.
And let us not forget the pièce de résistance – unleash the power of ClassPoint's gamification features for the ultimate game mode. It is not just a quiz, but also an unforgettable experience in the world of PowerPoint games!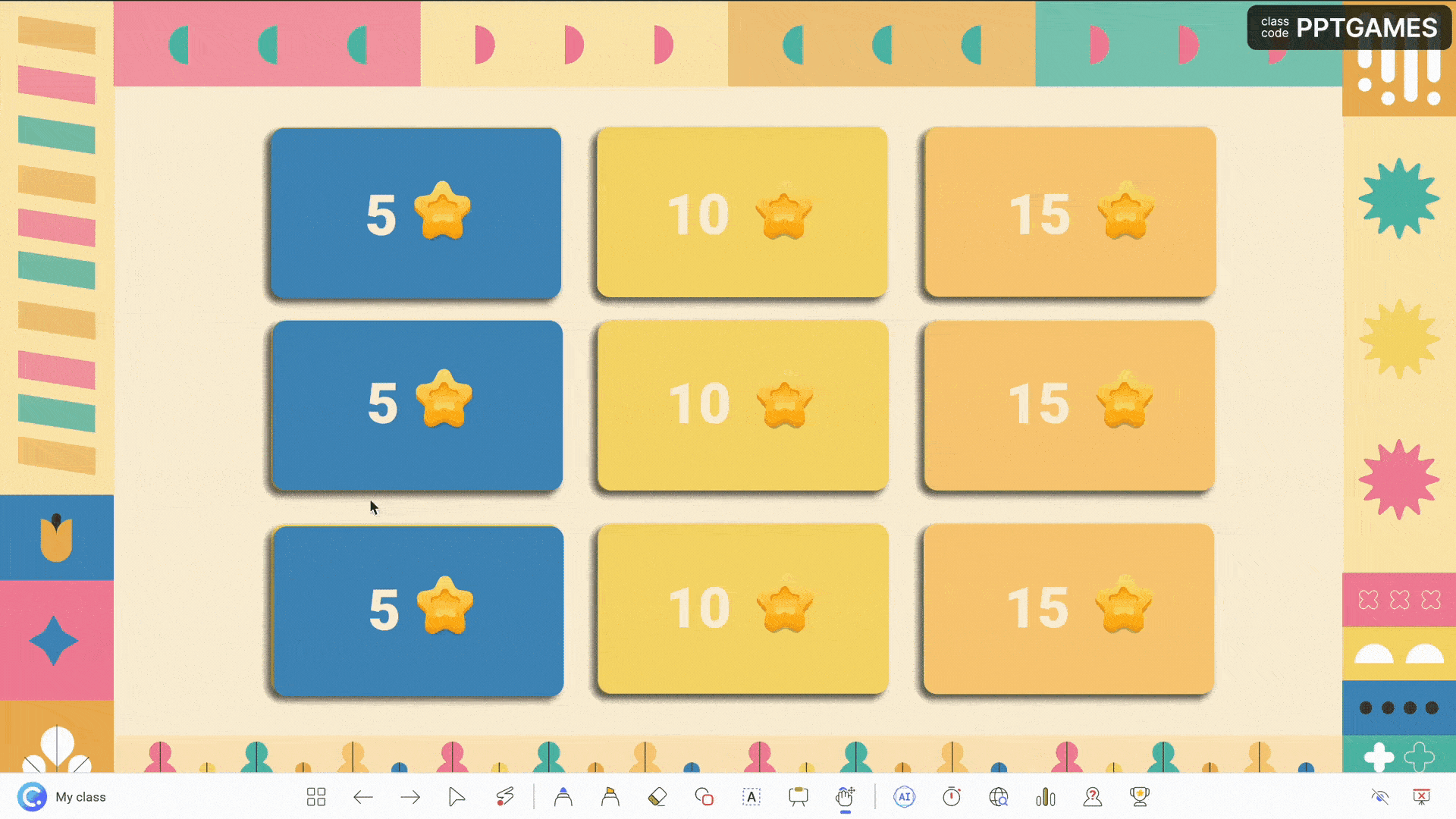 Picture a puzzle where each question holds a clue to a hidden picture. But that is not all – ClassPoint's dynamic presentations tools let you orchestrate the unveiling, turning it into a suspenseful adventure with drag & drop + live inking. As the game master, you hold the power to reveal the mystery picture.
And with an added wow factor from ClassPoint's gamified stars, you will amplify the excitement and competition, making this template a true crowd-pleaser.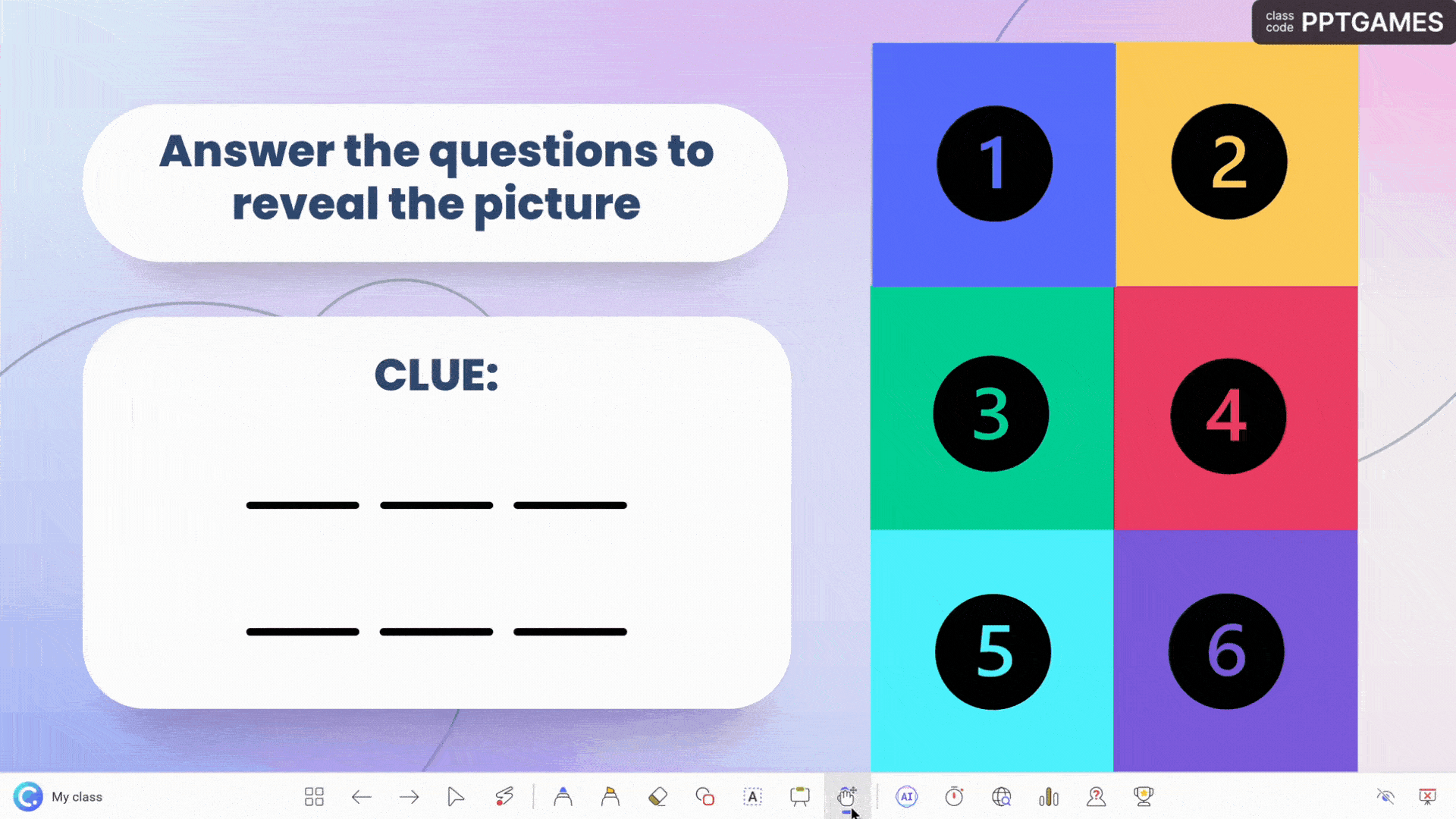 PowerPoint Game Template #4: Mandela Effect Quiz
Step into the realm of the Mandela Effect Quiz – a mind-bending exploration of memory and perception. Here's the twist: it's all about Multiple Choice magic, brought to you by ClassPoint's interactive quiz question buttons. Participants receive the multiple-choice question slide on their smartphones, engaging in an instant battle of wits. Which is fact, which is fiction? Let your students find out. Challenge your audience's understanding, spark debates, and bask in the thrill of discovering the truth together.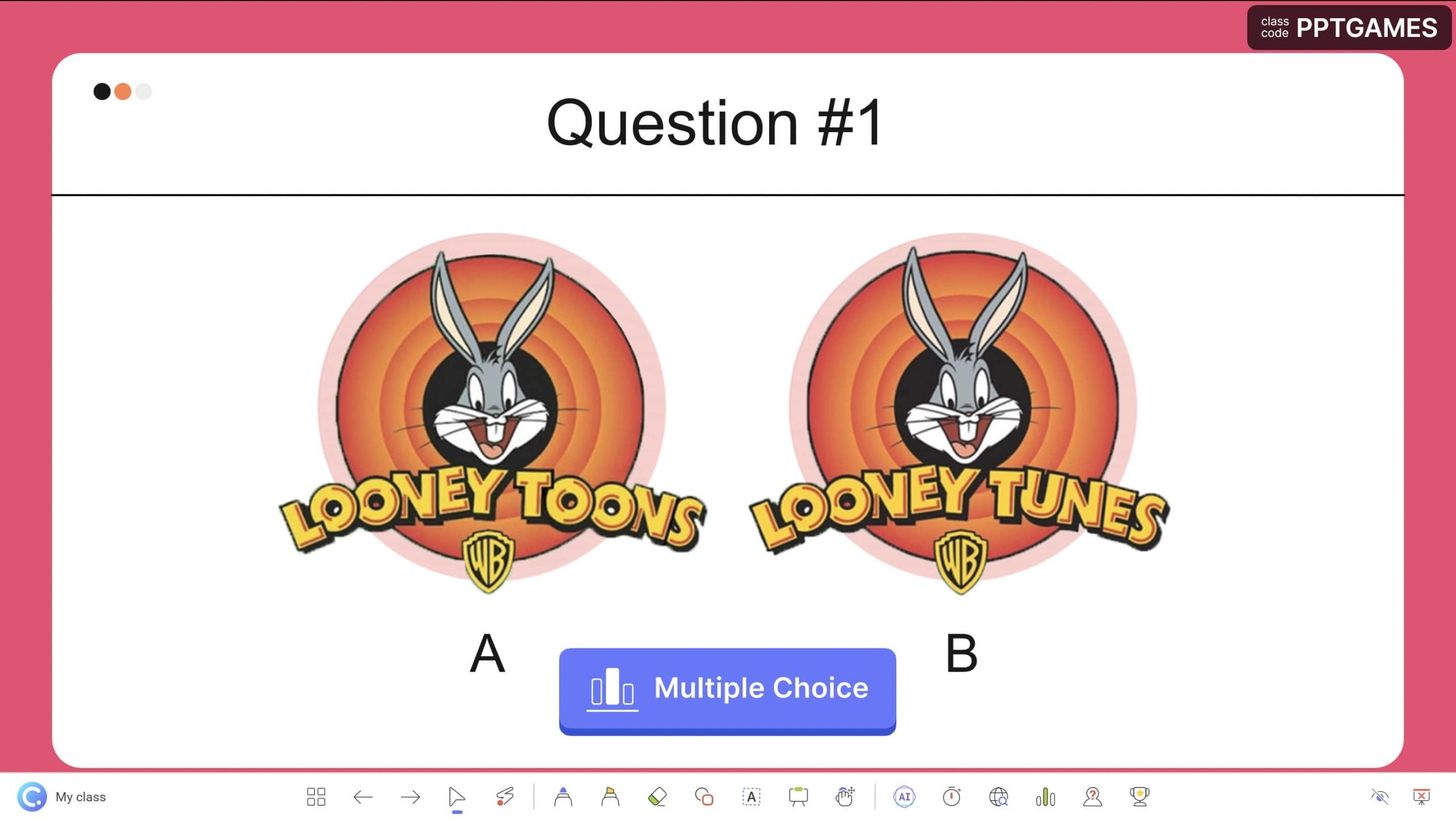 [Bonus] PowerPoint Game Template #5: Trivia Quiz
The PowerPoint game templates list would not be complete without a trivia quiz template. Prepare for an exhilarating twist that will leave your students spellbound. Brace yourselves with the list of exciting trivia questions from easy to difficult, all orchestrated by the ingenious interactive quiz question buttons seamlessly integrated in PowerPoint from ClassPoint. Participants can easily participate in your PowerPoint quizzes simply by using their device! As the participants embark on this mental showdown, you can effortlessly spice up the game atmosphere by awarding stars and revealing the leaderboard at the end of each round!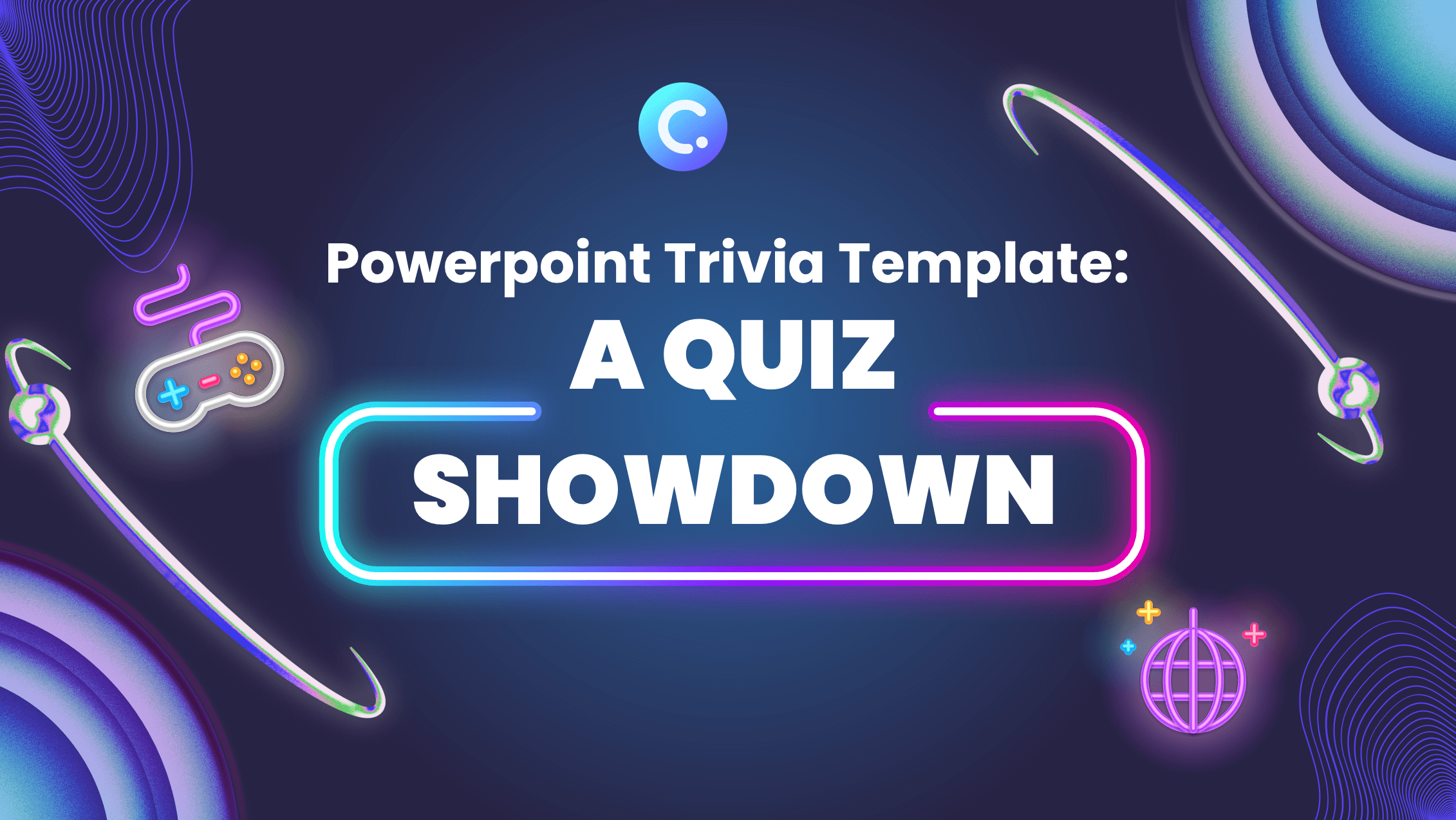 To ensure a smooth experience in using the above templates, make sure you have ClassPoint within your PowerPoint app! Don't have an account yet? Sign up below.
And now, armed with our arsenal of PowerPoint game templates, you stand poised to usher your classroom teaching into an unparalleled realm of excellence and excitement! But, before you set forth on this transformative journey, we would like to let you in to one final secret, which allows you to turn these PowerPoint game templates into more powerful game adventures. Keep reading!
Elevating Your PowerPoint Games with ClassPoint
With the PowerPoint game templates alone, you will only be able to scratch the surface of interactive and gamified teaching. ClassPoint takes this playful and gamified learning to an entirely new dimension, turning your presentations into interactive adventures that engage, inspire, and educate like never before. We will share with you a myriad of ways on how you can make use of the ClassPoint integrated features in the PowerPoint game templates and easily turn any ordinary presentations into one-of-its-kind PowerPoint games: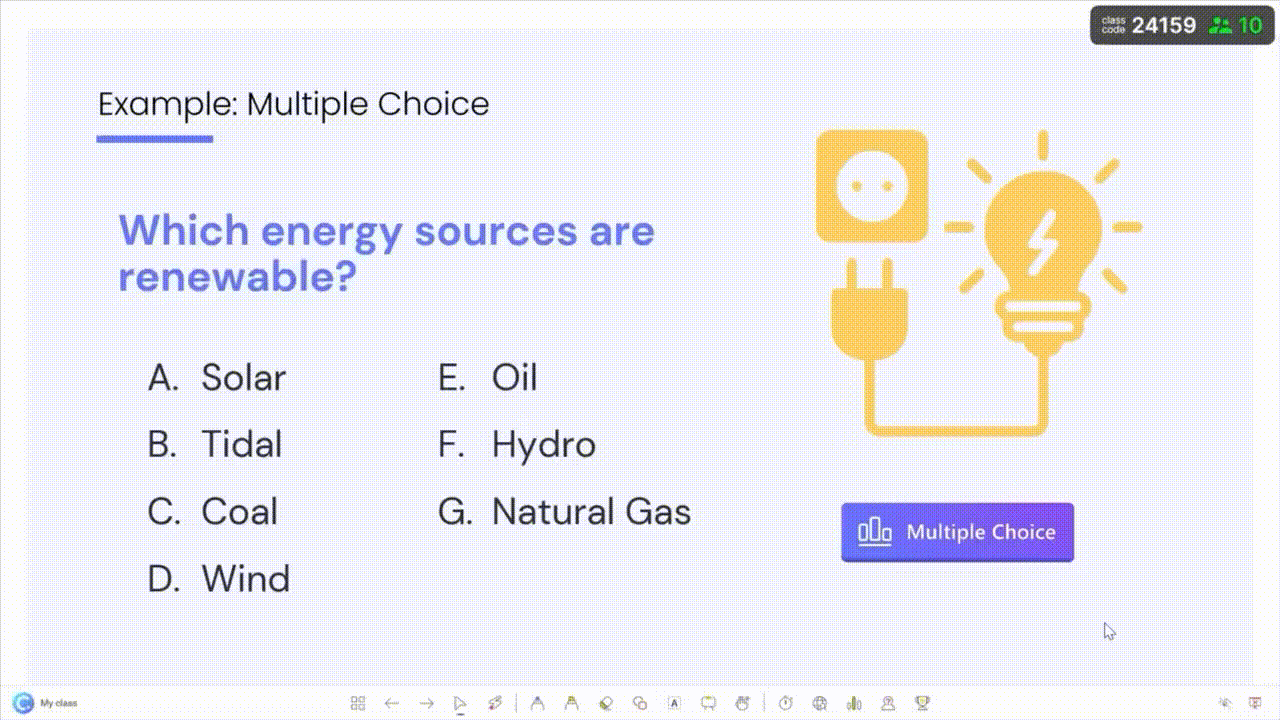 ClassPoint's interactive quizzes integrated inside PowerPoint allow you to turn ordinary PowerPoint slides into captivating quizzes with a mere click. Thanks to ClassPoint's magic, question buttons become gateways to engagement and game sessions in PowerPoint. Participants can easily join any of the interactive quizzes using their smartphones or devices, while the presenter collects the responses on PowerPoint effortlessly.
Here is how you can instantly turn any PowerPoint slides into interactive quizzes!
The ability to drag and drop in PowerPoint is paramount for crafting captivating interactive games. Luckily, with ClassPoint's Draggable Objects, you can turn your PowerPoint elements into draggable objects effortlessly. With ClassPoint's ingenious Draggable Objects feature, your PowerPoint is bestowed with unparalleled flexibility instantly. It seamlessly transforms any elements within your presentation into draggable entities, allowing them to be manipulated effortlessly during Slideshow mode.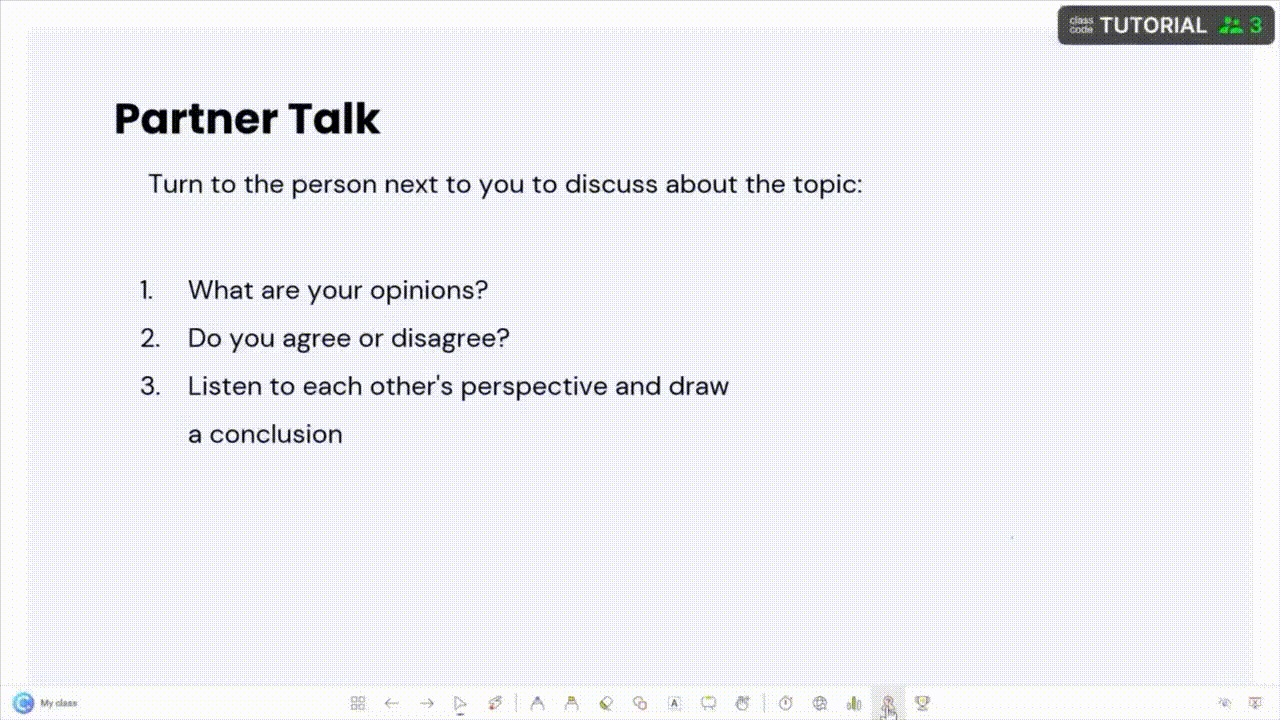 Wave goodbye to mundane presentations and say hello to dynamic control. With ClassPoint wide range of presentation features, you wield the power to create interactive PowerPoint game experiences that astonish. Spin the wheel to randomly select names, orchestrate live inking sessions, and indulge in dynamic drag-and-drop activities – all while your audience is on the edge of their seats.
Gamified Learning Journey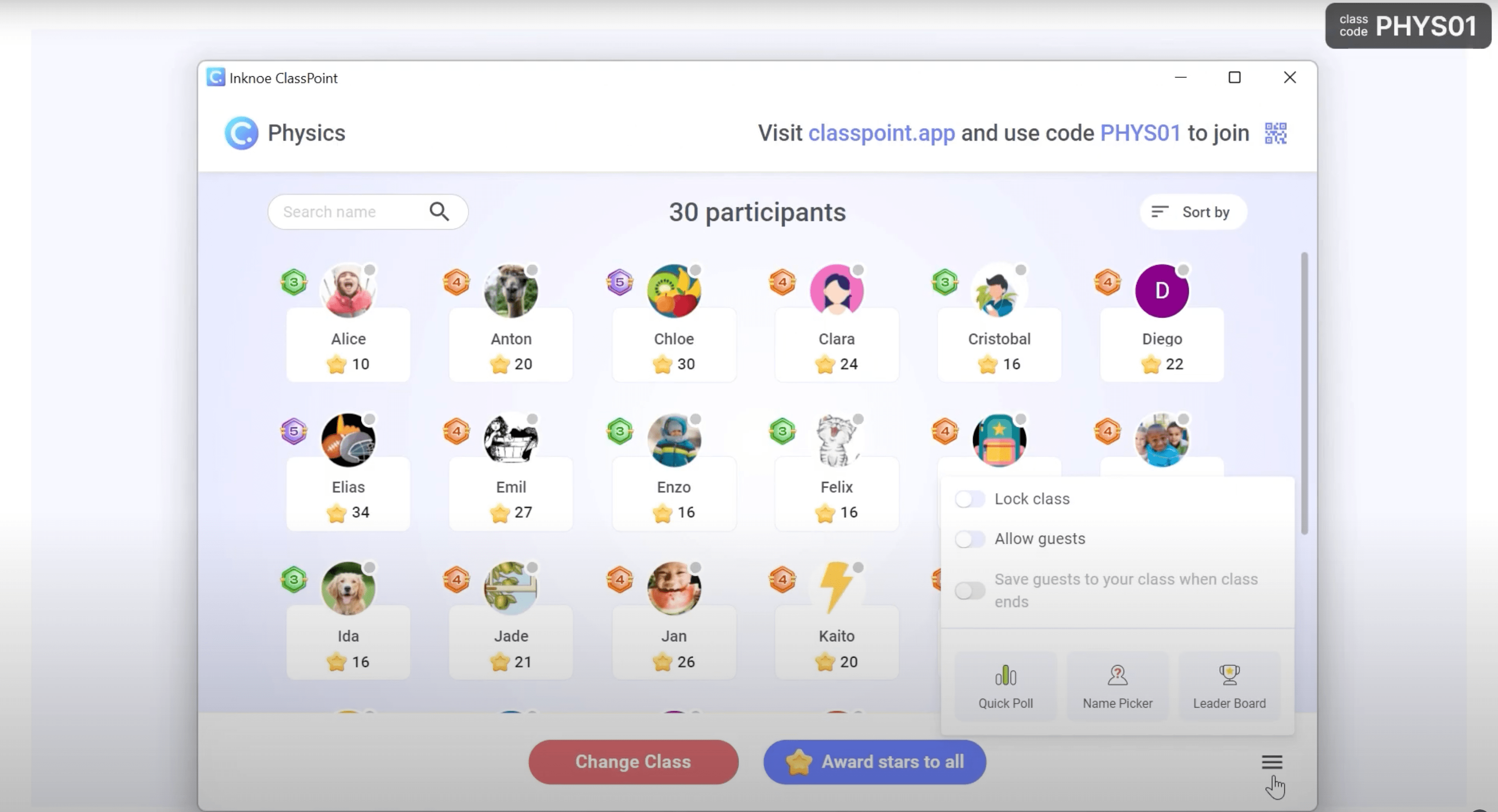 PowerPoint games reach new heights with ClassPoint's star-studded reward system available in PowerPoint Slideshow mode. During PowerPoint games, you can award students stars, elevate them through levels, and watch as they proudly adorn badges of achievement. The competitive spirit soars as the in-built leaderboard paints a vivid picture of who's ruling the knowledge arena.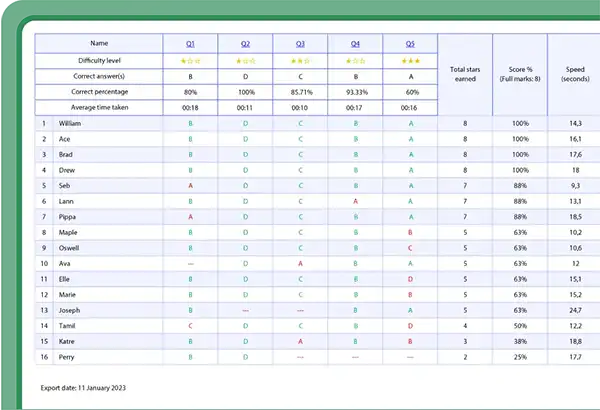 Let us not forget to keep track of student performance while we incorporate games into student learning. Luckily, ClassPoint is more than interactive bells and whistles. It is a data-driven ally, enabling you to track student performance with precision during PowerPoint games! Downloadable Excel reports and quiz summaries are available right at your fingertips to paint a comprehensive picture of your student progress.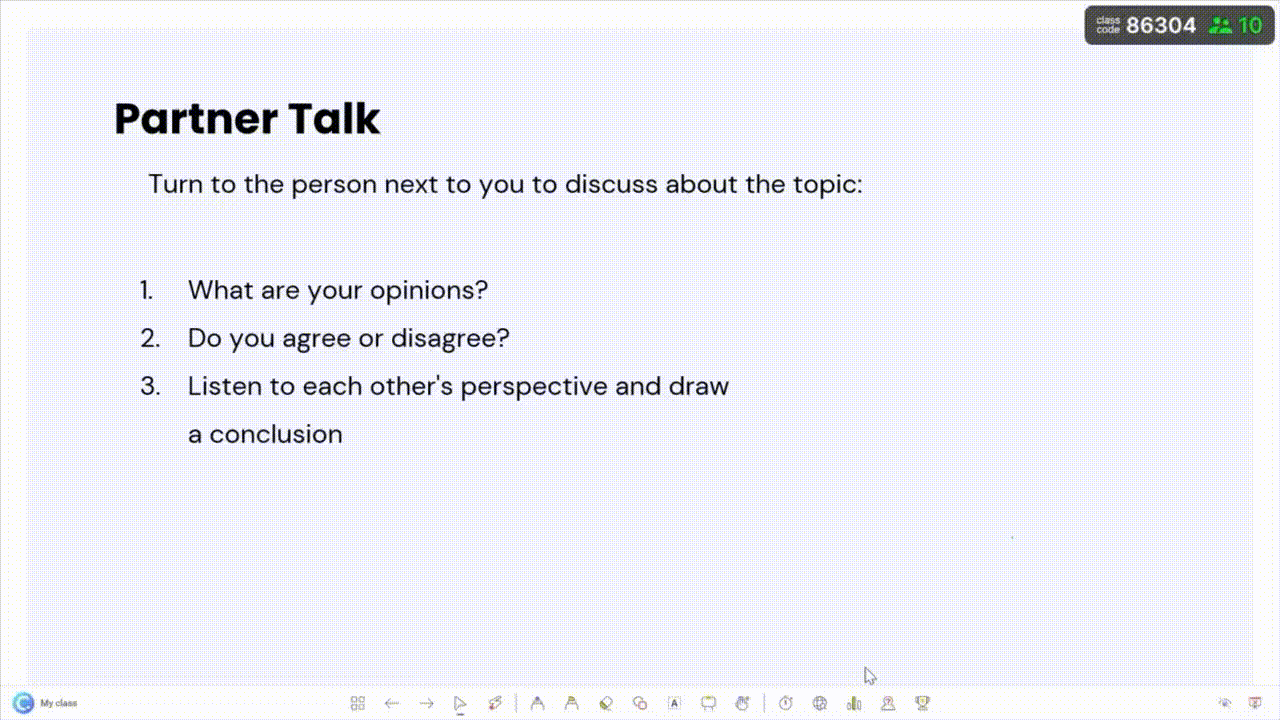 No more waiting for post-game surveys. With ClassPoint's quick poll, real-time feedback is your constant companion. Gauge understanding, adjust your approach, and make instant connections with your audience's insights during or after your PowerPoint games!
The best part is — ClassPoint does not just play well with PowerPoint – it dances harmoniously within it. ClassPoint is seamlessly integrated with PowerPoint so you can turn any ordinary presentation slides into a game adventure instantly! No app-switching drama; just pure, uninterrupted focus on creating engaging content.
For more expert tips, tutorials and free templates for interactive PowerPoint presentations, read this Expert Guide to Interactive PowerPoint, with free 60+ pages playbook for download.

---
Conclusion
And so, we come to the end of our journey through the world of PowerPoint games and the magic of ClassPoint. This adventure has not only shown us the power of technology but also the incredible possibilities it brings to education. But more than just the technical aspects, remember the heart of it all – the excitement of discovery, the connections made, and the joy of learning something new.
Here's to those "aha" moments, the animated discussions ignited by quizzes, and the sense of accomplishment that accompanies every step forward in learning.
Ready to take your PowerPoint games to the next level? Sign up for a free ClassPoint account now and embark on an educational journey where engagement knows no limits. Unleash the power of interactive design and gamification, and transform your presentations into captivating learning experiences that leave a lasting impact. Let's make learning an adventure together!
About Ausbert Generoso
Ausbert Generoso is the Community Marketing Manager of ClassPoint. With 5 years of being a writer, his written work has always aimed to guide educators in their quest to create engaging learning environments. When he is not writing, he channels his creativity into crafting video content that equips teachers with the skills to master day-to-day presentations through simple to advanced PowerPoint tutorials over at ClassPoint's TikTok channel, raking 40 million total plays in just 3 months! Extending his efforts beyond blog and video creation, he also spearheads social media, reaching millions of ClassPoint users worldwide. Join Ausbert on this exciting journey as we revolutionize education together!