When it comes to interactive educational tools, two names often spring to mind: ClassPoint and Kahoot! Both platforms promise an enhanced learning experience, but how do they truly compare?
What is ClassPoint's edge?
Does Kahoot offer unique features?
Which is more cost-effective?
ClassPoint vs Kahoot: Which is better overall?
Dive deeper into this guide to unveil the answers and decide the best fit for your teaching needs.
---
Table of Contents
---
⭐ ClassPoint vs Kahoot! At a Glance ⭐
| Feature/Aspect | ClassPoint | Kahoot! |
| --- | --- | --- |
| Pricing (Starter) | Free | $10/host/month (billed annually at $120) |
| Audience Size | Max 25 (Basic), 200 (Pro) and 300 (School) | Up to 2,000 participants (with 360 Pro Max) |
| Integration | Directly into PowerPoint | Web-based |
| Question Types | 5 types (Basic) to all types (Pro and School) | Quiz & poll questions (varies by plan) |
| Gamification | Basic to advanced (depending on plan) | Enhanced with AI (specifically for 360 plans) |
| Custom Branding | Available in School plan | In 360 Pro Max |
| Support | Basic to dedicated (depending on plan) | Standard to enhanced (varies by plan) |
| AI Features | AI quiz credits in Pro and School | AI enhancement in 360 Presenter, Pro, and Max |
| Interactive Tools | Draggable objects, saved classes | Slides, group discussions, team vs. team experience |
| Special Features | Direct PowerPoint Integration | Assign training courses |
| Advanced Gamification (Pro) | Included in Pro plan (stars accumulation, levels and badges) | Available in 360 Pro Max (200 audience size, advanced gamification) |
---
What is ClassPoint?
Ever found yourself drifting off during a presentation, only to be jerked back by a sudden interactive element? That's the magic of ClassPoint. As one of the leading Kahoot alternatives, ClassPoint isn't just an add-on. It's a revolution in how we perceive PowerPoint presentations in educational settings.
Don't let time slip by, keep your class engaged and the conversation going with ClassPoint timer options.
Let's dissect what makes ClassPoint stand out:
Deep Integration with PowerPoint: Ever wished PowerPoint had a tad more oomph? ClassPoint seamlessly merges with it, turning your typical slides into a dynamic learning arena. Imagine blending the familiarity of PowerPoint with the interactive elements educators dream of.
Beyond Basic Quizzes: While tools like Kahoot focus primarily on quizzes, ClassPoint goes beyond. It introduces real-time interactions into the heart of presentations. This means you're not just asking students to pick an answer; you're engaging them with polls, annotations, and even on-the-spot quizzes.
The Gamification Edge: Engagement is pivotal in today's educational landscape. ClassPoint's unique gamification features, such as stars, badges, and leaderboards, ensure students are not just passive participants. They're adventurers on a quest for knowledge.
Customization at Your Fingertips: Every classroom is unique, and ClassPoint gets that. Its plethora of features, from draggable objects in presentations to instant whiteboard canvases, can be tailored to fit your specific teaching style and the needs of your students.
Dive into a whole new world of Interactive Quiz possibilities with this quick start guide. 
ClassPoint Features
Navigating through the sea of Kahoot alternatives, ClassPoint stands out with its rich tapestry of features, each designed to catapult your regular PowerPoint presentations into interactive, student-centric learning experiences. Let's delve into the specifics.
Gamification isn't just a buzzword; it's a potent tool in the modern educator's arsenal. A study from eLearning Industry shows gamified elements can increase student participation by up to 60%. And ClassPoint nails it with:
Keep your class engaged, entertained, and excited with these ClassPoint gamification tips.
ClassPoint goes beyond just slides and text:
Need a unique activity for your class? Drag and drop shapes and more with ClassPoint.
Perhaps one of the most sought-after features in alternatives to Kahoot for large groups is the ability to engage students with interactive quizzes. Here's how ClassPoint makes a mark:
Need a quick quiz at the end of your presentation? Explore how ClassPoint AI can make quizzes easier for you.
ClassPoint Pros
Seamless PowerPoint Integration: No more juggling between apps.
Diverse Gamification Elements: Engage students in varied, exciting ways.
Robust Quiz Features: From multiple-choice to video uploads, there's something for every lesson.
Real-time Presentation Enhancements: Spontaneous changes? No problem!
Effortless Student Engagement: Interactive tools that captivate and maintain attention.
Inbuilt Browser Functionality: Browse the web without ever leaving your slideshow.
Comprehensive Tracking & Reports: Stay updated on each student's progress.
Generous Free Plan: Get started without any upfront costs.
ClassPoint Cons
PowerPoint Exclusivity: ClassPoint is tailored exclusively for PowerPoint, which means educators and presenters relying on other platforms might find themselves limited.
ClassPoint Pricing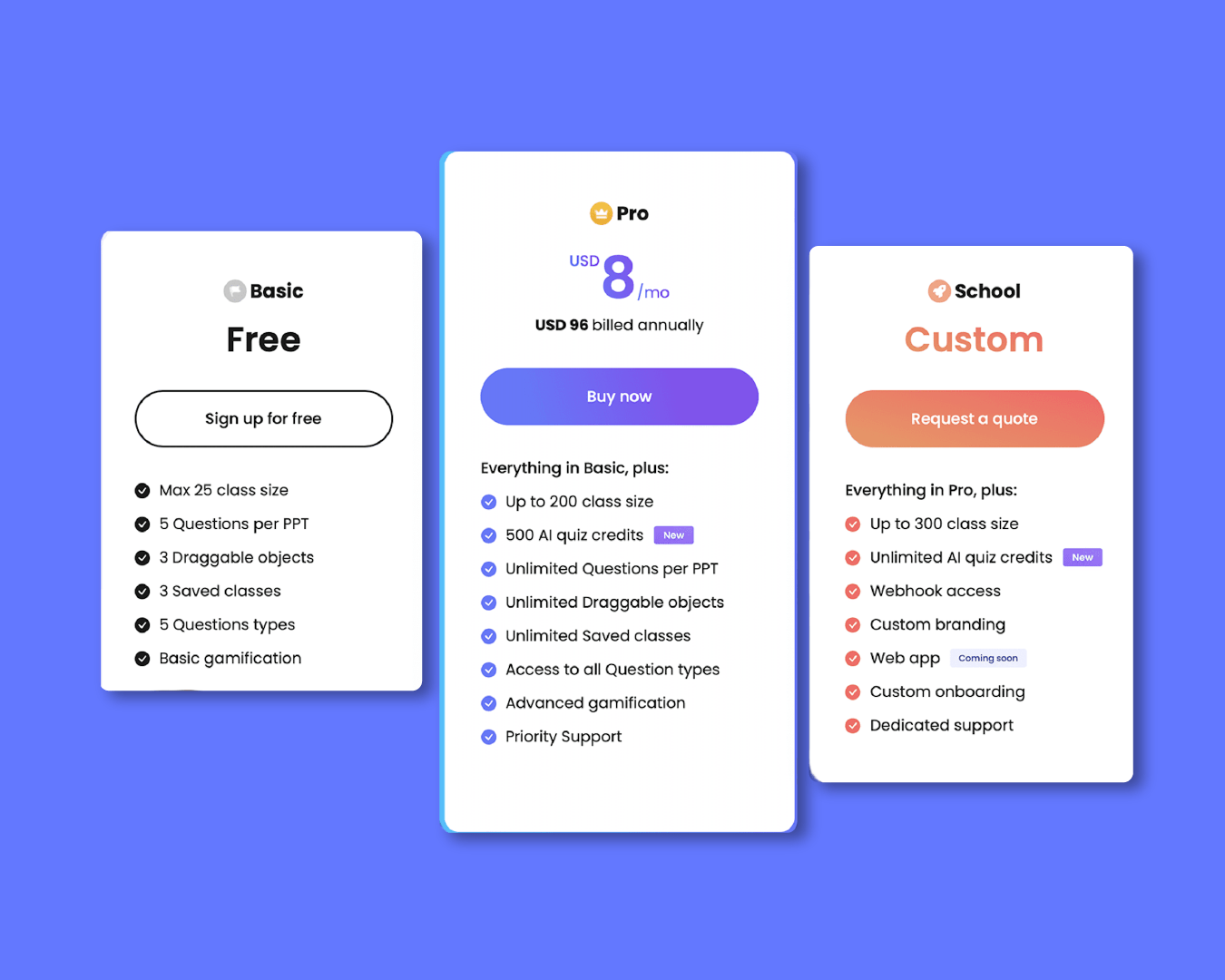 Exploring ClassPoint as a potential Kahoot alternative? A key factor to consider is its pricing. Let's dive deep and understand each plan in detail.
1. Basic Plan
Price: Absolutely Free!
Features:

Maximum class size of 25 students.
Up to 5 questions per PowerPoint.
Basic gamification tools.
And more!
Who's it for? Ideal for educators or presenters on a tight budget, handling smaller groups, or just getting started with interactive presentations.
2. Pro Plan
Price: $8/month or $96 when billed annually.
Features:

Cater to a class size of up to 200.
Utilize 500 AI quiz credits.
Enjoy unlimited questions, draggable objects, and saved classes.
Access to advanced gamification and all question types.
Priority customer support!
Who's it for? Perfect for professionals and educators desiring more advanced features, handling larger groups, and aiming for heightened student engagement.
3. School Plan
Price: Custom (Request for a precise quote).
Features:

Manage mammoth classes of up to 300.
Unlimited AI quiz credits.
Personalize with custom branding, access the web app, and benefit from dedicated support.
Who's it for? Tailored for educational institutions or corporations needing extensive customization, larger class sizes, and dedicated assistance.
---
What is Kahoot!?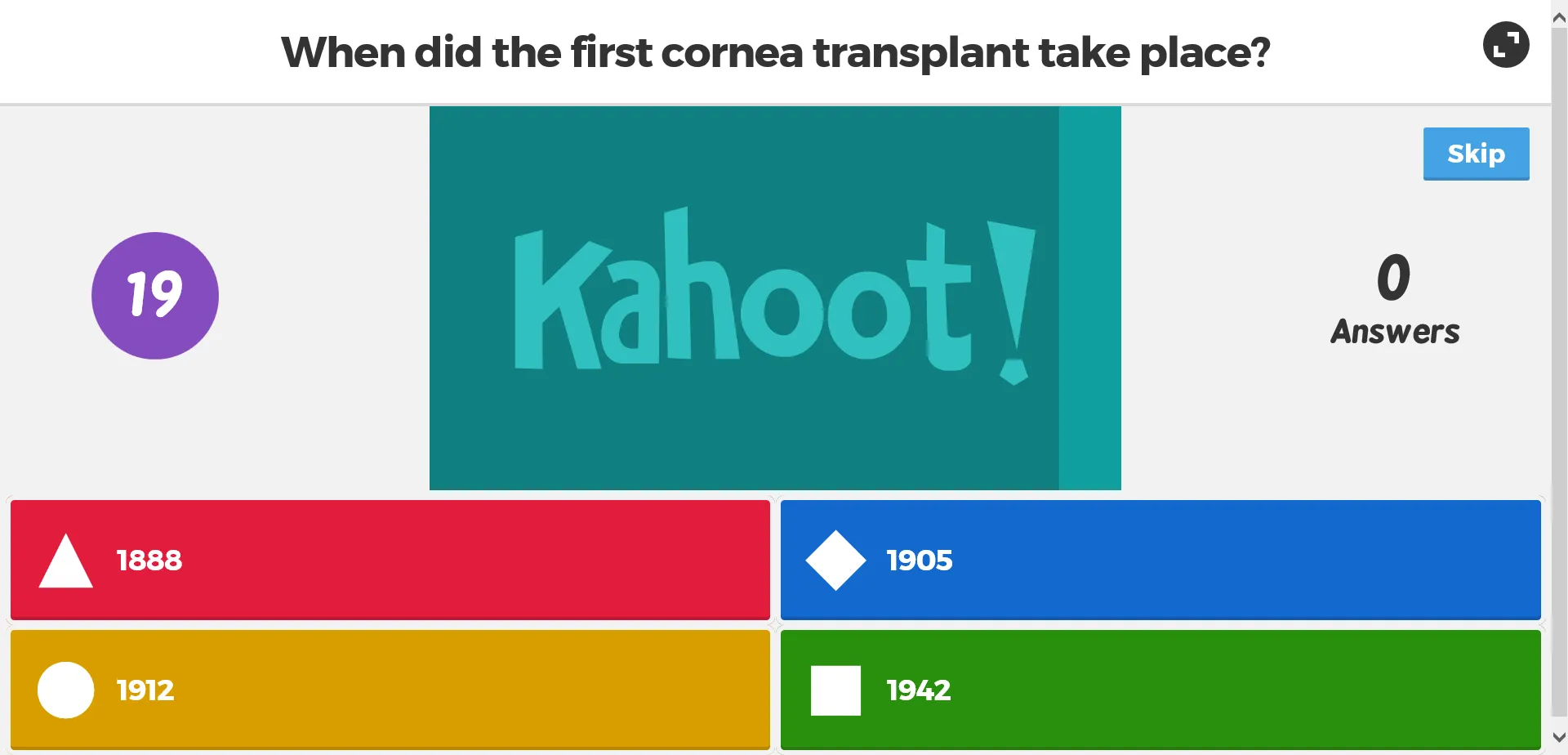 Ever been in a classroom or a corporate training where everyone's eyes are glued to their phones, but instead of drifting off, they're fervently tapping away in excitement? Enter Kahoot!, a game-based learning platform that's revolutionizing the way we approach education and training.
Kahoot! is a digital tool that empowers both educators and learners. Through its unique blend of fun and learning, it has quickly become a favorite in various settings, from classrooms to business seminars.
Kahoot Features
Engaging Quizzes: At the heart of Kahoot! are its dynamic quizzes. Users can create their own or choose from millions shared by the Kahoot! community.
Interactive Approach: It's not just about answering questions. The platform fosters healthy competition with live leaderboards and instant feedback.
Diverse Use Cases: Beyond quizzes, Kahoot! offers surveys, discussions, and even challenges that can be assigned as homework.
Kahoot Pros
High Engagement: Uses gamification to boost interest and participation.
Versatility: Suitable for classrooms, business training, and even casual gatherings.
Vast Question Library: Access to a wide range of pre-made quizzes and the ability to create your own.
Cross-Platform: Works seamlessly on PCs, tablets, and smartphones.
Instant Feedback: Real-time results enable quick assessment and adaptability.
Collaborative Learning: Promotes group participation and team-building.
Customizable: Allows for brand incorporation in business packages.
Global Reach: Used worldwide, fostering a broad educational community.
Kahoot Cons
Dependence on Tech: Requires stable internet and devices for all participants.
Potential for Distraction: Gamified nature can sometimes prioritize competition over learning.
Limited Free Version: Premium features come at a cost.
Might not Suit All: Some learners or trainers may find it too informal.
Repetitiveness: Risk of overuse can lead to diminishing engagement.
Privacy Concerns: Data collection might be a concern for some users.
Kahoot Pricing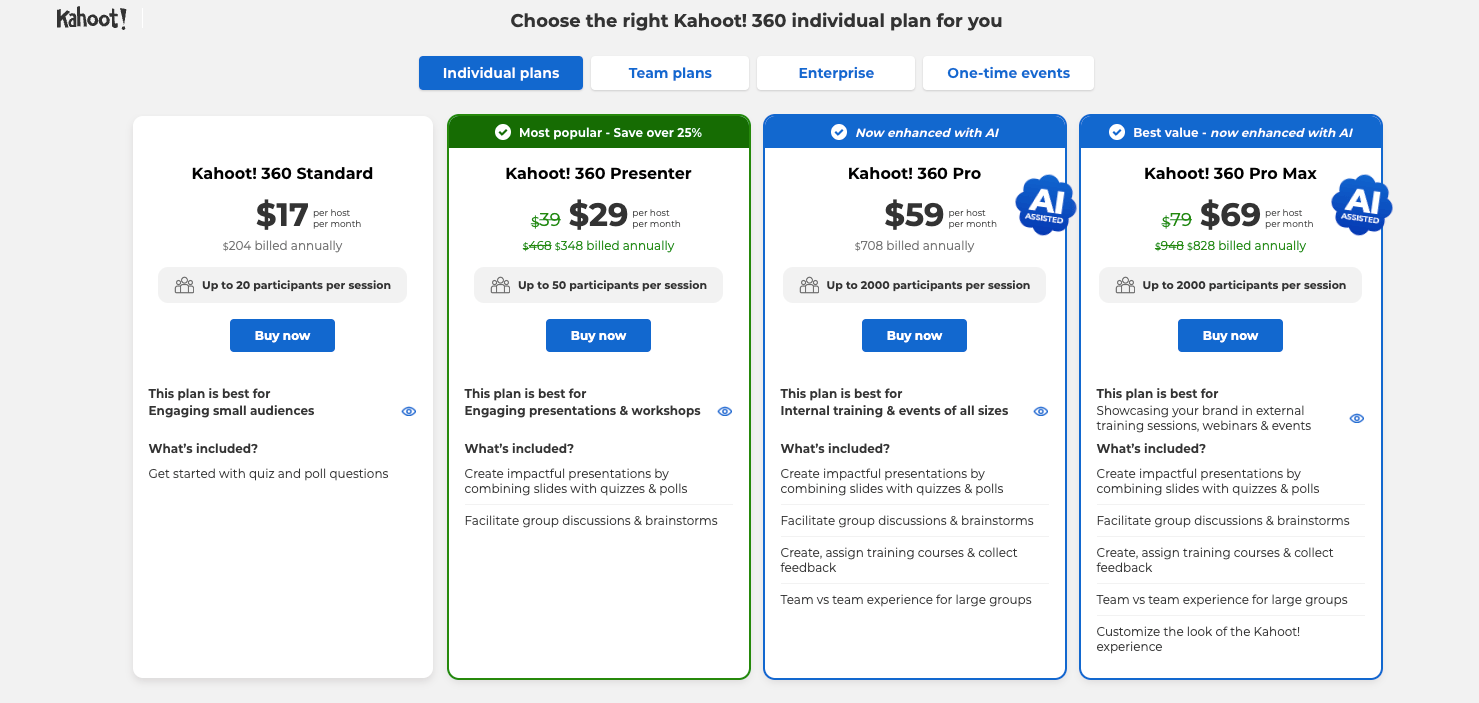 When it comes to gamified learning and presentations, Kahoot! is undeniably one of the big players in the field. But with a range of pricing options available, which one fits your needs best? Let's delve into the specifics.
Kahoot! Starter: The Beginner's Choice
Price: $10 per host/month (or $120 annually).
Audience: Ideal for small gatherings with up to 20 participants.
Best for: Intimate team meetings where the focus is on bonding.
Features: Equipped with classic tools, this plan is perfect for creating and hosting standard quizzes.
Kahoot! 360 Standard: A Step-Up for Engagement
Price: $17 per host/month (an annual total of $204).
Audience: Still caters to up to 20 participants, ensuring a close-knit session.
Best for: Those seeking a bit more variety and engagement.
Features: Introduces the added dimension of polls, allowing for varied audience responses.
Kahoot! 360 Presenter: Amplify Your Presentations
Price: At $29 per host/month, it's a yearly commitment of $348.
Audience: Larger audiences of up to 50 participants are now within reach.
Best for: Making presentations and workshops interactive and memorable.
Features: A mix of slides, quizzes, polls, and AI-enhanced tools to facilitate group discussions.
Kahoot! 360 Pro: The All-In-One Training Solution
Price: $59 per host/month (that's $708 for the year).
Audience: Ready for the big leagues? Engage up to 2000 participants!
Best for: Internal trainings, larger events, or anything in between.
Features: Everything you need for an immersive experience – slides, quizzes, polls, team competitions, and training courses.
Kahoot! 360 Pro Max: Tailored for Your Brand
Price: $69 per host/month, or $828 when billed annually.
Audience: Again, up to a whopping 2000 participants.
Best for: Showcasing your brand during external training sessions, webinars, or big events.
Features: All the tools of the Pro version but with the added bonus of customizing the look to resonate with your brand.
---
ClassPoint vs Kahoot Side-by-Side Comparison
In today's world, the importance of interactive learning tools can't be overstated. Two major players in this realm are ClassPoint and Kahoot!.
But which one should you invest in?
Integration and Ease of Use: ClassPoint Takes the Cake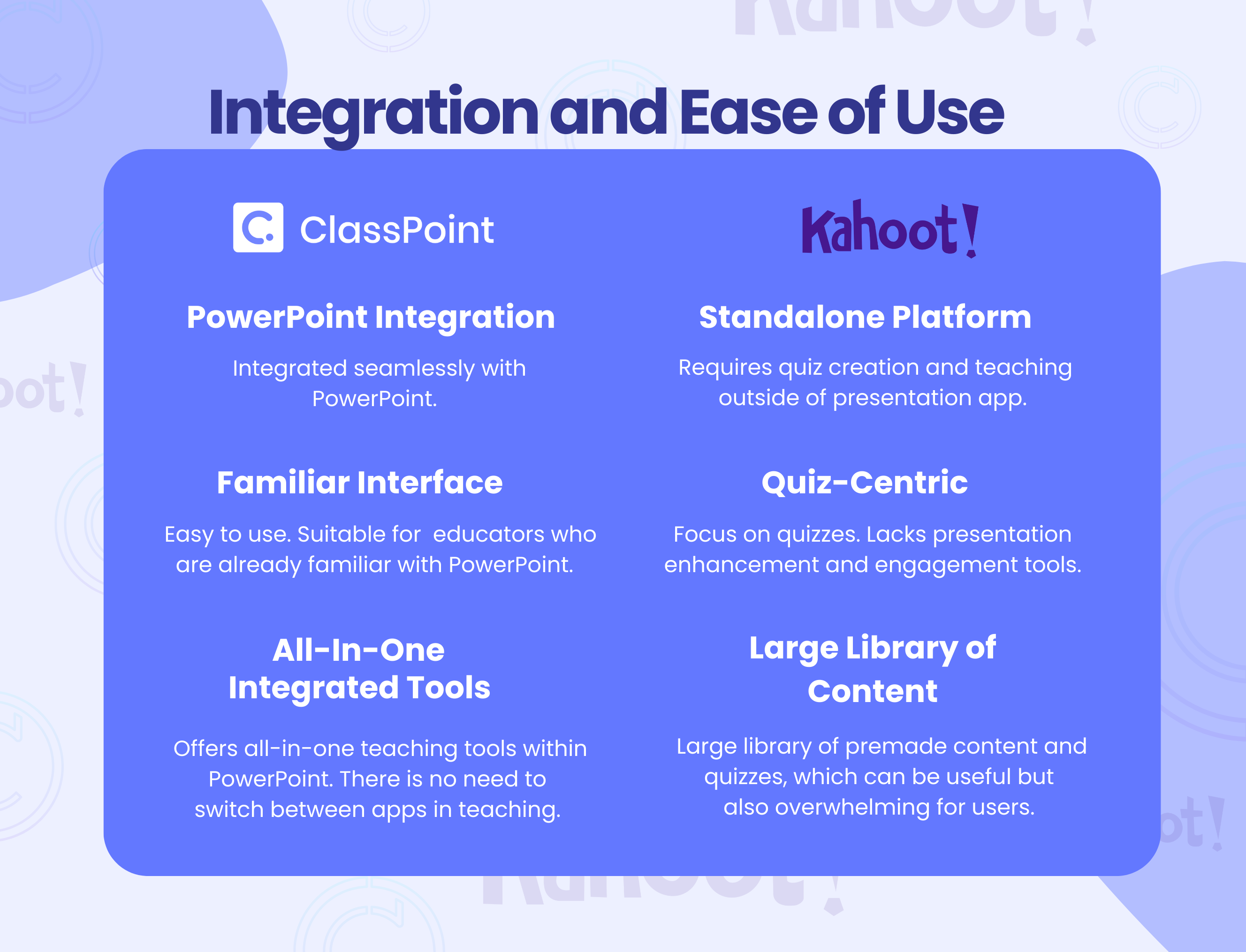 Both ClassPoint and Kahoot prioritize user-friendliness, but they offer different experiences and functionalities that can impact ease of use for educators:
ClassPoint
Integration with PowerPoint: ClassPoint's seamless integration with Microsoft PowerPoint enhances its user-friendliness, especially for educators already well-versed in PowerPoint. This integration allows teachers to directly incorporate interactive elements into their existing presentations, minimizing the learning curve and time commitment required to get started.
Familiar Interface: ClassPoint operates as an extension of PowerPoint, providing a familiar interface for users. This familiarity is a significant advantage for educators looking to quickly and efficiently implement interactive teaching tools without the need to learn a new software from scratch.
All-In-One Integrated Tools: ClassPoint offers a variety of interactive tools, such as quizzes, polls, and annotations, all integrated directly into PowerPoint. This integration ensures a smooth, uninterrupted teaching experience, as there's no need to switch between different applications during a lesson.
Keep your class well-informed when you embed a live website to your presentions. Here's how you can do it in a snap.
Kahoot
Standalone Platform: Unlike ClassPoint, Kahoot operates as a standalone platform. While its interface is straightforward and user-friendly, it requires teachers to create and conduct quizzes outside of their presentation software, potentially leading to disruptions during the lesson.
Quiz-Centric: Kahoot is renowned for its quiz-centric approach, offering a fun and interactive way to conduct quizzes and polls. However, its focus on quizzes means it lacks the presentation enhancement features found in ClassPoint.
Large Community and Content: Kahoot boasts a vast library of ready-to-use quizzes, which can be an advantage for educators looking for pre-made content. However, this also means that the platform can be overwhelming for new users, and finding the right content might take time.
Feature and Flexibility: ClassPoint Offers More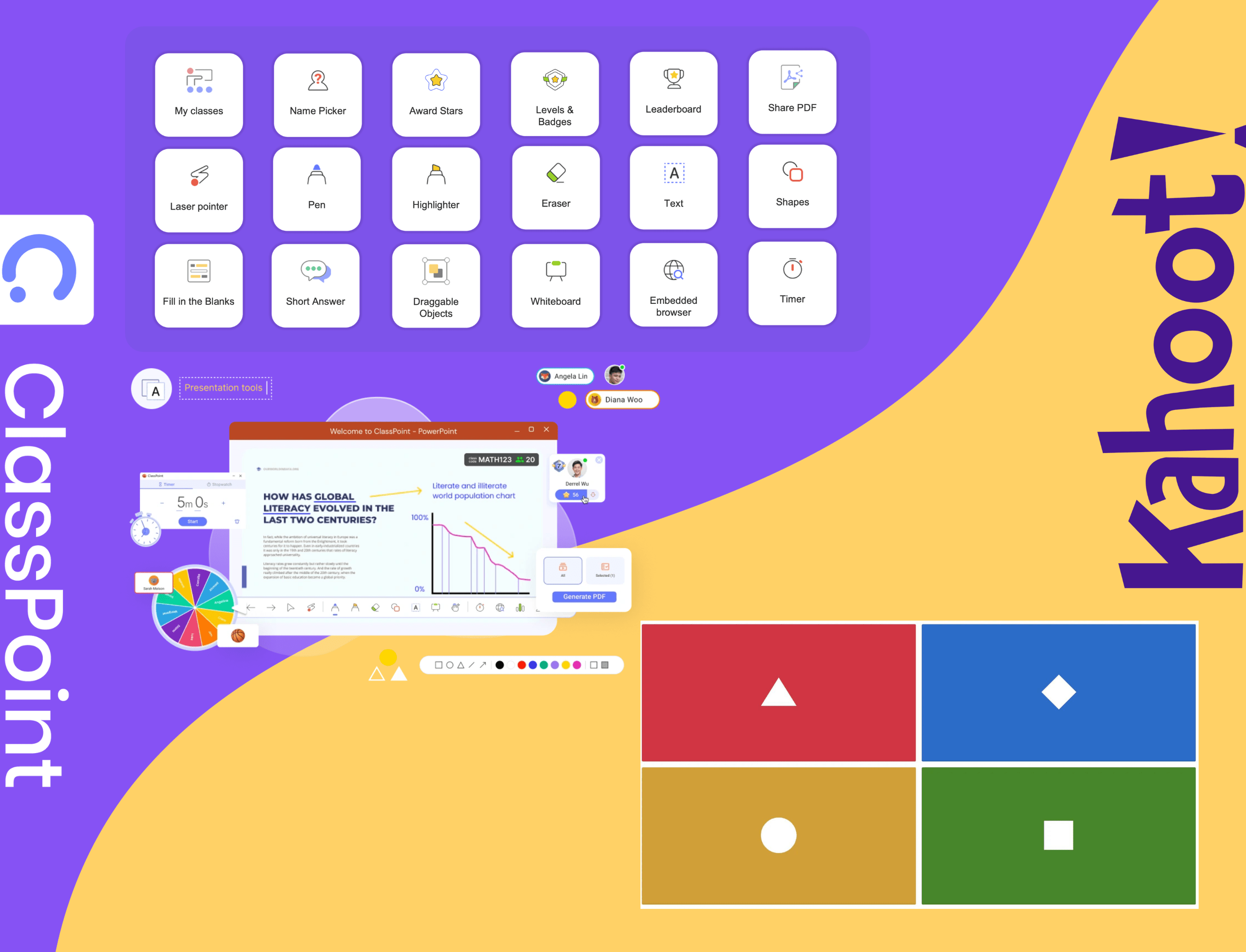 When it comes to features and flexibility, both ClassPoint and Kahoot have unique offerings that cater to different educational needs:
ClassPoint
Comprehensive Features: ClassPoint offers a wide array of features, from interactive quizzes and polls to annotations and draggable objects, all within the familiar PowerPoint environment. This comprehensive set of tools ensures that educators have everything they need to create engaging and interactive lessons without the need for additional software.
Customizable Gamification: With features like stars, levels, badges, and leaderboards, ClassPoint takes gamification to the next level, allowing educators to customize these elements to suit their teaching style and student needs.
Versatile Presentation Enhancement: Beyond quizzes and polls, ClassPoint enhances presentations with tools like annotations, text boxes, shapes, and more, providing educators with versatile options to convey information and engage students.
Keep your class on their toes by using the ClassPoint Name Picker for recitations!
Kahoot
Quizzing Excellence: Kahoot is a powerhouse when it comes to creating engaging quizzes and polls. Its user-friendly interface and extensive quiz library make it a popular choice among educators worldwide.
Large Group Handling: Kahoot is well-suited for large groups, making it one of the go-to Kahoot alternatives for large classes or events. Its ability to handle numerous participants simultaneously ensures a smooth quizzing experience for everyone involved.
Limited Beyond Quizzes: While Kahoot excels in quizzing, it lacks the presentation enhancement features that ClassPoint offers. This limitation can be a drawback for educators looking for a more integrated and versatile teaching tool.
ClassPoint's integration with PowerPoint, comprehensive feature set, and customizable gamification options provide a more versatile and integrated teaching experience compared to Kahoot's standalone, quiz-centric platform. While Kahoot is excellent for quizzes and large groups, ClassPoint offers a broader range of features and flexibility, making it a superior choice for educators looking to enhance their presentations and engage students in a more interactive and meaningful way.
---
ClassPoint vs Kahoot: Which Should You Choose and Why?
In the tug-of-war between ClassPoint and Kahoot, your choice hinges on your primary needs. If you're looking for an all-inclusive solution that melds presentations with interactive elements, ClassPoint holds the crown. But, if quizzes are your sole focus, Kahoot may suffice.
Taking the Next Step:
Ready to transform your teaching style? Dive into the world of interactive learning. We recommend giving ClassPoint a whirl – after all, dynamic presentations might just be the game-changer your classroom needs.
About Mikel Resaba
Mikel Resaba is a seasoned content strategist and writer specializing in EdTech. With over a decade of experience, Mikel has collaborated with startups and established companies alike to enhance digital learning experiences. Passionate about the transformative power of education technology, his writing offers valuable insights into effective e-learning practices, emerging trends, and the impact of digital tools on pedagogy. Mikel's work serves as a bridge between educators and technologists, aiming to foster environments where students and teachers can thrive.